Estimated read time: 3-4 minutes
This archived news story is available only for your personal, non-commercial use. Information in the story may be outdated or superseded by additional information. Reading or replaying the story in its archived form does not constitute a republication of the story.
SALT LAKE CITY — More than 200 eager elementary students in one Salt Lake school received new pairs of name-brand athletic shoes Thursday thanks to a $35,000 donation from Bridge Investment Group and a partnership with Shoes That Fit, a nonprofit based in California.
"We're really excited just to see the smiles on kids' faces, and our goal really is to provide these shoes that they feel comfortable in, that they feel good in," said Helen Lim, corporate program coordinator for the nonprofit. "So that their self-confidence increases, attendance increases, they can participate in PE, and overall our ultimate goal is to set them up for success and to be able to reach their highest potential."
M. Lynn Bennion Elementary School students, ranging from kindergarten to sixth grade, eagerly filed into the school's gym Thursday morning where they saw hundreds of shoe boxes piled on the stage. They didn't yet know they would be getting new shoes, but once it was announced the children were buzzing with anticipation.
Excited screams erupted after the children collected their shoes and eagerly returned to their seats on the floor to throw open the shoe boxes, tissue paper flying everywhere, and examine their new shoes.
"Shoes are something that kids need all the time, they grow up so fast and sometimes parents aren't always able to keep up with the need," said Dahlia Cordova, principal of the school. "So for them to all have a brand new pair of shoes, it's just brightening my day."
A few kindergartners, taking the advice of one Bridge Investment Group employee who said these were "fast shoes" that could outrun a cheetah or even Utah Jazz player Donovan Mitchell, ran furiously in place to test their new sneakers.
"That's the best part of the whole event," said Micah Brown, managing director of operations for Bridge, about seeing the excited kids running around in their new shoes. "We love helping kids and helping them improve their education and get them excited about their future."
He said he hopes the students learn about the benefits of charity and take that lesson with them into adulthood.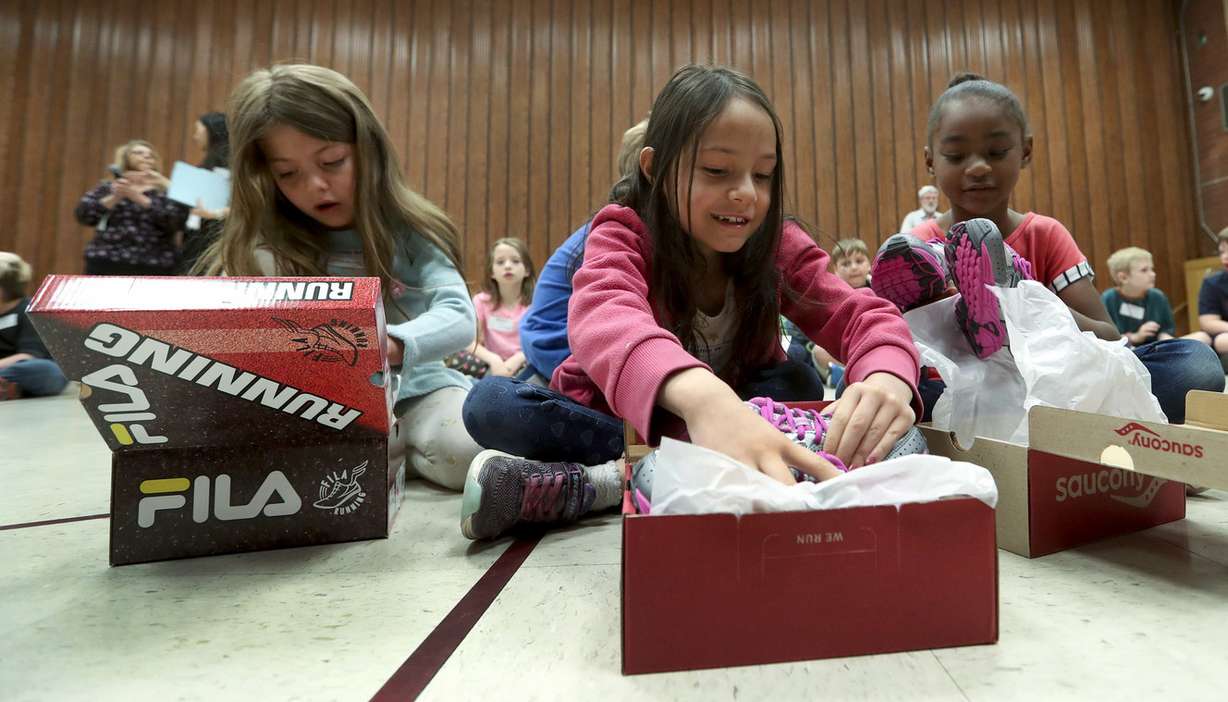 "I think if you get the experience when you're young and you see the excitement and joy that comes from giving back," he said, "hopefully they'll take that and do it themselves in the future."
Caisa Pope, school counselor, measured students' shoe sizes a few weeks before the event, but one new student wasn't measured in time to get new shoes Thursday. Lim guaranteed that student would get shoes, too, they would just be shipped instead.
"One in 5 children in the United States live in poverty, and shoes are one of the most expensive items for low-income families to provide," said Amy Fass, executive director of Shoes That Fit, in a statement. "When families have to choose between putting food on the table or buying new shoes for school, you can imagine that food wins every time."
Sixth grader Scarlett Hacker, 12, said these new shoes came with perfect timing — she's running a 5K in a few days, she explained.
"It's really nice that people are doing this for kids, just giving them brand new shoes," she said. "And also it's kind of unexpected."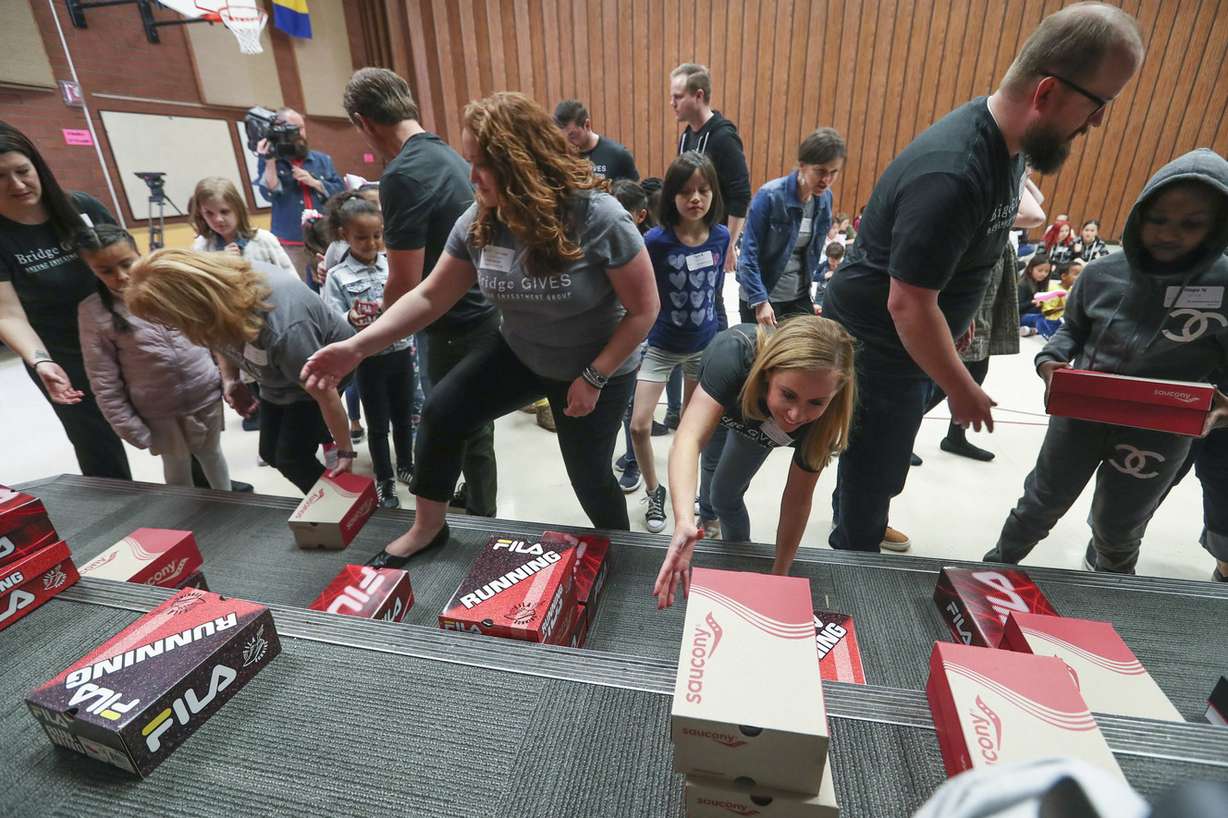 As Brown had hoped, Scarlett said being the recipient of a generous gift inspired her to give back as well.
"I like doing charity, I like making other people happy," she said. She also expressed gratitude to the nonprofit and investment group.
The Bridge Investment Group donation also covered the cost of shoes for six other elementary schools: Majestic Elementary School in West Jordan and other schools in New York, Georgia, California and Florida. Lim said the nonprofit spends about $25 on each pair of shoes.
"If you look around right now you see the excitement on student's faces," Cordova said. "They're jumping up and down with joy."
×
Photos
Most recent Utah stories