This archived news story is available only for your personal, non-commercial use. Information in the story may be outdated or superseded by additional information. Reading or replaying the story in its archived form does not constitute a republication of the story.
TAYLORSVILLE — An assisted living facility in Taylorsville has implemented a no tap water policy at the recommendation of the health department after two of its residents contracted legionnaire's disease.
"The last month has been … very unsettling," said Norma Soderborg Harris, a resident at Legacy House of Taylorsville.
There's no question living without running tap water can make life difficult. Yet, Harris can think of no better place to be than at the facility.
"I love it here," she said. "It is to me the perfect place. If you have to be in a facility, it's here."
On Thursday, signs were hung in rooms, bathrooms and above drinking fountains to warn residents not to use the water. For more than a week, the staff has provided water bottles to residents to drink, wash and bathe.
"We can't shower," Harris said. "We can't do anything that uses water."
"We've had to ask for a lot of patience from them," Executive Director Nathan Cluff said. "This is their home. This is where they live."
In early April, Cluff said one of his 80 assisted living residents contracted Legionnaires' disease. Then last Tuesday, the Salt Lake County Health Department notified Cluff that a second resident had contracted the disease. That's when the facility was advised to stop all tap water use.
"We want to make sure that all of our residents are safe, that they aren't showering first and foremost in water that could be contaminated and breathing in that vaporized air," Cluff said.
According to the Centers for Disease Control and Prevention, the disease comes from the bacterium Legionella, which is found in water but can only spread by breathing in mist that's contaminated with the bacteria. Symptoms include coughing, shortness of breath and a fever.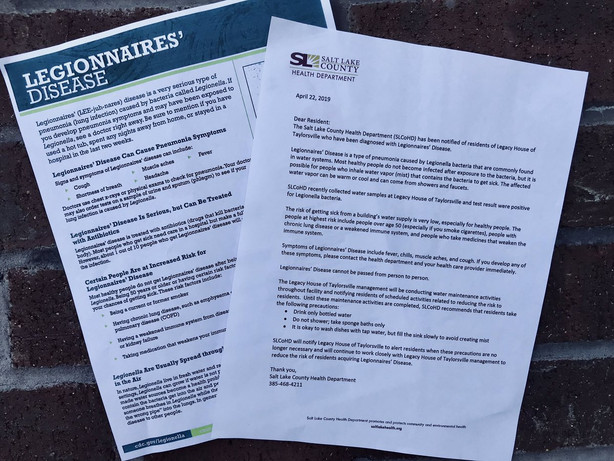 "It basically shuts down your lungs so you can't breathe," said Steve Madsen, owner of Legionella Specialties. Legacy House hired the company last week to remediate the Legionella bacterium from its facility.
"We're looking for spots where the water would be turned into aerosol, like a shower head, a fountain, a hot tub. It can even be a drinking fountain or a sink in a room," Madsen said.
Seven other residents have been tested for the disease out of an abundance of caution, but the results have come back negative.
"Out of an abundance of precaution we're going to implement these water restrictions just to make sure we keep people safe until the problem's been remediated," Cluff said.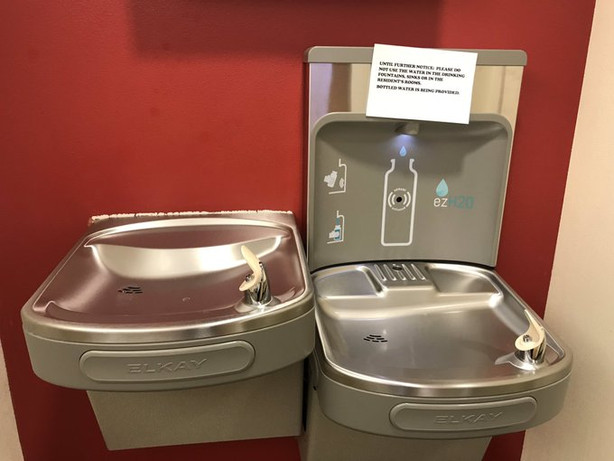 Until then, it's an inconvenience that Harris seems willing to live with.
"Hope it's over with soon," she said.
She said she has warmed up water bottles in the microwave in order to take a shower.
"I can't say it's been happy experiences, but it's been a learning experience," she said. "They've done everything they can to help us to do it."
Health officials said the case at Legacy House of Taylorsville is not unusual for these type of facilities. Madsen said he expects the facility will be completely disinfected by Friday morning.
×