This archived news story is available only for your personal, non-commercial use. Information in the story may be outdated or superseded by additional information. Reading or replaying the story in its archived form does not constitute a republication of the story.
SALT LAKE CITY — Utah's housing market has been among the hottest in the western region over the past several years, according to data compiled by University of Utah researchers.
The result has been escalating prices for homebuyers and apartment seekers, especially along the Wasatch Front where double-digit increases have become the norm.
But new information may indicate the market could finally be coming to a period of more reasonable growth in the next year or so.
A study titled "The Year in Charts: Utah's Housing Market 2018" showed that slower growth trends are likely to occur beginning this year into 2020. The report's lead author, James Wood, a senior fellow at the Kem C. Gardner Institute in the University of Utah's David Eccles School of Business, said the last large scale apartment projects are scheduled to be permitted this year, which will lead into a period of decreasing construction as the market demand absorbs the current supply of rental units. Residential construction is also expected to stabilize.
"(Regarding) market conditions on the apartment side, we might begin to see a little higher vacancy rates," Woods said. "Supply will likely exceed demand in the next couple of years because we have so many projects ready to go."
If so, developers may decide to hold off on new projects for a while until the demand returns, he added.
Wood noted that 2018 was an exceptional year for the state's homebuilding and real estate sectors "by almost any measure."
"Sales of new and existing homes were brisk, apartment and condominium construction was at an all-time high, and the demand for rental units remained exceptionally strong," he said. "Builders, Realtors and landlords benefitted from strong housing demand.
"However, for households trying to buy or rent, conditions were not so upbeat."
Read more
He noted that home prices and rental rates rose significantly in 2018, adding to many previous years of increasing prices that contributed to rising anxieties regarding worsening housing affordability.
"We've had a 'real good run' — both in housing prices and in new construction. In the existing (housing) market, you've done really well (as a homeowner) and equity has increased a lot," Wood said. "But if you're not in the market and you're trying to get in, it's really tough. Affordability is a serious issue."
Citing the example of rapidly rising home prices, he noted that many dreams of homeownership are "seriously threatened."
The study showed that in 2013, the monthly mortgage payment for the median-priced home in Utah came in at $1,167. By 2018, that monthly payment had climbed dramatically — up 56 percent to $1,821. Comparatively, household income increased by just 20 percent during that same period.
For many families, the possibility of homeownership is slipping away in the wake of double-digit housing price increases, the report states.
Data showed that last year's median new home sales price for Salt Lake County jumped 61 percent from 2010 to $418,376. That trend was also similar in three other Wasatch Front counties, with Weber County's median price rising 50 percent, while Utah County saw a 62 percent hike, and Davis County had a whopping 71 percent increase in its median sales price over the eight-year period.
Yearly price increases for single-family homes in Utah increased from 4.3 percent in 2014 to 10.7 percent last year, the study shows. A similar pattern seemed to follow with condominiums and town house with prices jumping 4.8 percent in 2015 to nearly 12 percent in 2018.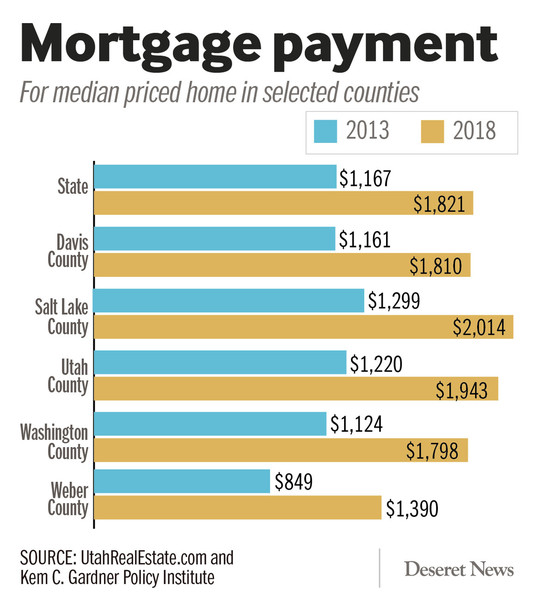 Last year, the median sales price of homes statewide was $321,000 and $235,000 for a condominiums-town houses. Regionally, the Salt Lake metropolitan area ranked among the top 15 percent of all metros in median sales price — considerably higher than some cities in neighboring states such as Boise at $263,800, Phoenix at $272,700 and Las Vegas at $295,100, according to the report.
Wood noted that apartment rental rates climbed between 25 percent and 35 percent in those four Wasatch Front counties — not quite as dramatic as the housing market, but still quite significant. The study attributed the big rise in new home costs primarily to high land, labor and material costs.
Looking ahead, he said the days of double-digit annual price increases should be ending, but values will still be on the rise.
"We're at a point in both (the homeownership and rental) markets that in 2019 and beyond we're going to see a moderating deceleration in price increases," Wood said. "We'll be moving back to the average (5 percent to 7 percent)."
×
Photos
Related Stories