SALT LAKE CITY — Utah's new and only Amazon fulfillment center came online in August. Now, it's fully operational with more than 1,500 employees and thousands of robots working around the clock.
The e-retail giant invited local media and state leaders to come take a tour of the facility during a "grand opening" of sorts Wednesday — though the center's been functioning for about eight months now.
The 855,000 square-foot facility sits west of the Salt Lake airport and is a constant hubbub of movement as both a human and automated workforce sort, organize, package and ship hundreds of thousands of boxes a day — all day, every day.
The automated processing system @amazon's #SLC facility where orders are sorted. pic.twitter.com/zUHVLFaOKv

— Kelli Pierce (@KelliReports) April 17, 2019
The company received a $5.7 million post-performance tax incentive package from the Governor's Office of Economic Development last year to lure the fulfillment center to Utah, and just two months after the center came online, Amazon announced same-day delivery in Salt Lake.
According to the company, more Utah businesses sell on Amazon than any other state per capita — and Sen. Mike Lee, R-Utah, attributes Utah's success in business partly to Amazon. The fulfillment center's location in Utah will only propel that success, he said Wednesday during the tour.
The facility stores the 15 million most commonly-ordered items and ships mainly to the surrounding area, though some packages do end up on planes and helicopters, bound for more distant destinations.
"It's nothing short of a modern-day miracle," Gov. Gary Herbert said during the grand opening.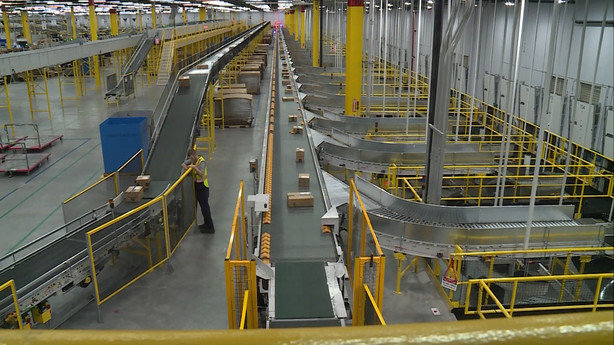 For the workers employed there, however, "miracle" might not be the word used to describe the process. Most employees work alone at isolated stations, surrounded by machines that are designed to reduce human error as much as possible.
At one of the stations, towers of bins driven by robots arrive next to one of the employees and a spotlight shines on the bin where the ordered item is located. The employee pulls out the item and puts it in another bin — also highlighted by a light. The bins are soon shipped off to another location where they will be packaged and taken to their designated destinations.
A woman works the line at the @amazon fulfillment center in #SLC. pic.twitter.com/2t8d51YAt8

— Kelli Pierce (@KelliReports) April 17, 2019
While the work is isolating and monotonous, most of the employees receive a $15 minimum wage — $2.50 higher than what Amazon initially listed the jobs for after it raised the minimum wage companywide.
Just a month earlier, the e-retail giant also briefly became the second trillion-dollar company in the U.S. (after Apple) — though it's now in the $900 billion range.
Contributing: Mark Wetzel, KSL TV
×
Related Stories