This archived news story is available only for your personal, non-commercial use. Information in the story may be outdated or superseded by additional information. Reading or replaying the story in its archived form does not constitute a republication of the story.
OREM — Wearing a similar suit to what he wore when he spent two years knocking on doors for The Church of Jesus Christ of Latter-day Saints in Malaga, Spain, Mark Madsen stood at a podium in front of nearly 1,000 people inside the Nuvi basketball center at Utah Valley University.
Maybe, then, it was only natural that he took a few moments to address the crowd and accompanying livestream in Spanish as the next head coach of Utah Valley men's basketball.
He looked right into the camera, and — much like he did nearly two decades ago when he spoke to a crowd of Angelenos after his Los Angeles Lakers won a pair of NBA titles with him as a key reserve — he began his bilingual elevator pitch. But this time, he didn't speak of families or deity or little blue books.
He spoke of basketball and basketball fans.
Utah Valley would be welcoming to all basketball fans, even those who don't speak English, he said. It would be a destination school. It would be a school that, as the largest university in the state of Utah, would "build a wall around the state of Utah" while also expanding its recruiting footprint, both nationally and internationally.
"We'll go to junior colleges. We'll go to the transfer portal," Madsen said. "I speak Spanish; we'll go to South America. Wherever we need to go to get players, we're going to get players."
In essence, it would be a program that built on the last four years under head coach Mark Pope, who recently left to take the same position 5 miles east at BYU.
"The history is incredible," Madsen said of Utah Valley while standing in the center of a press conference in front of boosters, players, coaches, friends and his wife Hannah and each of their parents. "You think about what Mark Pope did while he was here, and some of the road wins they had against major D-I competition were incredible."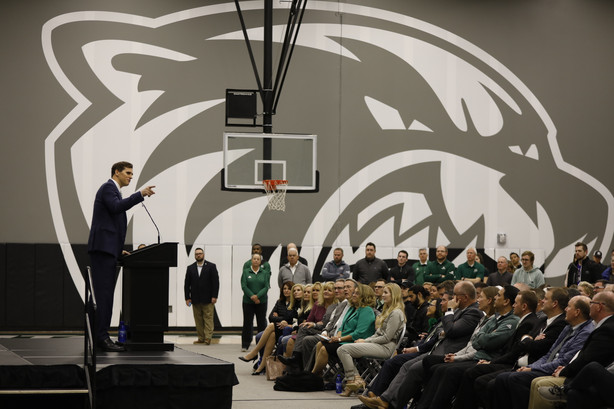 A Stanford graduate who led the Cardinal to the Final Four, the 43-year-old Madsen will take on his first full-time head coaching position in college basketball. He previously coached with the Los Angeles Lakers, following a brief stint as head coach of the Lakers' D-League affiliate Los Angeles D-Fenders.
UVU will be Madsen's first job in Orem since accepting an assistant coaching position with the now-defunct Utah Flash following his retirement from the NBA in 2009.
But Madsen kept pointing back to tradition, including Pope's predecessor Dick Hunsaker, who led the men's basketball program during a period of transition from junior college to NCAA Division I — a feat that had never been done before, and "won't ever happen again," Madsen said.
Just like both predecessors, Madsen's goal at UVU is the same.
"The goal is to make the NCAA Tournament," Madsen said. "It's going to take a lot of work, but that's what we are shooting for. That means we have to win three games in a row in March. We have to win the WAC Tournament."
It'll take work. It'll take sweat. It'll probably even take a lot of blood and tears, both from the players and coaches.
That's part of player development, something Madsen excelled at doing during his nine-year NBA career with the Lakers and Minnesota Timberwolves. He played with superstars like Shaquille O'Neal and Kobe Bryant, and was coached by the likes of Phil Jackson and Mike D'Antoni.
So while recruiting hasn't been a part of his daily routine over the past, dealing with teenagers — from Brandon Ingram to Lonzo Ball to slightly-older-but-still-young Kyle Kuzma — has been. And today's teenagers still respond when you mention "Shaq" and "Kobe."
"Every kid's dream as they play on their basketball court at home is to play in the NBA," said Travis Hansen, the former Utah Valley and BYU star who currently manages local holding company Tesani. "If Mark can help them get there, and he has the experience, knowledge and player development to get there, that will absolutely help."
Recruiting will be on Madsen's mind continuously going forward. The NCAA's recruiting period opens Wednesday, and he'll get a chance to hit the trail even before his assistant coaches are in place.
Madsen said he wants to interview each of the former assistants on Pope's staff at UVU — Cody Fueger, Chris Burgess, Eric Daniels and director of basketball operations Bobby Horodyski — but also admitted he has contacts and options for other assistant coaches he plans to recruit to Orem.
And speaking of recruiting, the first recruiting step begins with the players on roster. Former BYU wing Jake Toolson is currently listed in the NCAA transfer portal, ready to move on as a graduate transfer as soon as he finishes his last class in Orem if it comes to it, and 6-foot-11 center Baylee Steele could join him as a graduate transfer.
Madsen met with most of them when he flew to Utah on Sunday, including Toolson, admitting that the recruiting pitch for the current players at UVU may be as difficult as recruiting teenagers to join a storied franchise like the Lakers.
But the NBA veteran is ready to attack the challenges of college basketball with the same tenacity that earned him the nickname "Mad Dog."
"My job is to re-recruit every single player in this program, to win them over," Madsen said, "to show that I care about them — not only as people or athletes but as a member of this community."
If Monday's introductory press conference is an indicator, winning recruiting — or re-recruiting — battles shouldn't be a problem. Even for a first-time head coach at a school that plays in one of college basketball's outlier conferences.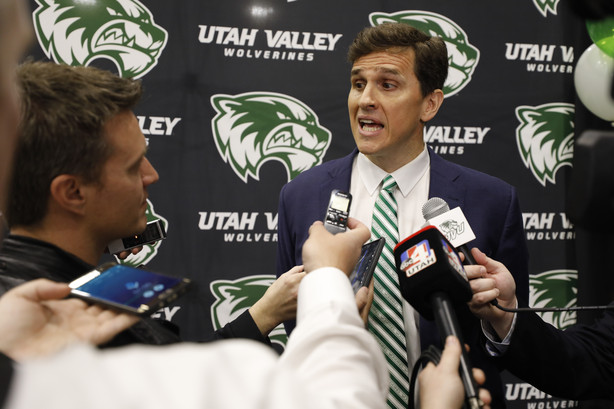 Count recently inaugurated Utah Valley president Astrid Tuminez amongst Madsen's early fans.
"We are welcoming and heralding a new era in UVU men's basketball. It's a new day," said Tuminez, before turning to tradition, as well. "The tradition of the president of UVU coming to each game, cheering with two pompoms, will continue. I own four pompoms."
"It also continues the tradition of having a men's basketball coach who is at least 2 feet taller than the president."
So, too, was interim athletic director Jared Sumsion — almost from the first moment he interviewed him last Thursday.
"I could tell right away that Mark Madsen was a man with an immense amount of character and poise," Sumsion said. "When we talked about the game of basketball and the players specifically, his whole demeanor changed. He had already broken down game film and knew the players individually. He is intense about the game, he is passionate about building relationships with players, not just as basketball players, but as individuals."
Mad Dog won the press conference Monday in Orem. He's off to a good start.
"He's one of the most positive individuals I've ever met in my life," Hansen said. "He has instant credibility with current players, former players and recruits. Energy, skills, I think he's the total package for what Utah Valley can build on.
"Mark Pope left a tremendous legacy here, and I think Mark Madsen can help build upon that."
×
Related Stories