This archived news story is available only for your personal, non-commercial use. Information in the story may be outdated or superseded by additional information. Reading or replaying the story in its archived form does not constitute a republication of the story.
OREM — After head basketball coach Mark Pope left Utah Valley to take the same job at BYU, the Wolverines began their search for the next man up.
His name is Mark Madsen, most recently of the Los Angeles Lakers, ESPN NBA insider Adrian Wojnarowski reported Sunday.
Utah Valley announced the hire Sunday just before noon. The Wolverines will introduce the nine-year NBA post at a news conference on Monday at 11 a.m. on campus.
"Utah Valley University is an amazing institution, and I'm excited to be the new head coach at the largest and fastest-growing school in the state of Utah," Madsen said in a statement from the school. "I love the mission that President (Astrid) Tuminez has put forth for the university, and I am excited to be a part of it. I can't wait to get to work and start helping our players achieve their goals."
Also a candidate to succeed former coach Dave Rose at BYU, Madsen was among the finalists for the Utah Valley position when Mark Pope was installed as head coach four years ago, according to a source. The move worked out well for the Wolverines, as Pope led them to back-to-back program-record win totals, including a 25-10 mark in 2018-19 and a 77-56 record in four seasons.
Madsen, meanwhile, returned to the NBA, fitting into Luke Walton's staff with the Lakers, and awaited his next opportunity. When Pope was elevated to take over for Rose at BYU, Madsen's name immediately began circulating around campus, according to sources with knowledge of the coaching search.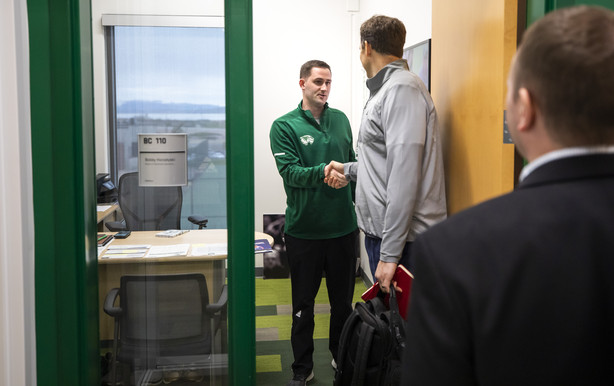 This time, the Wolverines reeled him in, even while undergoing their own search for a new athletic director and coordinating the inauguration of first-year school president Astrid Tuminez, who replaced the outgoing Matthew Holland.
"Mark Madsen embodies the mission and vision that we strive for here at UVU. He's hungry and filled with passion," UVU interim athletic director Dr. Jared Sumsion said in a statement from the school. "Coach Madsen will work tirelessly to help his players achieve their dreams."
He's also a Stanford MBA graduate, something that impressed the university's administration and search committee.
"Mark Madsen has reached the pinnacle of his sport as an NBA champion — not once, but twice. He knows what it takes to succeed in basketball and in life," said Tuminez in a statement. "Off the court, Coach Madsen earned a bachelor's degree in economics and an MBA before launching an extensive coaching career. With his strengths and experience, he will inspire our student-athletes in and out of competition, and will help us build even stronger relationships with our broader UVU community."
Madsen, 43, played collegiately at Stanford, leading the Cardinal to four-straight NCAA Tournament appearances and a Final Four berth in 1998. A first-round draft pick by the Los Angeles Lakers, the artist professionally known as "Mad Dog" went on to a 10-year NBA career, including league titles in 2001 and 2002 alongside Kobe Bryant and Shaquille O'Neal.
Since retiring with the Minnesota Timberwolves in 2009, Madsen has coached in the NBA G-League with the now-defunct Utah Flash and Los Angeles D-Fenders (now South Bay Lakers) prior to joining the top staff in Los Angeles in 2013.
From his time in Los Angeles, Madsen carried several distinct recommendations from the NBA: Shaquille O'Neal, Kobe Bryant and Phil Jackson among them. He also knows how to recruit to a public university located in Utah County's unique religious makeup.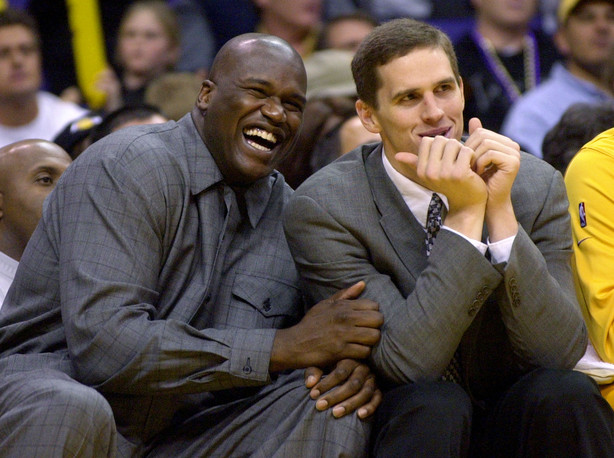 When Luke Walton was named head coach prior to the 2016-17 season, Madsen was retained as an assistant. He was a candidate for coaching positions at both UVU and BYU prior to 2018, but for various reasons, stayed with the Lakers.
Madsen served a two-year mission for The Church of Jesus Christ of Latter-day Saints in Malaga, Spain, earned an Eagle Scout award as a youth, and graduated with an MBA and a certificate in public management from Stanford's Graduate School of Business in 2012.
He married the former Hannah Harkness in 2016. Both sets of parents currently reside in the Provo-Orem area, where Mark and Hannah own a home.
With Madsen assuming the head coaching position at Utah Valley, former assistants Cody Fueger and Chris Burgess — who both interviewed for the position, according to a source — will be formally released from their Wolverine obligations. Both are expected to be at the top of the list to join Pope at BYU, along with former UVU director of basketball operations Bobby Horodyski.
All three, along with former UVU assistant coach Eric Daniels, were present at Pope's introductory press conference at BYU last Wednesday.
Fueger previously worked at BYU as director of basketball operations before following Pope to Provo, while Burgess joined the staff at UVU as his first full-time coaching position. A member of The Church of Jesus Christ of Latter-day Saints, Burgess famously spurned the Cougars' advances to sign with Duke out of high school, prompting then-BYU coach Roger Reid to utter the now-infamous remark that he "let down 9 million Mormons."
Burgess finished his career at Utah, where he could be a candidate to replace outgoing assistant coach DeMarlo Slocum, as well. Slocum returned to his hometown to coach at UNLV last Friday.
MBB | Mark Madsen to be named the new men's basketball head coach at UVU.

Story: https://t.co/wzxNf3CeOk#GoUVU#UVU#WACpic.twitter.com/1WmYSO4Pto

— UVU Athletics (@GoUVU) April 14, 2019
Madsen's playing career
Stanford University (1996-2000)
Los Angeles Lakers (2000-03)
Minnesota Timberwolves (2003-09)
Madsen's coaching career
Assistant Coach, Utah Flash (2009-10)
Assistant Coach, Stanford University (2012-13)
Head Coach, Los Angeles D-Fenders (2013)
Assistant Coach, Los Angeles Lakers (2013-19)
×
Photos
Related Stories