SALT LAKE CITY — The sun was shining and Utah football was back in action at Rice-Eccles Stadium Saturday in the annual Red-White spring game.
Led by backup quarterback Jason Shelley, the Red team claimed a spring 21-14 victory over the White team in front of the approximately 6,000 fans in attendance. It was a developmental game meant to showcase the offensive play-making abilities of a unit learning a new system put in place by newly-hired offensive coordinator Andy Ludwig.
"Offense executed well. It was a watered down version of the offense, very vanilla, so we didn't have a lot that we showed, but I thought the execution was clean for the most part," head coach Kyle Whittingham said.
Whittingham said the team was looking to give the offense confidence Saturday without worrying about attacking its stout defense. As a result, much of the starting unit on the defensive side of the ball was held out of the game.
With most of that unit held out of the game, both teams' offense shined in the first half of play and never managed a punt. Red, though, would take a 21-14 lead at the half after White missed a 43-yard field goal attempt by sophomore Chayden Johnston as time expired.
No team would score in the second half, though, as both teams turned to some backup players to get some meaningful minutes. The Red team had a chance to put a few more points on the board but freshman placekicker Jadon Redding hit the left upright to miss a 31-yard field goal attempt with 3:19 left in the game.
Shelley, who played much of the first half and some of the third quarter, finished the day throwing for 87 yards and one touchdown on 7-of-10 passing, including a 19-yard scrambling touchdown toss across the field to Derrick Vickers for the first score of the game.
Shelley would follow up his first score on his team's second series with a nine-play, 65-yard drive that was capped off with a Devin Brumfield 4-yard rushing touchdown in the second quarter. Transfer quarterback Cam Rising replaced Shelley later in the first half and led the Red team to a 13-play, 65-yard touchdown drive that ended with a 2-yard touchdown toss to starting receiver Solomon Enis for the team's final and game-winning score.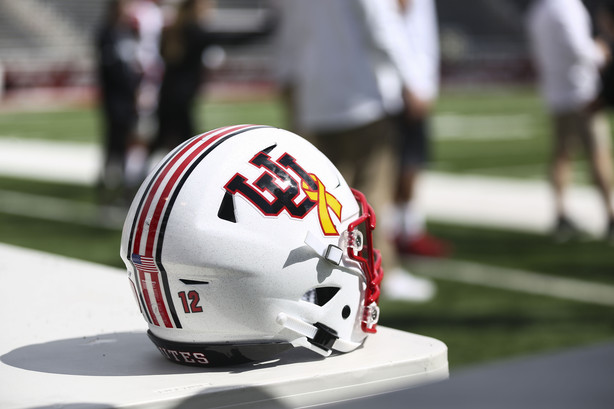 Rising, who has not yet heard news about his transfer eligibility for the 2019 season, finished the day throwing for 77 yards and one touchdown on 8-of-10 passing.
The White team, which was led by starting quarterback Tyler Huntley, answered quickly with their both of their touchdown strikes. Huntley wasted no time on White's opening series and threw a 59-yard pass to a streaking Bryan Thompson to put the team on the Red 6-yard line. Huntley then trotted into the end zone for a 6-yard score.
Huntley followed up his opening act with a four-play, 65-yard drive that included a 31-yard pass to Devonta'e Henry-Cole and a 22-yard pass to tight end Thomas Yassmin. Huntley, who could not be tackled in the game, rushed for 10 yards to set up a 1-yard rushing touchdown by Henry-Cole.
The senior quarterback finished the game throwing for 158 yards on 8-of-9 passing and looked good in his return to the field after sustaining a season-ending injury at the conclusion of the 2018 season.
Ludwig said Huntley has been great in his recovery and coming back to play. He said he believe Huntley has "a chance to have a great senior season and play the best football of his career. It's my job to put him in that position, and I look forward to that task."
As an overall offense, Ludwig was pleased with what he saw on the field Saturday, but recognized that the starting defensive unit was absent from the game and that the offensive schemes were basic.
"I feel a lot better now than I did two weeks ago in terms of system acclimatization and terminology — mastering the new terminology," Ludwig said. "Today was pretty watered down — a vanilla look — but I thought they executed well in what we asked them to do."
×