Estimated read time: 3-4 minutes
This archived news story is available only for your personal, non-commercial use. Information in the story may be outdated or superseded by additional information. Reading or replaying the story in its archived form does not constitute a republication of the story.
SALT LAKE CITY — Gov. Gary Herbert signed the hate crime bill passed by the Utah Legislature during a ceremony Tuesday in the Capitol rotunda that was marked by emotion.
Several hundred people, including elected officials, religious leaders and community members affected by hate crimes, attended the hourlong event to celebrate the long-sought legislation.
"We still have work to do. This is not the end. This is just a new beginning," Herbert said as he signed SB103, "A new opportunity for us to go out and share the message that needs to be shared with everybody."
---
This is just a new beginning — a new opportunity for us to go out and share the message that needs to be shared with everybody.
–Gov. Gary Herbert
---
That message, the governor said, is "one of love, compassion, mutual respect, civility, which we sometimes don't see in politics" that will make for "a better future as we turn it over to the young generation."
SB103, sponsored by Sen. Daniel Thatcher, R-West Valley City, enhances the penalty for a crime when victims are targeted because of their race, religion, sexual orientation or a long list of other characteristics.
Thatcher had tried and failed before to advance hate crime legislation, as had lawmakers before him. Early on in the 2019 Legislature, the bill did not have enough support from Senate Republicans to be sent to a committee for a hearing.
But that changed after Thatcher added a number of new characteristics that could be targeted as a hate crime, including where victims attended college, their marital status or their political expressions.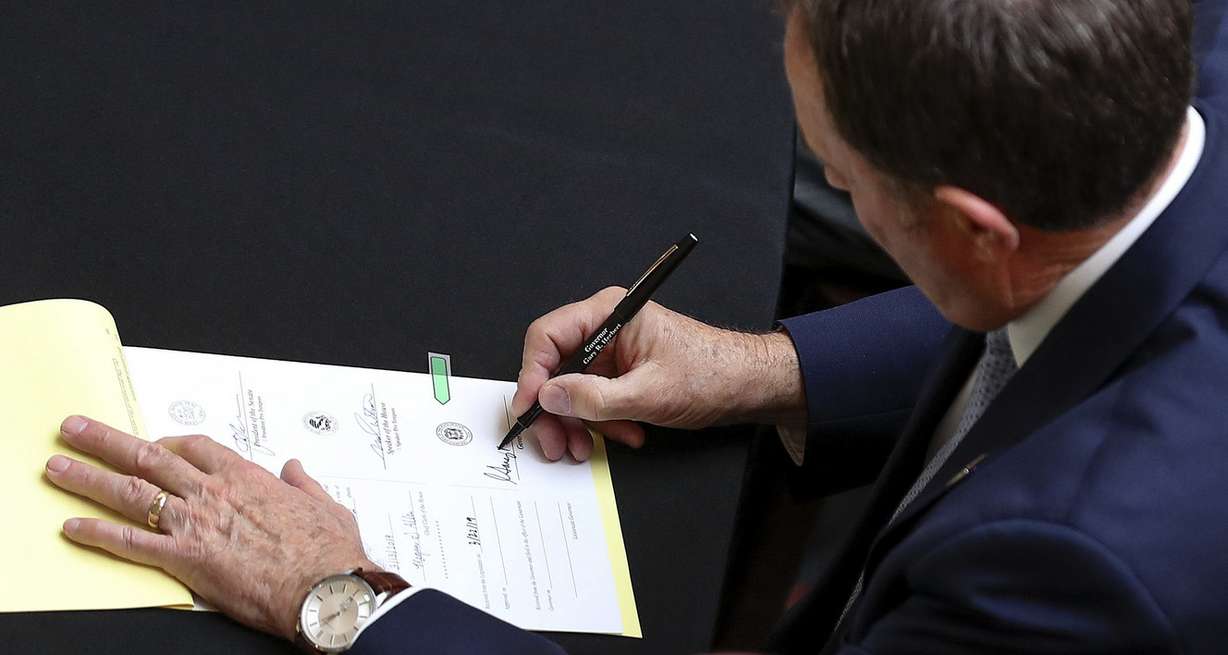 #herbert_pic
Stories about recent hate crimes in Utah also had an impact.
Luis Gustavo Lopez, still recovering from being attacked along with his father by a man swinging a metal bar who allegedly said he wanted to kill Mexicans, attended Monday's ceremony.
"It feels a lot better now because at the time, I did feel a little bit frustrated," said Lopez, who has a metal plate and visible scars on his face from the November incident at a Salt Lake tire store. "It felt like there should be more done."
Prosecutors, however, said Utah's existing hate crime law was unworkable. The U.S. Attorney's Office for Utah stepped in earlier this year to charge the man with federal hate crimes.
Related:
Lopez, a student at Salt Lake Community College, said the new law means future victims of hate crimes in Utah won't have to endure "what I felt and what I went through."
Seth Brysk, central Pacific regional director for the Anti-Defamation League, mentioned the Lopez Tires attack along with a list of hate crimes committed around the globe during the bill signing.
He said such crimes of hatred and bigotry send a message of terror and are "intended to intimidate us and our neighbors, assaulting our shared values even as they assaulted the victims who were murdered or maimed."
Brysk praised Utahns for "demonstrating remarkable leadership, providing inspiration and hope throughout the Beehive State and across our country" by passing hate crime legislation.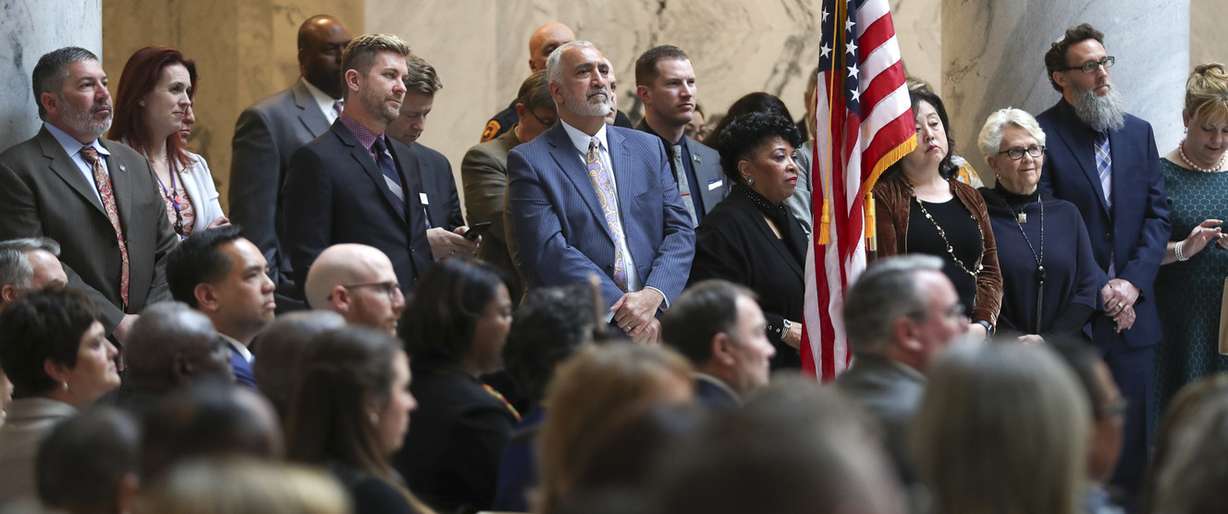 Thatcher said four years ago, he was on the "wrong side" of the issue himself before recognizing the need for prosecuting hate crimes.
"Once you get it, you can't un-get it," he said. "It doesn't matter where you start. It matters where you finish."
The bill's sponsor became emotional talking about how personal the issue became to him, "as I learned how to be a better advocate, as I learned how to be a better senator and a better man."
The ceremony included songs by the One Voice Children's Choir including, "Let There Be Peace on Earth," as well as an impromptu rendition by some of the attendees of the civil rights anthem "We Shall Overcome."
×
Photos
Related stories
Most recent Politics stories