This archived news story is available only for your personal, non-commercial use. Information in the story may be outdated or superseded by additional information. Reading or replaying the story in its archived form does not constitute a republication of the story.
SALT LAKE CITY — The Salt Lake Stallions' playoff hopes in the inaugural season of the Alliance of American Football aren't dead, but they are on life support.
The same could be said of the league itself.
Multiple reports indicate that league chairman Tom Dundon will suspend league operations Tuesday, setting in motion a process that could lead to the first-year startup football league's eventual folding.
The news was first reported by Pro Football Talk, and confirmed by The Action Network and NBC Sports, among a host of others.
The reports were verified when Stallions players met with team officials Tuesday and were informed that practice was canceled as the league suspended operations, linebacker Trevor Reilly told 1280 The Zone radio.
The AAF hasn't folded; it's not completely dead. But as Miracle Max says in the classic film "The Princess Bride," it's "mostly dead."
"I told my wife last night, 'this could be my last day.' I even wore my Antigua hat," said Reilly, who was a student assistant at Utah this past season. "There are talks of them trying to cut some costs. But we'll know more tonight at 6 (o' clock).
"We had a team meeting, and as of right now, it's suspended."
Not the end, but close to it
Games will not be played this weekend, and the Alliance has informed multiple team employees — including, but not limited to, players — that their tenure in the league is over. AAF co-founder Charlie Ebersol sent an email to various staff members, which was obtained by KSL.com and multiple other media outlets, championing the leagues successes that include an average television audience of 556,000 people across broadcasts on CBS, CBS Sports Network, the NFL Network and TNT, according to the Sports Business Journal.
But the decision has been made to suspend operations, and only a fraction of league employees will remain as the league attempts to "seek new investment capital and restructure our business."
"Should those efforts prove successful, we look forward to working with many of you on season two," the email read. "As a follow-up to this communication, we will reach out to the personnel who will be involved in that continuation effort.
"For those employees whom we do not contact individually to discuss an ongoing role or alternative arrangements, your employment termination date is effective Wednesday, April 3, 2019, and you will be paid through this date. We are extraordinarily appreciative for all of your efforts."
AAF co-founder Bill Polian said in a statement that the decision belonged solely to Dundon.
"I am extremely disappointed to learn Tom Dundon has decided to suspend all football operations of the Alliance of American Football," said Polian, a longtime NFL executive. "When Mr. Dundon took over, it was the belief of my co-founder and myself that we would finish the season, pay our creditors, and make the necessary adjustments to move forward in a manner that made economic season for all.
"The momentum generated by our players, coaches and football staff had us well positioned for future success. Regrettably, we will not have that opportunity. I sincerely regret that many that believed in this project will see their hopes and efforts unrewarded. They gave their best, for which I am deeply grateful. Unfortunately, Mr. Dundon has elected this course of action."
Dundon made several ominous statements last week to USA Today and other media outlets, alleging that the league — which he committed to infuse with $250 million at the start of the season to ensure its viability — would need support from the NFL Players Association in order to remain in operation.
His plan included using NFL practice squad players to help staff the league, as well as free agents and those looking for a path back into the highest echelon of American football. The players would be paired with the development of several tenured coaching staffs, including Salt Lake coach Dennis Erickson, a college football hall of famer.
The move was seen by many as a negotiating tactic, one that the NFL apparently ignored, and has now put the future of the league into jeopardy. It was met with indecision by the players' association, namely because of concerns over insurance and player injuries, such as when former Utah linebacker Gionni Paul broke his arm during the Stallion's most recent 8-3 win over San Diego.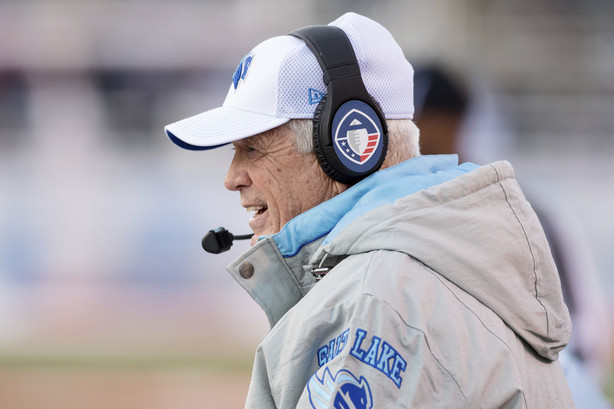 Players, coaches react
Paul's injury cost him what he thought was the final two games of the season. Now his greater future is in jeopardy after the league suspends operations while he is set to undergo surgery and rehabilitation for a broken hand, he said in a video posted to Twitter. The former University of Utah linebacker played briefly in the NFL with the Cincinnati Bengals and also spent time in Canada and Russia as a player-coach.
"The league's gonna fold. I blew my hand out for this league, and it's gone," Paul said in the video posted to Twitter from the team's hotel Tuesday afternoon. "Charlie, you told us this year would be different, that this league wasn't going to fold. You had the money. Now look at it, eight weeks into the league.
"What am I going to do about my hand? Are they still going to pay for my hand? Dang, man. I should've stuck with the CFL or Europe."
Pro Football Talk reported that the AAF needs approximately $20 million to get to the end of the first season. The league's four-team playoff was set to begin in two weeks, with the league-leading Orlando Apollos and Birmingham Iron having already clinched spots.
"We're all disappointed. But on the other side, we've got to be the champs," Apollos coach Steve Spurrier told WFTV in Orlando, trying to infuse a moment of levity into a dour situation. "We're 7-1 and the rest of the teams are 5-3.
"Some of us didn't get into the Alliance to advance our careers. But I'm more disappointed for all the players who believe this is their chance to show people they can play this game. A lot of them will get opportunities. They've shown enough. But it's sad to end this way."
WATCH: Steve Spurrier says the @aafAPOLLOS should be champions, if this is indeed the end of @TheAAF.#Champions#Apollos#Orlando#AAF#WFTVpic.twitter.com/KumJjOe2uA

— Christian Bruey (@CBrueyWFTV) April 2, 2019
The four teams in the Western Conference were preparing for a two-week sprint to the finish, with all four teams still alive for a playoff berth, led by the San Antonio Commanders and Arizona Hotshots at 5-3, and followed by the Stallions and San Diego Fleet at 3-5.
"When you're a professional, you play this game because it's your job," Stallions quarterback Josh Woodrum said. "We're not just going to go out there and lay down.
"As a professional football player, I'd like to think everyone on this team is a competitor. Every game we're going to go out there and do our best, regardless if we're 1-9 or 10-0."
The league started with promise, billed as a startup spring football league that could eventually become a complement to the NFL — a minor-league option for fringe NFL prospects and practice squad-level players.
In its short time, the AAF has re-introduced the world to former college football standouts who are likely to get another chance in the NFL. Orlando quarterback Garrett Gilbert led the league with 2,152 yards, and Stallions defensive end Karter Schult was among the most impressive defensive players, accumulating seven sacks — the second-most in the AAF.
"That's part of our job: to get them out there and show their abilities," Erickson said. "I'm also responsible to win football games, and that's the number one responsibility. A lot of these guys are getting looks right now (from the NFL) because they're in this league and this league is so good.
"You take Karter for example — great pass rusher and he's playing well. There are other guys out there that because of this league, they're probably going to have an opportunity to have another shot."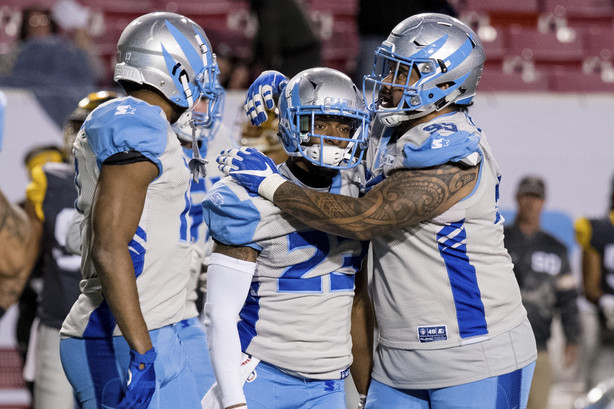 To the rescue?
The AAF barely got off the ground before it hit financial troubles. Dundon bought into the league in just the second week, infusing the Alliance with $250 million in cash amid reports that the league had failed to make payroll. The owner of the NHL's Caroline Hurricanes and TopGolf founder was compensated with the title of league chairman for the grant.
AAF co-founder Charlie Ebersol refuted those reports, saying that any missed payments were because of a glitch in a new payroll management system. But the stigma stuck through the first season.
"They gave up controlling interest when he came in with the money. But he wrote himself a back door," Reilly said. "But it takes longer than two weeks to get an agreement on that type of stuff — especially with the union."
Simply put, costs were simply too high — even at $80,000 per year for each player, with contracts for as long as the three-year shelf life of the league's television contract with CBS Sports Network and the NFL Network.
"The way that they ran this thing was first class, to a point that it was almost a fault," Reilly said. "We're staying in a nice hotel, feeding us twice per day, paying for guys' housing. A lot of those costs, if they want to keep this thing going, they're going to have to cut those costs."
An explanation or statement from the league is expected Tuesday evening.
×
Related Stories