This archived news story is available only for your personal, non-commercial use. Information in the story may be outdated or superseded by additional information. Reading or replaying the story in its archived form does not constitute a republication of the story.
SALT LAKE CITY — Few coaches have an impact on a community the way Rick Majerus did for the University of Utah faithful. And on Tuesday, his impact on the game of college basketball was recognized.
The former Runnin' Utes coach was named to the National Collegiate Basketball Hall of Fame as one of nine people included in the 2019 class, the university announced. Majerus, whose career spanned 15 seasons as Utah's head coach, is joined by former coaches Homer Drew and longtime Arizona coach Lute Olsen.
The three coaches will be enshrined in the Hall of Fame on Nov. 24 in Kansas City at the 2019 National Collegiate Basketball Hall of Fame induction ceremony. They'll be joined by six former players, including Indiana's Calbert Chaney, Duke's Shane Battier, Purdue's Terry Dischinger, Providence's Ernie DiGregorio, UNLV's Larry Johnson and Stanford's Todd Lichti.
Majerus, who died on Dec. 2, 2012, from prolonged complications to his heart and awaiting a heart transplant, saw the Utes through a change from the WAC to the Mountain West Conference and 11 NCAA Tournament appearances. In the 1997-98 season, Majerus led his team to the NCAA Tournament title game, where they would eventually fall to Kentucky.
He earned five WAC Coach of the Year awards and was named the National Coach of the Year in 1991. In his 15 seasons with the Utes, Majerus had a 77.3 percent winning percentage and finished with a 323-95 record. The iconic coach ranks third all-time in wins at Utah.
Majerus resigned as the team's head coach in 2004 after health complications made it difficult to continue to coach. For a short stint after, Majerus became an ESPN analyst before accepting his final head coaching position with St. Louis University. Majerus led his team to 95 wins and an NCAA Tournament berth his last season before his death.
"Rick Majerus, in my opinion, is the most talented basketball coach there's ever been," Dick Hunsaker, a former assistant at Utah, said after Majerus' death. "He touched more lives, touched more players, campers, fans. He had such a unique ability to reach to all levels."
A winner of over 500 career games who took @UtahMBB to the 1998 Final Four.

The #CBHOF welcomes the late Rick Majerus! pic.twitter.com/brGy0JM2UR

— National Collegiate Basketball Hall of Fame (@CBHOF) April 2, 2019
Former Utah athletic director Chris Hill, who hired Majerus in 1989, said in 2012 that the longtime head coach "left a lasting legacy at the University of Utah, not only for his incredible success and the national prominence he brought to our basketball program, but also for the tremendous impact he made on the young men who were fortunate enough to play on his teams. His standard of excellence extended beyond the basketball court and into the academic and personal success of his players."
The University of Utah later hung a banner in the rafters that included his iconic white sweater to honor their coach.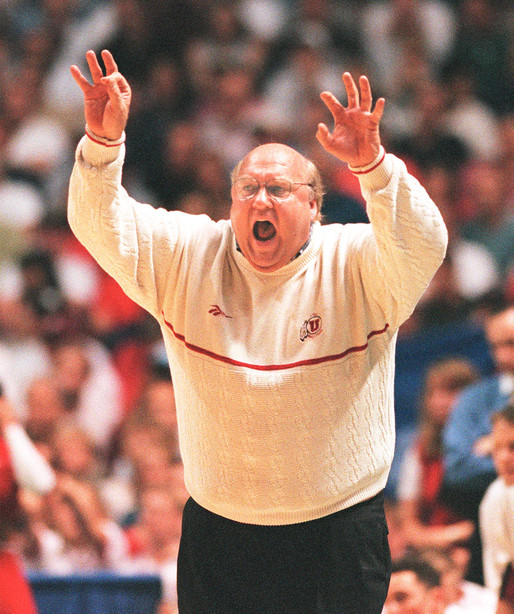 ×