Estimated read time: 3-4 minutes
This archived news story is available only for your personal, non-commercial use. Information in the story may be outdated or superseded by additional information. Reading or replaying the story in its archived form does not constitute a republication of the story.
SALT LAKE CITY — Rick Majerus, one of the most influential basketball coaches in Utah history, passed away on Saturday due to prolonged complications with his heart. He was 64.
Majerus was best known as the coach of the Runnin' Utes. He arrived at the school in 1989 and led the Utes to nine NCAA tournament appearances, including one trip to to the NCAA championship game in 1998.
Shortly after his arrival at the U., he took a leave of absence to undergo bypass heart surgery.
In 2004, resigned from Utah due to health reasons. He went on to become an ESPN analyst through 2007, when he took another coaching job, this time at St. Louis University. He coached there for the past five seasons and led the Billikens to a 26-8 record and an NCAA berth last season.
Before the 2012-13 season began, Majerus took another leave of absence, again citing health concerns. He had been receiving treatment for a serious heart condition in LA for the past couple months.
Majerus' overall record as a collegiate head coach was 517-215, with his most success coming at Utah, going 323-95 from 1989-2004.
He left mid-season, in part, to gain control of his health.
Some of my greatest memories as a kid came from watching Coach Majerus and the Runnin' Utes in the Huntsman Center with my dad.
Anyone that went to a basketball game up on the hill during the 1990s surely remembers seeing the awkward colored sweater pacing along the sidelines.
Visit the Huntsman Center today, and you'll see banners upon banners of Majerus' impact, not only on the Utah basketball team, but on the game of college basketball as well.
Majerus won the Western Athletic Conference championship in his first full season with the Utes. From 1991 to 2000, Majerus won seven conference championships, six in the WAC and one in the newly created Mountain West Conference.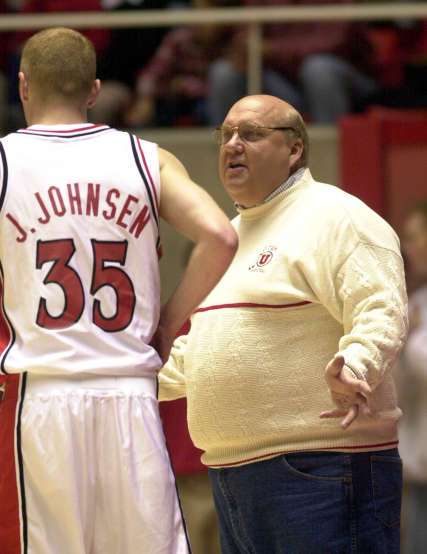 From 1994 to 2000, he led the Utes to the NCAA tournament every season, going into at least the second round each year. In 1996 he took the Utes to the Sweet 16. 1997? Elite Eight. 1998? Championship game.
Each of those three tournament losses all came at the hands of Kentucky. Three years later, Majerus jokingly told The New Orleans Times-Picayune, "When I die, they might as well bury me at the finish line at Churchill Downs so they can run over me again."
Majerus, along with his iconic sweater and brilliant basketball mind, will be deeply missed.
Dick Hunsaker, Majerus' former assistant coach, said that during the time they coached together, they "certainly needed one another" and that Majerus taught him how to interact, motivate and love players.
"Rick Majerus, in my opinion, is the most talented basketball coach there's ever been. Touched more lives, touched more players, campers, fans," Hunsaker said. "He had such a unique ability to reach to all levels."
Former Utah governor Jon Huntsman tweeted, "RIP Coach Majerus. A great friend and the Godfather of our daughter Gracie. I will miss our midnight runs to Crown Burger."
Utah athletic director Chris Hill released a statement Saturday expressing his condolences.
"I heard from Mr. Huntsman of Coach Majerus' passing and all of us in the University of Utah community are deeply saddened. Rick left a lasting legacy at the University of Utah, not only for his incredible success and the national prominence he brought to our basketball program, but also for the tremendous impact he made on the young men who were fortunate enough to play on his teams. His standard of excellence extended beyond the basketball court and into the academic and personal success of his players. He will be deeply missed and we grieve for his family and all of his friends."
×
Photos
Most recent Sports stories