This archived news story is available only for your personal, non-commercial use. Information in the story may be outdated or superseded by additional information. Reading or replaying the story in its archived form does not constitute a republication of the story.
SALT LAKE CITY — Southern Utah University President Scott Wyatt told the Utah State Board of Regents Thursday that one of his dreams came true in 2016 when he got to call off school for a snow day.
"It was one of my happiest days of my time as a president. I'm going to live another dream today, proposing zero tuition and zero fees (increased), something I used to dream about as a college student and over the last 12 years as university president," Wyatt said.
Among the rest of the institutions in the Utah System of Higher Education, the proposed increase tuition averages 2.46 percent, with fast-growing Dixie State College proposing a 5 percent increase and Utah Valley University proposing a 1.7 tuition increase.
Instead of setting a system-wide percentage increase for first-tier tuition, the Utah State Board of Regents will set tuition rates specific to particular institutions. The board will vote to set the rates on Friday.
The recommendations presented by the university presidents were set after "truth in tuition" hearings on each campus.
College and university presidents each reported record numbers of students turned out to comment on proposed tuition and fee adjustments — some nudged by offers of free pizza — although the process was somewhat stymied because levels of legislative support were not known when the hearings were conducted so the institutions initially developed a range of proposed increases.
Utah State University President Noelle Cockett said the student input framed the debate.
"Our students let us know it didn't work for them. We also have to trust our students are engaged," she said.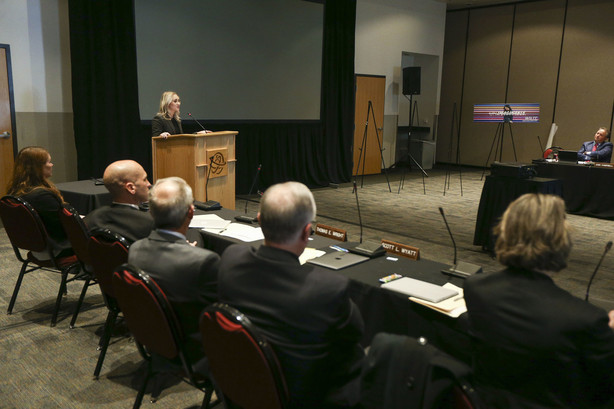 Students supported tuition and fee increases for specific purposes, the presidents reported. Campus safety and increased mental health services were student priorities. On some campuses, there was reduced support for the arts and even child care.
While the board conducted a public hearing Thursday to solicit comment on proposed tuition and fee increases, the only speakers were student body presidents, all of whom reported there had been robust discussion on college campuses and few students opposed tuition increases.
Regent Teresa Theurer said even though campuses can justify the increases and articulate how tuition and fees are used, the public balks against any increase.
Last fall, a legislative audit criticized the board for not adequately controlling tuition increases. It found that state college and university tuition had increased by nearly $132 million over the past five years.
"No matter what seems to happen, we get beat up about tuition costs in our state," Theurer said.
"What can the regents do to be proud of our tuition and what we offer and not get the constant criticism?" she asked, posing the question to student body presidents who addressed the board during the public hearing.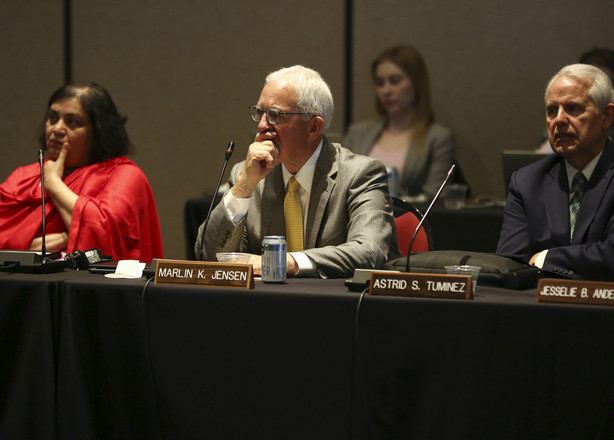 Snow College's student body President Jared Devey said the issue comes down to increasing legislative funding for tuition.
Jordan Slater, student body president of Weber State University, suggested being "louder and prouder" of how tuition and fees are used and how it benefits students and the institutions.
"We have to be transparent," he said.
According to Utah System of Higher Education data, tuition rates at Utah's public colleges and universities are among the lowest in the country. Most are below those of peer institutions in the region. The lone exception is Salt Lake Community College.
SLCC President Deneece Huftalin said the college's tuition is low compared to its peers in the Utah system, but overall, "I do think our tuition is high. I would love to reduce our tuition."
Lowering tuition would take more than state support, she said. Other factors are at play.
Utah "is second to Puerto Rico for leaving Pell money on the table annually," she said, meaning many Utah students don't go through the federal financial aid process — even those who would qualify for aid that would make the institution more affordable.
Wyatt said the zero fee and tuition increase proposal was possible because SUU has "grown into economies of scale."
The university approached its budget deliberations "shooting for a zero percent increase," Wyatt said.
"We've been relentless in trying to cut costs," he said.
Related story:
Dixie State University is seeking the highest percentage increase for tuition at 5 percent, which President Richard "Biff" Williams said was student led.
"We're a growing institution and also, we're the most affordable in Utah. When you look at percentages, I always encourage people to look at the dollar amount. It's $111 a semester for our students," he said.
Between its "truth in tuition" hearing and other meetings with students, "we've heard it over and over again. We want the programs. We want to be in Dixie. We want to be able to stay there more than just two years. We want to be able to have the majors that we have. We've been able to significantly add those majors," he said.
Students also want services such as mental health providers, "which is a significant cost but we've seen a great gain with that."
×
Photos
Related Stories