This archived news story is available only for your personal, non-commercial use. Information in the story may be outdated or superseded by additional information. Reading or replaying the story in its archived form does not constitute a republication of the story.
Editor's note: This is part of a series at KSL.com featuring some of Utah's coolest cars. If you own a customized vehicle — from sports cars to semitrucks — email vvo-duc@deseretdigital.com with a photo of the vehicle and a brief description for consideration.GRANTSVILLE — Parker Fidler is a 16-year-old high school Junior at Tooele High School. For the most part, he is your typical high school kid. He's ambitious, kind, plays video games, and the best part, he loves cars. His car is anything but typical, it is a beautiful 1965 Ford Mustang.
A few years ago, in September of 2016, the teen knew he wanted a classic Mustang, but finding one posed a unique challenge. He and his father, Chad Fidler, began looking far and wide for the right example. Their goal was to find a drivable Mustang with not too much rust, and obviously a straight frame. They came across a 1965 Mustang in True Blue one day, and the teen immediately fell in love. His father, on the other hand, was a little more skeptical at first.
"I really wanted the car, but my dad was a little hesitant when we went and looked at it and told me it wasn't the one," Parker Fiddler said.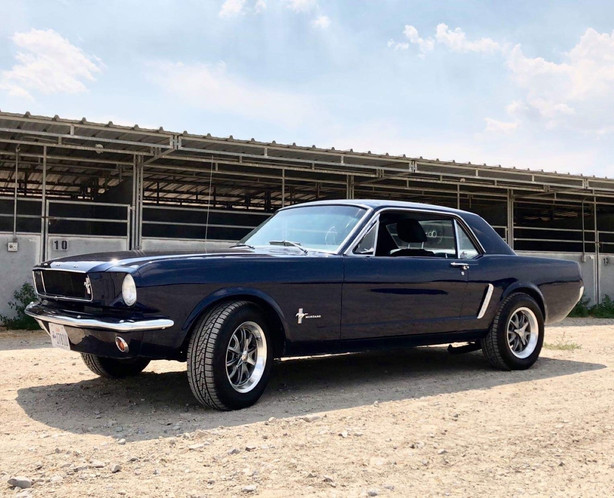 That night, however, his father surprised him with the car they looked at that day, and they couldn't have been happier.
The car was painted True Blue by the previous owner back in 2008. The factory color, however, was Silverlight Blue. Back when Chad Fiddler was in high school, he too had a Mustang: a 1966 Mustang coupe finished in, surprise, Silverlight Blue.
The current condition of Parker's paint is adequate at the moment, but he would love to have it painted in the next few years in Lead Foot Gray, a color featured on new Ford models.
The first winter they had the car was spent modifying a few of the necessities. They swapped out the suspension to help with the ride, installed a much-needed replacement gas tank, and fine-tuned the original 302 motor to run the way it needed to.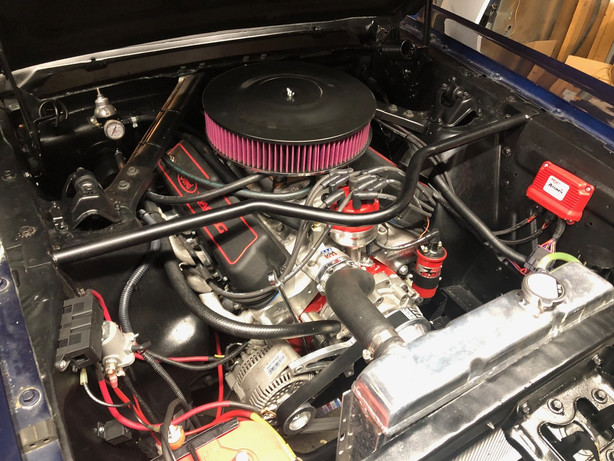 Spring of 2017, just a few months before Parker obtained his learner's permit, he purchased new wheels for the car, which improved the ride quality further and sharpened up the look. The car was kept in this condition for just over a year until the last summer when they installed new fuel injectors for the engine.
Last October, disaster struck as the original 302 engine block threw a rod and cracked the engine block leaving the car dead in the water. The father and son looked at this as an opportunity to make the Mustang that much cooler and decided to install a bigger 331 stroker, which now puts out a conservatively estimated 400 horsepower and 400 lb/ft. of torque to the wheels. With a curb weight around 2,700 lbs, this Mustang now has a hard time keeping traction on the rear tires and it runs like a dream.
The car was stored for the winter, and that gave them some time to finish up some things with the engine, install new seats, new gauges, restored the radio, and tried to keep it as close to original as possible.
Related Stories:
Parker's love of cars comes from his dad, and together working on his 1965 Mustang has become a great bonding experience and provided many great memories over the years.
Other than possibly repainting the car, they plan on keeping the car in its current state and enjoying every minute of it. Parker said his dream car is a new Mustang GT350R, but his classic Mustang checks all the boxes for now. It goes without question that Parker now has the coolest car in school. Jeff Giles is a current student at Utah State University, car enthusiast, and writer. He may be contacted at jeffgiles94@gmail.com, thank you.
×
Photos