This archived news story is available only for your personal, non-commercial use. Information in the story may be outdated or superseded by additional information. Reading or replaying the story in its archived form does not constitute a republication of the story.
Editor's note: This is part of a series at KSL.com featuring some of Utah's coolest cars. If you own a customized vehicle — from sports cars to semitrucks — email vvo-duc@deseretdigital.com with a photo of the vehicle and a brief description for consideration.LOGAN — People could drive miles on Utah interstates and go to weekends of car shows and probably still wouldn't see a set of wheels like this, especially looking factory-fresh.
"Something you don't see every day" is what Mike Cazier said about his car.
There are two reasons for this: First, it's a 1950 Studebaker Champion Starlight Coupe. The "Starlight" part means it has the four-piece wraparound back window, offered from 1947-51. Critics said they didn't know if it was coming or going. Studebaker was early on the scene to get fresh styling out after World War II. It has the "bullet" nose that led off the car from 1950-51. People could order a propeller from the dealer and let it spin like an airplane as you drove down the road.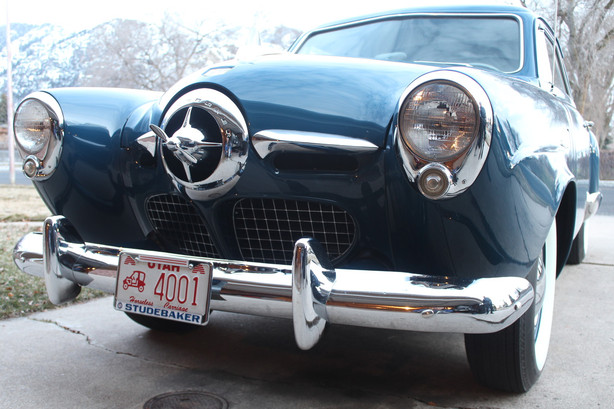 The second reason: It's rare to see it. Most people spend most of their driving time on interstates. Mike Cazier is a member of an old car club that takes tours together, but he said they go to unique spots people in modern cars miss, and they like taking the less-common back roads.
Mike's dad, Doyle Cazier, bought a Studebaker Champion new in 1950 and often talked about it with his son. Mike bought his own in 1981 and spent eight years restoring it with his father. In 1991 Mike and his 10-year-old son were driving the Concord Blue coupe to a car show when Mike said a truck ran a stop sign and broadsided them, totaling the freshly-completed project, and giving the father and son cuts, bruises and cracked ribs. He said the Utah Highway Patrol trooper investigating the crash took a second to spin the propeller.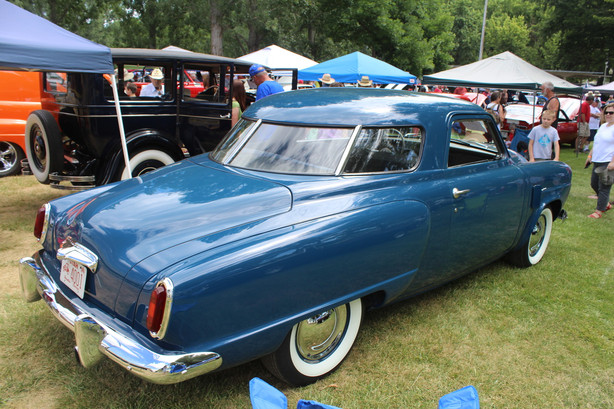 After collecting a disappointing check from the insurance company, Mike displayed the wreck at the Cache Valley Cruise-In's swap meet to solicit leads on another one. Later that same year he picked up his second 1950 Champion in Kentucky. It was supposed to be running but wasn't. The back seat had a rat skeleton in it. The restoration became a father-and-son project with the next generation.
Related Stories:
Mike's day job is at a collision repair shop, so he could do his own bodywork and had an inside line on getting it painted Concord Blue. He kept the original 170 cubic-inch flathead six, giving it an overhaul and bore but keeping it original. He was not interested in hot-rodding it.
He estimated he took it to 10-12 car shows a year. He might do more, but many are on the same weekend. It's easy to spot at a show, standing out from the all the Mustangs, Model As, and Camaros surrounding it. Brian Champagne has reported on cars since 1996. He holds a master's degree in communications from the University of the Pacific and teaches at Utah State University.
×
Photos
Related Links