This archived news story is available only for your personal, non-commercial use. Information in the story may be outdated or superseded by additional information. Reading or replaying the story in its archived form does not constitute a republication of the story.
SALT LAKE CITY — From opinion based to now virtually an inarguable fact, the notion that Utah State has enjoyed the best combined seasons in football and men's basketball in Utah no longer is an outrageous assertion.
Yes, as crazy as it may have originally seemed before the 2018-19 academic year, these are the glory days for the Aggies. Utah State is the king, better than the combined results for Utah and BYU football and basketball.
Consider this: Utah State football and basketball is part of an elite company. The Aggies are one of five programs to finish ranked in the Top 25 in the final regular-season football and basketball polls, joining Louisiana State, Michigan, Kentucky and Cincinnati.
"That's pretty darned good company there and something we're really proud of," Utah State athletic director John Hartwell said during an interview on The Zone Sports Network.
By winning 17 of their last 18 games, which included three consecutive games to capture the Mountain West Conference tournament last week in Las Vegas, the Aggies are ranked No. 25 in this week's Associated Press poll. It is their first time ranked this season.
After finishing 11-2 in football, Utah State was ranked No. 22 in the final Associated Press poll released in January. Neither Utah nor BYU finished ranked in the final polls in basketball and football.
Let the good times roll in Logan.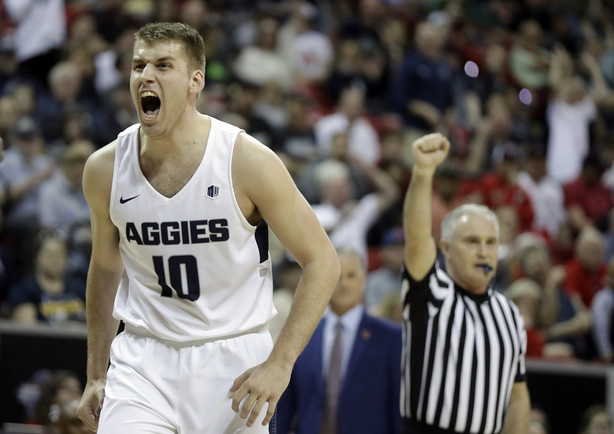 "Whether it's football, basketball (or) any of our other sports, this is not a one-hit wonder," Hartwell boldly declared. "We are building it for sustained success. Can I run a magic ball and say we're going to win 28 basketball games every year or 11 football games? No, probably not. But I can guarantee this: We are building this thing for continued success in the near future. That's really exciting to be a part of."
After Utah State beat San Diego State in late February to improve to 23-6 and 13-3 in conference, I sent out a tweet asking if it was time to recognize the Aggies as having the best combined football and basketball teams in the state this year. One week later, the Aggies furthered the cause by beating national ranked Nevada.
Home 💙 pic.twitter.com/l3tBRWBNoW

— Utah State Athletics (@USUAthletics) March 17, 2019
At the time, some fans of BYU and Utah vigorously voiced objections to the original tweet. After both programs lost their only games in their respective conference tournaments, the case for Utah State only grew stronger.
In Utah's case, the only valid argument stems from the football team winning its division in the stronger Pac-12 for the first time and advancing to the conference title game. Boise State won its division in the easier Mountain West, beating Utah State in the final regular-season game.
Forget about any debate in basketball. Missing the NCAA Tournament for the third consecutive season, and not being good enough for even the NIT, Utah's basketball program is trending in the wrong direction.
BYU has no room to talk in football, having lost to the Aggies by 25 points in Provo. Utah State now has a two-game winning streak against the Cougars.
The Cougars did beat Utah State by 15 points in basketball in December at home, but a one-game sample three months ago is not convincing enough. BYU, which has not made the NCAA Tournament in four years and also did not get an NIT berth, is following Utah by going in the wrong direction.
Keep in mind, the thesis here is based on one season only. The best combined programs, as opposed to teams, in the state continues to be up for debate.
But check back after future seasons. If Hartwell's statement on the future proves correct, Utah State deserves serious consideration as the best the state has to offer when combining football and basketball.
"We've only just started," said Utah State basketball coach Craig Smith.
Postgame Press Conference | Utah State Mountain West Champions

FULL PRESS CONFERENCE ➡️ https://t.co/TqGXZDls34#AggiesAllTheWaypic.twitter.com/o04u53pBkg

— USU Men's Hoops (@USUBasketball) March 17, 2019
---
×
Related Stories