Estimated read time: 2-3 minutes
This archived news story is available only for your personal, non-commercial use. Information in the story may be outdated or superseded by additional information. Reading or replaying the story in its archived form does not constitute a republication of the story.
PROVO — With the arrival of springlike weather, more people are spending time outside. Police warn this is the time of year they see an uptick in property crimes.
"There is a bag on the front seat right there and a backpack in the seat back there," said Provo police officer Brooke Fox, as she looked through the windows of a parked car Monday.
Fox said she sees it every day: easy targets of valuables for criminals willing to steal.
"This is what criminals do to: They just come over and they just look real quick and then they just pull the handles. So, if they see something right there, it's opportunity," she said.
On Monday, Fox was checking a neighborhood in Provo with student off-campus apartment complexes south of BYU, where police often get frantic calls about stolen items.
"Students don't lock their cars. They leave valuables in their cars or they'll leave their front door unlocked because they have roommates coming in and out," Fox explained.
So in recent weeks, officers with Provo's community policing unit have been leaving friendly reminders — cards that say "Hide. Lock. Keep." — anytime they see an opportunity for a thief.
"If there are any valuables that are visible or unlocked, a vehicle unlocked, we try to educate people through these (cards)," Fox said.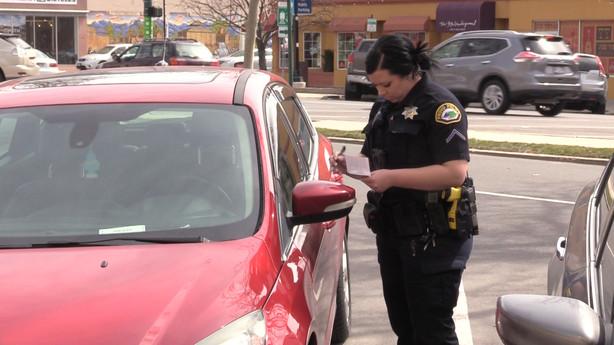 #fox_pic
Provo police say the effort is paying off. Police are using social media this week to promote what they call the "9PM Routine."
"Which means (at) 9:00, you go out, check your doors — your vehicle, your front door — check for valuables, make sure your windows are closed right before you go to bed," Fox said.
Police said in other communities in the country where people have made the 9PM Routine part of their lives, crime rates have dropped.
"If you want to keep your valuables, make sure (your door is) locked. We want to keep you safe as well, so making sure you are locking your doors so no one can break in and steal your items and cause harm to you," Fox said.
The 9PM Routine: simple advice police hope people will follow.
1-Remove valuables from your car to include your keys
2-Make sure your cars are locked
3-Lock your garage door
4-Lock you home to include the windows
5-Turn on your exterior lights. A good alternative are motion sensor lights#9PMROUTINEpic.twitter.com/Vxvk1ZH5Ll

— Provo Police (@ProvoPolice) March 19, 2019
#provo_tweet
×
Photos