This archived news story is available only for your personal, non-commercial use. Information in the story may be outdated or superseded by additional information. Reading or replaying the story in its archived form does not constitute a republication of the story.
SALT LAKE CITY — The Salt Lake Stallions didn't put on an offensive showcase Saturday afternoon at Rice-Eccles Stadium.
But the Stallions' defense? That was showcase enough.
"Our defense is amazing," Salt Lake quarterback Josh Woodrum said. "I think they are the best defense in the league and it's not even close. … They are awesome, I can't say enough good things about them."
There were some good things to say about Woodrum on Saturday, though, too. He threw for 243 yards, two touchdowns and an interception, and Joel Bouagnon added 60 yards on 19 carries to help the Salt Lake Stallions to its second win of their inaugural season 22-9 Saturday afternoon over the Memphis Express.
Nick Truesdell caught five passes for 67 yards and a touchdown for Salt Lake (2-4), and Anthony Denham added four catches for 42 yards and a score.
Karter Schult led the Stallions' defense, which held a second-half shutout, and finished with five tackles and two sacks to keep the Express at bay. Former Utah linebacker Gionni Paul led the Stallions with six tackles, and Tenny Palepoi added four tackles and two sacks for Salt Lake.
The Stallions held Memphis (1-5) to just 2-of-15 on third down and just 49 rushing yards.
Express quarterback Brandon Silvers threw for 242 yards and a touchdown, but couldn't find any rhythm in the second half.
The Stallions scored on the game's opening possession, capping a 75-yard drive with Woodrum's 11-yard slant pass to Truesdell. The tight end caught his third touchdown of the season, and former BYU receiver Jared Leslie hauled in the 2-point conversion that gave Salt Lake an 8-0 lead after a 12-play drive spanning 5:42.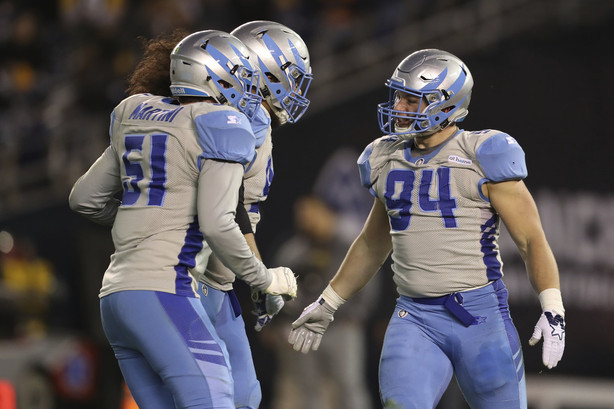 Schult's sack on Memphis' ensuing drive gave the AAF's leading sack artist his sixth takedown of the season, and forced starting quarterback Zach Mettenberger from the game.
Denham doubled the advantage, hauling in a 4-yard strike from Woodrum as the Stallions took a 16-0 lead out of the first quarter.
Woodrum, who threw three interceptions (among the Stallions' five turnovers) in last week's 27-25 loss at San Diego, had thrown for 114 yards on 14-of-19 passing in the first quarter.
Taylor Bertolet added a 26-yard field goal in the second quarter to give the Stallions a 19-0 lead.
But the turnover issues that plagued Salt Lake last week showed up again on Saturday. The Stallions turned the ball over four times on Saturday.
"We just got to do a better job of cutting down our turnovers," Woodrum said. "We won 22-9 and it felt like we should have been up 40-9 the whole game."
And those turnovers allowed the Express to keep it from getting out of hand.
Austin McGinnis hit a 31-yard field goal to get the Express on the board. And then after Memphis recovered a fumble, Silvers threw a perfect pass for 13 yards to the 2-yard line, then hit Zac Stacy for an 11-yard TD after back-to-back false start penalties.
On the same scoring drive, Schult exited the game with an injury. Woodrum threw an interception on his first play after the touchdown, but the Stallions recovered a fumble to take the 19-9 lead into halftime.
That was as close as the Express could get.
"We're playing good on defense, we have shown a lot of sparks on offense," Salt Lake head coach Dennis Erickson said. "Hopefully, we can put it all together next week."
Salt Lake held Memphis scoreless through the third quarter, and Bertolet kicked his second field, one from 22 yards away, to open the fourth quarter that put the Stallions up 22-9. And the defense did the rest to snap Salt Lake's two-game losing skid.
"We went 1-4 in the first half of the season," Woodrum said. "Our goal is to go 5-0 the second half."
×
Related Stories