LAS VEGAS — Not everyone who was rooting for Utah State during the Aggies' Mountain West semifinal win over Fresno State was in Las Vegas.
But those who stayed back home — for good reason — were following intently.
Former Utah State defensive back Will Davis will lead the Salt Lake Stallions (1-4) into Week 6 of the Alliance of American Football against the Memphis Express at 2 p.m. MDT Saturday.
But a piece of his heart has been in Las Vegas all week.
"I'm excited Utah State is doing their thing. Obviously, that win over Nevada (in the regular season) was huge," Davis told the Deseret News after practice this week. "Anyone who (is) an Aggie definitely was aware of what happened that night. I'm excited for them."
Davis understands what it means for Utah State, for Logan, for Cache Valley, and for the rest of Utah for the Aggies to be on the top of the pack. He led the Aggies to a 10-2 record, a Western Athletic Conference championship, and a 41-15 win over Toledo in the Famous Idaho Potato Bowl in 2012, after all.
That preceded an NFL career that began in the third round of the 2013 NFL Draft, and took stops in Miami, Baltimore and San Francisco over the next five years before returning back to Salt Lake City with the Alliance of American Football.
"Just like I'm talking about football, being at the top of your game at the end of the season is where you want to be," Davis said. "They're in a great position, they're hot, they're killing it and you can't ask for anything much better. Just go out there and keep winning."
ESPN's Joe Lunardi projected the Aggies to make the NCAA Tournament field as late as Friday, hoisting Utah State as a No. 9 seed in South Carolina.
Wherever they go, Davis — and plenty of other alums — will be watching.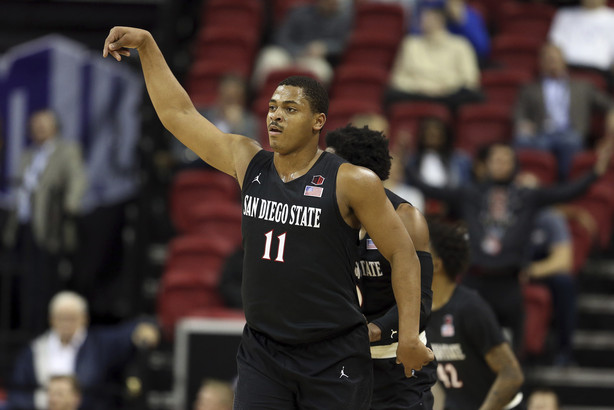 Nevada upset
Devin Watson scored a game-high 20 points to go along with five rebounds and five assists, and fourth-seeded San Diego State stunned No. 14 Nevada 65-56 in the earlier semifinal at the Thomas & Mack Center.
Jalen McDaniels added 12 points and 10 rebounds for the Aztecs, who improved to 21-12 and can clinch an automatic berth in the NCAA Tournament with a win Saturday afternoon at 4 p.m. MDT.
Cody Martin had 16 points and six rebounds to lead Nevada (29-4), which couldn't overcome a second-half deficit that it allowed in consecutive games at the conference tournament.
The Wolf Pack, which trailed by as much as 13 against San Diego State, was playing in its fourth-straight Mountain West semifinal after overturning a 15-point deficit in a 77-69 win over Boise State.
Best in the Mountain West (era)
Utah State's 26 victories recorded after Thursday night's win over New Mexico are the most since the Aggies joined the Mountain West in 2013-14.
The last Aggie hoops team to win as many games was in 2010-11 when Utah State finished 30-4 with a WAC title and the last berth in the NCAA Tournament.
×
Photos
Related Stories