PROVO — As the West Coast Conference basketball tournament opened Thursday in Las Vegas, BYU went to practice in preparation for the event.
But the Cougars were in Provo; they aren't scheduled to play in Las Vegas until Saturday's quarterfinals.
And while the No. 3-seeded Cougars still don't have a team to fit into that side of the scouting report, they do have a few options.
The Cougars will face either Santa Clara, San Diego or Portland in Saturday's quarterfinals, with two games left late Thursday night and Friday night. BYU will depart for Las Vegas by Friday morning, practice in Sin City, and then watch the 9 p.m. MST tipoff that will determine their opponent.
For now, there's only thing BYU can do.
"Most of this week has been on us and trying to get our guys back into a positive mindset," coach Dave Rose said after practice Thursday.
The Cougars (19-12, 11-5 WCC) got some good news this week, though. Gavin Baxter, the breakout freshman forward who missed last week's 87-73 win over San Diego, has returned after battling the flu.
An All-WCC freshman team honoree, the 6-foot-9, 210-pound Baxter averaged 4.7 points, 3.0 rebounds and 1.1 blocks in 29 games, including seven starts after returning from a two-year church mission.
But the youngster was dragging during the final week of the regular season, so much so that BYU's medical staff sent him home from practice and told him not to come to the season finale for fear of spreading contagions to the rest of the team.
Baxter returned to practice this week and was back to his old self, though, according to star forward Yoeli Childs.
"He had a couple of dunks today," Childs said. "A couple of blocks. He looked great; he's going to be great on Saturday for us."
Rose said Baxter is still trying to "get his wind back," but with two more days left until tipoff, the team is confident he'll be ready for his 15-20 minute average playing spurt — in some form.
"He's getting stronger every day," BYU wing Zac Seljaas said. "It's harder coming back from sickness; you can't control it. You just have to rest. But when you come back, you're weak. He's come a long way from being so ill, but getting better."
In the meantime, with no a gradually improving roster and no idea who to game plan, the Cougars will continue to focus on what they can control.
"We're just trying to focus on ourselves," Childs said. "It doesn't matter who we play right now. It's all about us and how we prepare these last couple of days."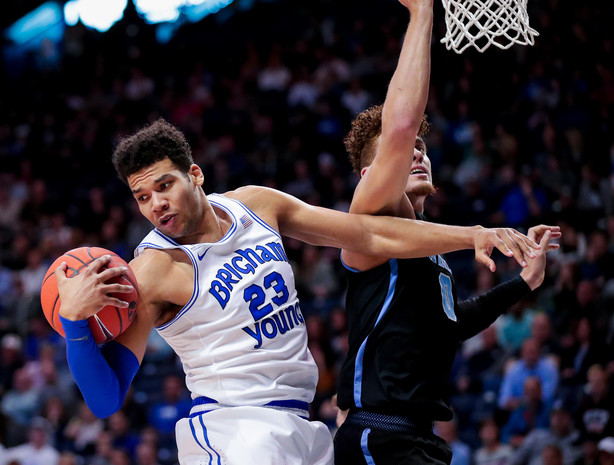 Double byes
This year marks the first year of the West Coast Conference's double-bye bracket, which gives automatic semifinal berths to the top-two seeds, and single byes to the quarterfinals for the third and fourth seed.
Gonzaga clinched the outright league title for the seventh straight year with an undefeated regular season, while Saint Mary's edged BYU via tiebreaker for the No. 2 seed.
That left BYU and San Francisco in the single-bye slots. The Cougars' five in-conference losses included a pair of sweeps to the Zags and the Dons, as well as a split with the Gaels.
It's the first time BYU has not lost to a WCC team outside the top-four since joining the conference in 2011-12.
"We had 3-4 weeks where we played really good basketball — and portions of those two losses (to Gonzaga and USF), too," Rose said. "We'll just concentrate on the positive things, and challenge the guys the best we can."
WCC openers
The conference tournament opened with four games Thursday in Las Vegas, two in the women's tournament and two in the men's basketball tournament.
In the women's tournament, No. 8 San Francisco beat No. 9 Portland 76-59, and No. 7 Santa Clara beat No. 10 San Diego, 63-59.
In the men's tournament, No. 8 Pepperdine topped No. 9 Pacific, 61-53 while No. 7 San Diego routed No. 10 Portland, 67-47 late Thursday night. The Cougars will face the winner of San Diego and Santa Clara, which tips at 9 p.m. MST on BYUtv.
×
Related Stories