This archived news story is available only for your personal, non-commercial use. Information in the story may be outdated or superseded by additional information. Reading or replaying the story in its archived form does not constitute a republication of the story.
PROVO — BYU snapped a two-game losing streak late Saturday night with a 49-23 win over a high-octane Hawai'i program that was 6-1 on the year heading into LaVell Edwards Stadium in Provo.
But the Cougars (4-3) never trailed en route to their 23rd win in the rivalry series that dates back to 1930.
Here are three thoughts as BYU enters the bye week above .500 on the arm of true freshman quarterback Zach Wilson, redshirt freshman tailback Lopini Katoa, freshman wide receiver Gunner Romney and junior all-purpose back Aleva Hifo, among others.
Zach Wilson shines in 1st career start for #BYU, and other thoughts on a slump-busting 49-23 win over Hawaii. https://t.co/24aOKOWmr5pic.twitter.com/zv0B2bCa4w

— KSL SportsBeat (@kslsports) October 14, 2018
Zach Wilson spectacular in first career start
Wilson threw for 194 yards and three touchdowns, and ran for 16 yards and another score in his first career start in Provo. Just a few months removed from his senior prom, Wilson became the youngest starting quarterback in BYU history at 19 years and two months, just beating out Jake Heaps (19 years, 3 months) and Drew Miller (19 years, 8 months).
Miller, who finished his collegiate career at Montana, was the first true freshman starting quarterback in BYU football history.
Wilson becomes the seventh true freshman to start a game in BYU history, joining a list that previously included Miller, Heaps, John Beck, Taysom Hill, Tanner Mangum and Joe Critchlow.
So was Wilson nervous for his first start, which he found out about earlier in the week?
Not by the way he showed himself.
"Every day, you just have to be grateful for what you have," Wilson said. "I trust the coaches, and I was grateful for the opportunity they gave me. I tried to make the most of it, and luckily I had a lot of help from my teammates."
Wilson's first pass attempt went for six yards on an out route to Talon Shumway, and he completed 5-of-6 passes for 48 yards on his opening 12-play, 87-yard drive that ended in Lopini Katoa's 12-yard score.
He wasn't perfect — he threw a second-quarter pick — and Wilson will be the first to admit that when you throw a hitch-route, you shouldn't deliver it to the corner on consecutive plays to make for an easy interception by Hawaii cornerback Rojesterman Farris II. But it's a good place to build on.
But a quarterback is only as good as his receivers, and BYU's wideouts caught 16 passes for 194 yards.
"I think this is a good place to start," senior Dylan Collie said. "Are we perfect or where we want to be? Absolutely not. But we're on the up-and-up, and I think that's really good."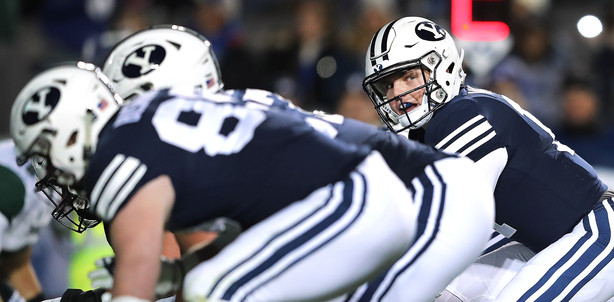 BYU's defense came to play
With defensive end Corbin Kaufusi moonlighting at middle linebacker, the Cougars held high-octane Hawaii to just 28 yards in a first-quarter shutout — BYU's best start to a game in 2018. Even after quarterback Cole McDonald began to find a rhythm in the second half, the Cougars were incessant with blitzes, pressures and making the standout signal caller make reads dissimilar to what he's seen through seven games in 2018.
"We came out with an edge to us, with a chip on our shoulder," Kaufusi said. "That's how you've got to play on defense."
The pressure wasn't always perfect, especially as McDonald quickened his release. But the Cougars had a season-high three sacks in the first half of play, and got to the QB four times.
McDonald finished with 248 yards and two touchdowns with an interception, but took four sacks and ran for just 22 net yards.
Kaufusi led BYU with eight tackles, including two sacks and played as many as three positions in the front seven for the Cougars. Isaiah Kaufusi added seven tackles, with a sack, and Sione Takitaki had six tackles.
"Out of 10? I'd probably give him a 6.5," Isaiah Kaufusi joked of his cousin, who gave himself "probably a four." "You can't judge the way this man plays; he's a stud. That's all I can say. He's just a stud. We use him in a lot of positions, he played three tonight, and to be able to focus on those positions and play like he did shows the type of ball player that he is."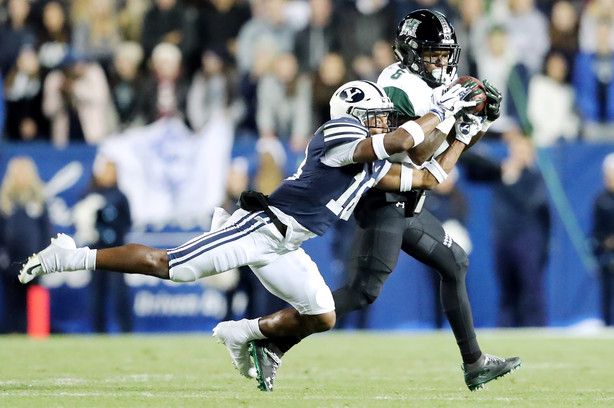 The streak is safe
This was supposed to be the year.
Armed with a high-octane passing attack and former Cedar High standout athlete John Ursua, the Rainbow Warriors were supposed to snap their nine-game losing streak in Provo and finally pin down BYU for its first true road win in the rivalry series that dates back to 1930, according to many pundits and fans of opposing schools.
Somebody forgot to tell the Cougars, though.
Ursua had just one catch in the first half, and finished with a game-high 89 yards on nine receptions as Hawaii's first foray on to a natural grass surface stunted its prolific offensive personality.
The run-and-shoot was there, but it was more shoot and less run as the BYU defense held the 'Bows to just 63 rushing yards — including 17 yards in the first half.
"I think it's the history of a decade or more of BYU winning, and Hawaii never winning," UH coach Nick Rolovich said. "I think the 1989, '90 or '92 games gave the UH fans and the UH program a little bit of redemption. I think that was very important.
"I think that has a lot to do with the successful recruiting that BYU has done in the North Shore and Hawaii, in general."
×