This archived news story is available only for your personal, non-commercial use. Information in the story may be outdated or superseded by additional information. Reading or replaying the story in its archived form does not constitute a republication of the story.
PROVO — The most popular man on a Division I college campus is the backup quarterback on the football team.
In BYU's case, that makes for most popular men — plural, as in multiple.
The latest "most popular," then, is a Tennessee native who returned from an LDS Church mission just three months ago and has completed two passes in his collegiate career.
Meet true freshman quarterback Joe Critchlow.
"He's a hard worker and he's very excited to be here," said starting quarterback Tanner Mangum, who took his first snaps in nearly a month during last Friday's 24-7 loss to Boise State. "He has a great attitude, is always trying to get better, and it's going to pay off for him. No matter of when he is in or the plays he gets, he's going to make the most of them."
With Mangum improving but still hobbled by an ankle injury, Critchlow has been thrust into the role of primary backup quarterback after absences by Beau Hoge and Koy Detmer Jr.
Mangum continues to be the starting quarterback for BYU. But he's also just one hit or misstep away from the Cougars having to defer to Critchlow during Saturday's 10 a.m. MDT kickoff at Mississippi State. He still wears a walking boot outside of practice, though he's ditched the knee scooter, and his game-day routine now involves a heavy tape cast wrapped around both ankles to strengthen any structural damage that may have occurred from an injury sustained in a 19-13 loss Sept. 9 to rival Utah.
"We didn't play him at the end just to waste a year for him; he's got to be ready to play at any moment," offensive coordinator Ty Detmer said of Critchlow. "That was a time in the game when we felt like we could get him some reps and some game time."
If Mangum goes down, the Cougars' next quarterback who will try to snap a five-game losing streak will be Critchlow, a 6-foot-4 quarterback from just outside Nashville who originally signed with Southern Utah.
Critchlow followed former Thunderbirds head coach Ed Lamb to BYU after serving a two-year mission for The Church of Jesus Christ of Latter-day Saints in Montreal, Quebec. He saw interest from several Southern-based universities while passing for 5,703 yards and 68 touchdowns en route to Mid-Tennessee Mr. Football honors as a senior — notably Virginia, Wake Forest and Vanderbilt, where his mother, Sarah, worked in the admissions office.
But when teams discovered Critchlow, an active Mormon, wanted to serve a mission immediately following high school, interest waned. He turned his attention out West to schools that were more accustomed to delaying scholarships for missions. That brought him to Cedar City, where Lamb accepted him as one of two quarterbacks in his 2015 recruiting class (the other was former Juab High signal caller Nick Robins).
"Originally signing with Southern Utah and coach Lamb was a great opportunity for me," said Critchlow, who still hesitates while speaking English in a similar manner to many recently returned missionaries who were fully immersed in a foreign language. "I've always loved coach Lamb, and he had my back. When he made the transition (to BYU), it was another great opportunity for me to prove myself with such a great program."
When he arrived on campus, Critchlow originally thought he was going to redshirt the 2017 season. Fitting into the finance program in BYU's Marriott School of Business is tricky enough, let alone moving to the other side of the country.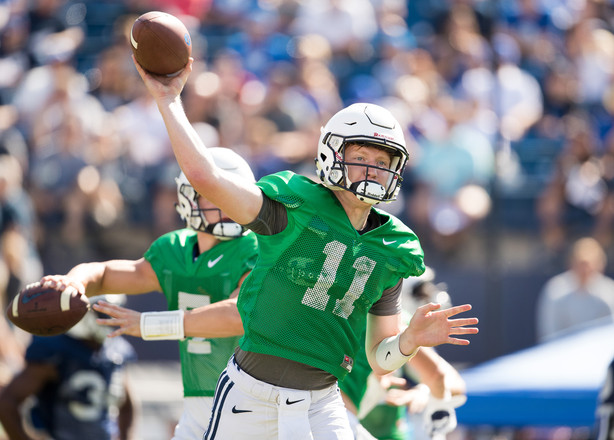 It's rare to step right into a college football season after spending two years knocking on doors in Canada and asking people, "aimeriez-vous entendre parler de Jésus-Christ?"
But that's exactly what Critchlow has done, completing 2-of-4 passes for 8 yards after entering BYU's loss to the Broncos on the final drive of the fourth quarter.
He also earned the respect of his coaches and teammates.
"He's a really poised young man," Detmer said. "You wouldn't know that was his first game action in a while. He got the play call, lined up, made his reads and got it out.
"It's hard to evaluate four plays in a game, but I like the poise that he brought. He's a guy who if we didn't think he could handle it, we wouldn't have him in there right now."
The whirlwind is calming down for Critchlow, who wouldn't confirm if he was a walk-on; he called his scholarship status a "personal" decision.
But at the first sign of trouble with Mangum, expect the sirens to sound again.
"I feel like being on a mission, you get accustomed to some hectic situations. Being able to come back and step right into a situation like I was in was difficult — but it wasn't too much of a challenge to handle," Critchlow said.
"Being here for three months, I really feel comfortable with the campus, with the team, and I'm really happy to be here."
×
Related Stories