This archived news story is available only for your personal, non-commercial use. Information in the story may be outdated or superseded by additional information. Reading or replaying the story in its archived form does not constitute a republication of the story.
PROVO — When BYU wide receiver Aleva Hifo goes back to his dorm room after practice most days, he'll take a few minutes and talk with his roommate — fellow freshman Chris Wilcox.
Among the most common conversations? How much the first-year duo has jumped into the BYU squad.
Hifo made his presence known Saturday in the Cougars' 35-32 loss to West Virginia, catching four of Taysom Hill's 23 passes for 26 yards and also returning two kick returns 64 yards in the early kickoff on the east coast.
"All coaches are going to tell you when you come in, you will have a chance to play," Hifo said after Tuesday's practice. "I didn't think I'd get this much playing time this early, but I kind of knew I could compete with some of the guys in the receiver corps. Ilf I just keep gaining our quarterback's trust, then opportunities will keep coming to me."
Hifo arrived at BYU this summer looking up to a long list of veteran wideouts that he admired. Seniors Nick Kurtz, Colby Pearson and Mitchell and Garrett Juergens were all above him on the depth chart, and others like junior college transfer Jonah Trinnaman had collegiate experience that he lacked.
But he made the most of his reps in practice, and eventually found his way on to the field — with a little help from those same teammates.
"These are very good guys to compete with," Hifo said. "They are people you can learn from. But if you can get onto the field, you get on the field and make plays."
Four games into his first season, Hifo has found his way on to the field, and he's slowly gaining the trust of Hill — the fifth-year senior who the freshman admired when he was simply a BYU fan being recruited by the Cougars and Nevada. Now he considers it a privilege to share snaps with the starter — even if he doesn't always make the play.
On the final drive against West Virginia, Hifo nearly hauled in the go-ahead touchdown with one minute remaining. Hill dropped back and hurled a ball into single safety coverage, near Kurtz and Hifo.
Bur Mountaineers defensive back Maurice Fleming pulled down a deflected pass for an interception, and the West Virginia squad held on to remain unbeaten in 2016.
"He picked my side because on one of the drives before, I got open and he overthrew me. This time, the DB had good coverage and made a good play on the ball," Hifo said. "Being a freshman, I kind of beat myself up after that happened.
"There will be a lot of opportunities for that to happen, and I'm just a freshman."
Offensive coordinator Ty Detmer found Hifo immediately after the play, and reminded him not to beat himself over one missed ball. Don't let one play define the season, he reminded the freshman, Detmer said.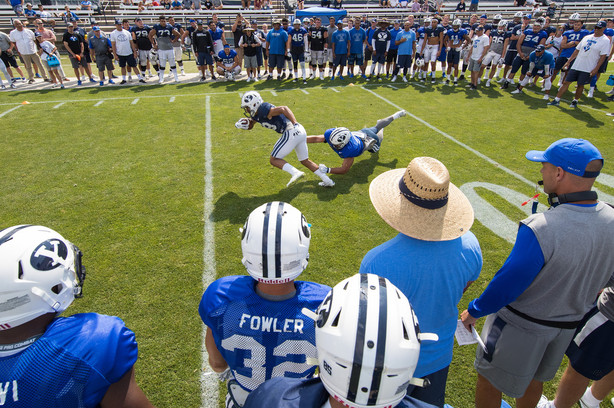 Besides, the youngster would have plenty of chances to atone for it in the future.
"He's a guy who is very quick-twitch," Detmer said of Hifo. "The more he learns, the more he is going to get. He's a guy who can a lot of things for us. We are feeling more and more comfortable with him in different positions. We've just got to keep him working, keep learning, and give him what he can handle."
Hifo knows some people will blame him for not making the play. But he handled it with a veteran-like mentality.
"People are going to look at it from an outside perspective, and see that it looks like my fault," he said. "It might be; it could be. But the DB made a good play on the ball. However they see it is their choice. It doesn't matter to me; I move on from it."
×
Photos