SALT LAKE CITY — There is no shortage of growing tech hubs being touted as the "next Silicon Valley." Joining the ranks are Silicon Hills, Silicon Prairie, Silicon Beltway, Silicon Beach, Silicon Roundabout and (a personal favorite) Sili-corn Valley (that's Iowa).
So what makes Utah's Silicon Slopes different from the rest of the Silicon geography?
For starters, Utah's tech job growth rate was more than double the nation's as a whole from 2007 to 2017, according to a new study conducted by the Kem C. Gardner Policy Institute.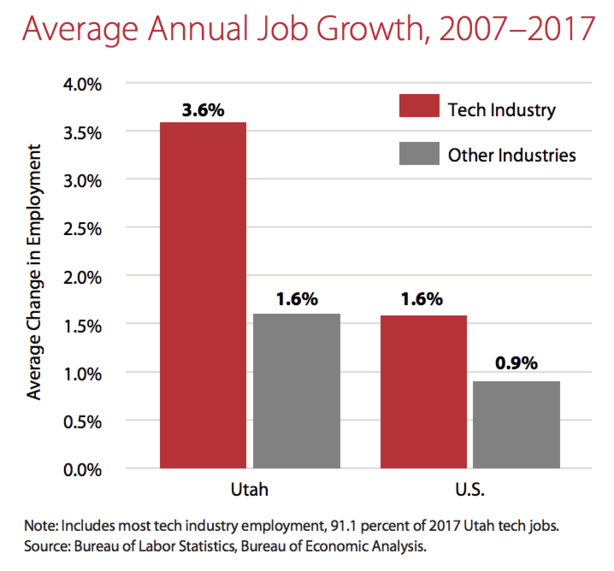 Tech jobs in Utah grew at an average annual rate of 3.6 percent — more than double the U.S.'s 1.6 percent tech job growth rate and the 1.6 percent annual job growth rate of other industries in the Beehive State.
Tech companies in Utah directly and indirectly supported more than one in seven Utah jobs and over one-sixth of a nearly $30 billion state gross domestic product. In-state spending by tech companies and workers also supported nearly 186,000 Utah jobs outside the tech industry, and the tech sector contributed almost 15 percent of the state's over $20 billion earnings.
"Utah has a strong position and favorable trajectory in an industry that's becoming increasingly important as the information economy grows," lead researcher on the study, Levi Pace, told KSL.com. "The economic success spills over to companies in other industries with ties to tech, like a rising tide. Also, having Utahns in these innovative companies at any stage in their career represents a personal opportunity, and collectively it improves the talent pool for STEM and tech in our state."

The jobs available in the tech sector can essentially be split into four main categories.
IT support makes up about 40 percent of the tech workforce and contributes slightly more than that in earnings.
Information (think, software, data etc.) makes up about 26 percent of the tech jobs in Utah, but contributes almost 32 percent to its earnings.
Trade, including computer and software wholesale and e-commerce, makes up almost 25 percent of the workforce but only brings in 16 percent of the earnings.
Manufacturing contributes almost 9 percent of the tech jobs in Utah but 11 percent of the earnings.
Tech jobs in the state earn an average of $77,200, compared to the average Utahn's salary of $50,600. While this may not compare competitively to tech wages in other states (even when adjusted for cost of living), it has been enough to raise the state's cost of living, including housing prices.
"High-paying jobs in the tech industry put upward pressure on local housing markets, on both sides of the point of the mountain, what we call our high-growth corridor," Pace said. "When companies do bring in someone new, they need housing and often school seats and other public infrastructure and support for employees and their household members."
Pace said the Kem C. Gardner Policy Institute will continue researching taxes paid by new workers brought in by the tech sector, and he anticipates that those paid by companies and well-paid workers will exceed the public costs to accommodate new people in Utah's communities and on the state's roads.
However, though tech is a major reason for Utah's population growth, Utah employers find it difficult to fill open positions. This struggle has become known as the "tech gap" — and it's not just a Utah problem — though Utah companies have found it harder to hire from out-of-state than others.
Silicon Slopes hopes to solve this problem, however, by closing another gap — this time in education. The state realizes its economic success relies on the tech sector, to some degree, and the governor has recommended that the state work with the private sector to direct funds toward tech education. It may be the state's best hope to continue the upward trend in the tech sector.
"Utah is crossing thresholds, developing a critical mass of tech companies, an ecosystem, which becomes a springboard for future growth in the industry," Pace said.
×
Related Stories