SALT LAKE CITY — Will Davis woke up on the charter plane, as the Salt Lake Stallions were descending into the Salt Lake Valley and looked out the window.
It was dark, but he saw the lights from the city far below them — then gaped at the shadows of the Wasatch Front late Thursday night.
For the first time since he left Utah State following the 2012 season, the ex-Aggie standout cornerback was getting ready to play a game in the Beehive State.
Davis — a Spokane native whose football journey took him to Western Washington, De Anza College, Logan, and stops in the NFL with the Dolphins, Ravens and 49ers — was finally home.
Even the cold spell, which sent temperatures into the upper 20s and lower 30s all week along the Wasatch Front, couldn't temper his enthusiasm.
"The mountains are what made me realize I was back in Utah," Davis recalled. "Those are one thing that I never forgot, no matter in Logan or Salt Lake; those matters are just huge. You can't help but miss them. It wasn't as cold as I thought it would be, either.
"I haven't been back in Utah in a while, so I thought it would be freezing. It wasn't too bad, so that's good."
Adding to the excitement is the inaugural home game of the Salt Lake Stallions, Utah's newest minor-league professional football team that finally opens at home after back-to-back weeks on the road.
The Stallions (0-2) will face the Arizona Hotshots (2-0) at 1 p.m. MT Saturday at Rice-Eccles Stadium. And though winless Salt Lake lost to the unbeaten Hotshots two weeks ago in the Valley of the Sun, there's plenty of enthusiasm for a team eager to meet its fanbase, city and community for the first (official) time.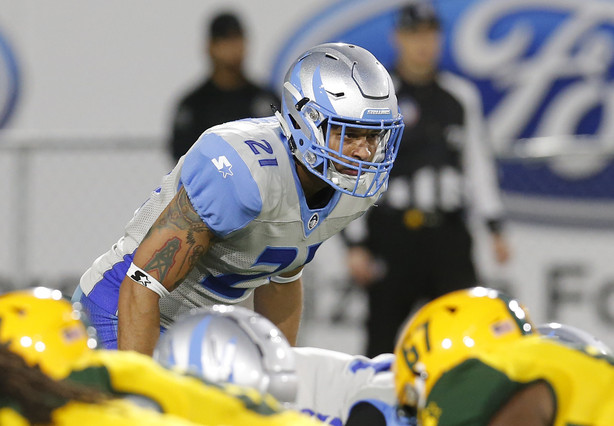 "We flew in just a day earlier than (the Hotshots)," Davis joked before turning more serious. "But this is our home; these are our fans. I know it feels good for me to come back and for the guys who went to Utah. It's probably better for them — playing in their stadium.
"I'm excited about Utah and coming in here. It'll be good."
The Stallions are the last team in the eight-member Alliance to play a home game, having opened with back-to-back road trips at Arizona and Birmingham.
The stay away from Rice-Eccles Stadium was so long that the Salt Lake franchise never bothered return to its home market for the first two weeks, preferring instead to host a continuation of its training camp in San Antonio.
"It's been quite the journey for our football team because of the facilities not being ready in Salt Lake," said Stallions coach Dennis Erickson, referring to office space and other internal facilities. "But we're going to go back and play Arizona at home, and we'll stay here.
"Our players just want some stability. For us as coaches, we want stability for meetings and all that stuff, too. We're excited to get back, playing, and I think it will be a very exciting team."
But being on the road? Well, it really isn't the worst problem to have, Stallions linebacker Trevor Reilly said.
"It's been a long time," explained the Utah linebacker, who most recently spent time as a graduate assistant under Kyle Whittingham. "But these are first-world problems, really. People complain, but we're in a hotel and they're feeding us well. For us guys who have wives and kids, it's tough. But everyone knows that coming into it, and we just deal with it during certain times of the year."
"Yeah, it's tough. But we're talking about first-world problems, so it's all relative."
5 Stallions to watch

QB Josh Woodrum
6-3 | 231 lbs | Liberty
RB Branden Oliver
5-8 | 203 lbs | Buffalo
CB Will Davis
5-11 | 179 lbs | Utah State
LB Trevor Reilly
6-5 | 241 lbs | Utah
LB Gionni Paul
5-11 | 230 lbs | Utah
As far as introducing itself to the fanbase, the Stallions understand an 0-2 team isn't always easy to support. But winning solves those problems — and the players recognize they have yet to play their best football of their inaugural season.
For one, starting quarterback Josh Woodrum — the one-time standout at FCS Liberty who spent time with the Baltimore Ravens — has only played one half of football. Woodrum injured a hamstring in the first half against the Hotshots and missed Salt Lake's 12-9 loss at Birmingham a week ago.
He's been a full participant in practice since Wednesday, and Erickson expects him to play Saturday.
"I like our team," Woodrum said. "Even though we are 0-2, I think we've got a really good chance to win each game. It was just a couple of miscues late in each game to let them slip. But we'll get back on track, especially being home this week."
Arizona Hotshots (2-0) at Salt Lake Stallions (0-2)
When: Saturday, Feb. 22 at Rice-Eccles Stadium
Streaming: B/R Live
Radio: ESPN 700
×
Related Stories