Estimated read time: 7-8 minutes
This archived news story is available only for your personal, non-commercial use. Information in the story may be outdated or superseded by additional information. Reading or replaying the story in its archived form does not constitute a republication of the story.
OGDEN — Everyone, no matter who they are, is welcome at Jessie Jean's; no judgment. That's the message the owners of an Ogden Historic 25th Street cafe want to send.
The cafe, which first opened in Roy back in 2000, has received quite a bit of attention as of late thanks to a video featured by Brut that has circulated on social media. In a clip of one of her Facebook Live videos, cafe owner Anna Whitnack-Davidson delivers a rebuttal after a customer allegedly told one of her employees that homeless people shouldn't be allowed in their business.
"Instead of judging the homeless when they're walking around, why don't you say, 'Hi?' Why don't you be kind? They're human beings," Whitnack-Davidson said in the video posted with the caption, "We're all one step away from homelessness, please be kind to everyone!"
The customer was referring to a homeless man they call "Martin," who has frequented Jessie Jeans since the beginning of November. Whitnack-Davidson said they learned recently that Martin is a "100 percent disabled Gulf War veteran."
"It was one of those things that the more I thought about it the more mad I got. The more mad I got, the more I was like 'I can't let this go,'" Whitnack-Davidson said. "So I went out and did a live video to say, 'You know what? We're all one paycheck away from homelessness. Who are you to judge him?'"
She said because of that video, many different organizations have reached out to her husband Ron to give him information on how they can help Martin. But that's not the only assistance he's received. Her parents have taken him in and they're all trying to help him get back on his feet.
Virtuous cycle of giving
The Davidsons have seen multiple people who are homeless come through their cafe every week since it opened, and they have been determined to help spark conversations of understanding and empathy about homelessness.
They also try to help them in any way they can. Recently, they added a "Give a coat, take a coat. Need a blanket, take a blanket" cubby shelf at the front of the restaurant, and posted a video about it on their Facebook page.
Whitnack-Davidson said it all started when a regular named Rodney, a man in his 60s who is experiencing homelessness, needed a coat. Her husband Ron gave him one of his own coats from where they live above the cafe.
She then posted about her husband's kind act on their Facebook page, which spurred action from a woman who wanted to donate some of her own jackets to the cause.
Following that, another customer named Luna who heard about the jackets decided she wanted to donate cubbies and some blankets she found on KSL Classifieds.
The kindness didn't stop there either. When Luna went to get the cubbies, she told the woman selling them why she was doing it. That woman then gave her the cubbies for free and told her to pay it forward, later calling to ask if she could do more to help.
"Everything that's been happening here has been 100 percent organic. Nothing's really thought out … you know, one thing leads to another thing that leads to another thing, and it's kind of by the seat of our pants. You know, people keep helping and having ideas and it just kind of keeps coming full circle," Whitnack-Davidson said.
Pay it forward
Whitnack-Davidson also has new ideas for helping those who are homeless and less fortunate that she learned from a Facebook post by Papi's Mexican Restaurant, in Denham Springs, Louisiana. They have a wall where customers can buy and post a prepaid meal ticket for anyone who is homeless or struggling.
Jessie Jeans has implemented the prepaid meal ticket idea so customers can pay it forward.
"A lot of times customers will come in, and either Chris or Martin or Rodney or one of the homeless people will be chilling. The customer will be like, 'Here's 10 bucks; buy them lunch later,' and we just put in in the drawer with their name on it and let them keep using it until it's gone," Whitnack-Davidson said.
The tickets are for anyone who is struggling right now, including those still affected by the recent government shutdown, Whitnack-Davidson emphasized in a video posted Friday.
Last month, the restaurant started offering discounted food and coffee to federal workers. While the restaurant lost about $10,000 in revenue, that still hasn't stopped them from doing whatever they can to help.
Homelessness close to home
Whitnack-Davidson's empathy for the homeless isn't just on account of her big heart; she said someone she loves was homeless for about 2 1/2 years. That person is her husband, who found himself on the streets of Ogden after a life of suffering abuse and mental illness.
"He said, 'It's like an all-day job because you're constantly trying to stay alive, you know?'" she said.
Ron Davidson explained what he had to do to survive and how it was far from easy. He knows how especially difficult it can be during the winter months.
"A lot of times it was winter, and winter was really, really hard," he said. "So I'd go to the maternity wards at the hospitals, and I'd just sit there all night and watch TV or whatever. But I looked like just a regular person waiting for a kid or something, so nobody messed with you there."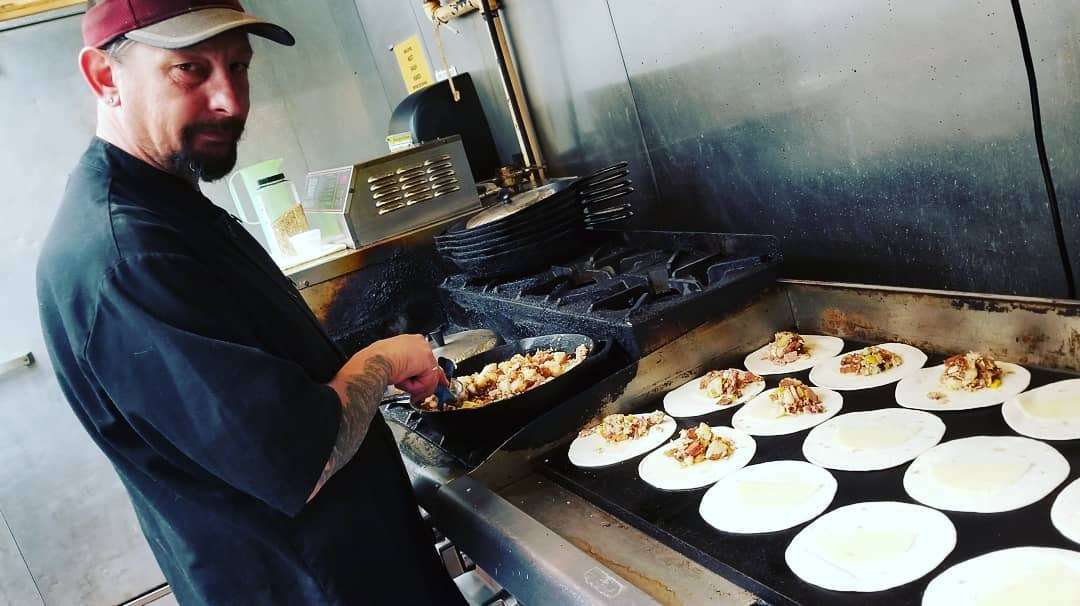 Davidson said one day he decided he was tired of being homeless and wanted to do something about it. He borrowed his little brother's lawn mower, which turned into a few handyman repair jobs that eventually led to him meeting and working with a man who remodeled and sold mobile homes.
Now he co-owns a business with the love of his life, and says helping people in the same way he's been helped is "really the easiest part for me."
The Davidsons understand that mental health issues can contribute to the plight of homelessness: He suffers from bipolar disorder and PTSD from childhood trauma.
"Every Monday morning my husband goes to therapy, and he never gives up on himself. He never calls himself a victim; he's always been a survivor," Whitnack-Davidson said. "I think just helping people understand that difference in mentality and that there's help out there, and that they need to take action for themselves. You have to want better for yourself, and sometimes that's really hard."
A 2015 study from the Brain and Behavior Research Foundation found that in the U.S. there were 564,708 homeless people on any given night, and 45 percent of them suffered from some form of mental illness. Davidson strongly believes a change in the stigma around the homeless, as well as around mental health issues, is necessary.
"That's why I'm constantly on our page talking about mental health issues, and talking about the homeless, and talking about supporting each other and being kind," Whitnack-Davidson said.
She explained, "If we can start promoting conversation, that's amazing."
The Davidson's don't do what they do for the money or for recognition. Whitnack-Davidson notes on the restaurant's website that she started the business "to have something for my family, to do what I love and to help people."
You can donate a blanket or coat, pay it forward with a meal ticket, or just enjoy some coffee, good food and good company at Jessie Jeans on 195 25th Street in Ogden. You can find their hours and more about what they are doing for the community on their website.
×
Photos
Most recent Utah stories