SALT LAKE CITY — With one location already in Provo, the nonprofit Encircle House LGBTQ Family and Youth Resource Center officially opens its services to the public in Salt Lake Thursday.
The opening comes the same day the Provo location opened three years ago, in a historic renovated home built in 1891, which also happens to be the same age of the Provo location's home.
There were numerous prominent local figures in attendance at the grand opening on Friday, including Lt. Gov. Spencer Cox and former Sen. Jim Dabakis.
Musical performances by the band VINCINT, Parson James and the San Francisco Gay Men's Chorus also took place at the grand opening reception.
"All of Salt Lake showed up, truthfully. It was just the community embracing Encircle in the best way," Jacob Dunford, Encircle's chief operating officer, told KSL.com.
Following a ribbon-cutting ceremony, tours were given to the more than 500 in attendance to showcase Encircle's many programs and services.
"That place is going to be packed every day. It's going to be really really magical just to watch that place grow," Dunford said.
Encircle offers a wide variety of programs including counseling services, support groups, friendship circles, speaker series and many helpful resources and tools for the LGBTQ community and their families.
They also run an art series called Love Louder, which involves participation in activities and events that center around the creative arts and the local LGBTQ community.
The Salt Lake house has five therapy rooms and will offer therapy from 15 licensed professionals. Encircle CEO Stephenie Larsen noted that the Provo location currently conducts about 450 therapy sessions a month, and they expect no less at the new location.
They also have numerous volunteers who not only keep the nonprofit affordable, but help people feel welcome when they visit Encircle.
"They know that individual's there because they care about them, not just because they're paid," Larsen said, noting that "we always think we see the best in people because you see people give so much to help out the youth."
Larsen opened the first Encircle location in Provo in February 2017.
At the time Encircle was founded, Larsen said her idea for the home came after "just hearing too many stories of people who didn't have resources, who weren't knowing how to support their children … (and) friends who have gay children, or just knowing gay individuals."
Encircle was started amidst a growing crisis of suicide among Utah's youth. Suicide rates in Utah among youth ages 10-17 more than doubled between 2011-2015, according to a 2017 report from the Centers for Disease Control and Prevention.
LGBTQ youth are "particularly vulnerable to suicide ideation," according to the Trevor Project, a national organization that provides crisis intervention and suicide prevention services to LGBTQ youth and young adults, and reported by Equality Utah.
Equality Utah highlighted research results from The Family Acceptance Project on their website which state that "LGBTQ youth from highly rejecting families are 8.4 times more likely to have attempted suicide than LGBTQ peers reporting no or low levels of family rejection."
Encircle hopes to be part of the solution. In addition to providing youth with support and resources, Encircle also seeks to educate family and loved ones.
Larsen told KSL that Encircle House consults with Caitlin Ryan, director of the Family Acceptance Project, and uses Ryan's approach in their therapy and programs.
She said they will also eventually be teaming up with the project to conduct a two-year study in Utah. The project's website states that they want to "study parents, families' and caregivers' reactions and adjustment to an adolescent's coming out and LGBT identity."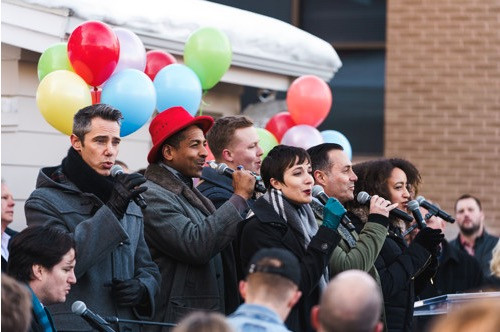 Larsen also explained that Encircle provides resources and materials to teach parents to be "more affirming and understanding of their youth."
Encircle's mission is "to embrace and sustain every LGBTQ+ youth, every family, and every community" as stated on their website, and to "seek to deepen and enrich the conversation among communities of faith and LGBTQ+ people."
"We know you. We see you. We love you. We will help protect you. We know your happiness and success take many forms. We represent you. We believe in your civil rights."
Both Encircle houses operate from 2-8 pm Monday through Friday. The Salt Lake location is located at 331 S. 600 East and the Provo location is located at 91 W. 200 South.
You can find out about volunteering, all of their events and more information about the Encircle houses at encircletogether.org.
Editor's note: This story has been updated to say Gov. Gary Herbert was not at this event as previously reported.
×
Photos
Related Stories