PROVO — There was a moment two weeks ago, when BYU hosted the No. 4 team in the nation, when things looked bleak for the Cougars men's basketball program.
That's when Gonzaga, the perennial top team in the West Coast Conference and a projected No. 1 seed in the NCAA Tournament marched into town and steamrolled the Cougars 93-63 in the first of many big, big wins for the Zags.
It was the Cougars' worst home loss since Dave Rose was named head coach in 2005.
Gonzaga hasn't stopped since then — or even slowed down, if you believe the results of Thursday's 30-point win over San Francisco, or Saturday night's 48-point home win over Saint Mary's inside The Kennel.
Yes, the Zags have proven themselves to be that good.
But there was another side of that response, too — from BYU.
Since taking their worst loss of the season, the Cougars have responded, holding three-straight teams below 60 points; back-to-back sub-50 points allowed wins over Loyola Marymount and Portland.
"We got waxed pretty good in a game in (the Marriott Center) that doesn't normally happen. It's interesting to me to watch how teams respond to those situations in a season, and I think that this was a pretty good response from a week ago," Rose said after a 69-59 win over Pacific.
The Cougars are winning again — and they are doing it with defense, both in the starting five and those who come off the bench.
"We've got a set of guys who understand it way better," Rose said of his defensive personnel scheme. "You've got to have 5-7 guys who are committed to it. Some guys are committed to it, but you can see they are still learning.
Perhaps that's no surprise; Rose has consistently shuffled his lineup, trying to optimize his offense and defense, using seniors McKay Cannon and Luke Worthington on the defensive end, and sprinkling more minutes among breakout freshmen like Connor Harding and Gavin Baxter.
That's provided a valuable proving ground for those youngsters who are blooming into college basketball maturity.
Take Harding, for example. The Pocatello, Idaho, native who recently returned from a two-year mission for The Church of Jesus Christ of Latter-day Saints. He had his second-best game in a BYU uniform against Pacific, scoring 13 points and coming off the bench to net a pair of key 3-pointers to keep the Tigers at bay.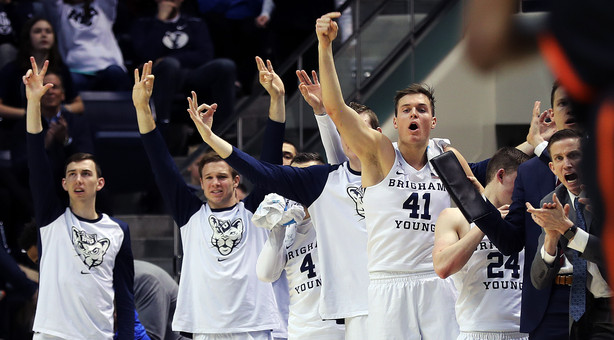 "I've known Connor for a while, played AAU for a couple of years, and it never ceases to amaze me how much of a team guy he is," said Yoeli Childs, the Cougars' double-double machine who averages 21.0 points and 9.7 rebounds. "He's always in the gym, getting extra shots up. He's always locked in, mentally. Whatever the coaches ask of him, he's going to do.
"He's always going to give it 100 percent. I couldn't be more proud of this guy, and I'm so happy that I get to play with him."
Harding personifies Rose's cherished mentality of doing "whatever it takes" to help the team — whether that's from the starting five or off the bench.
"Guys came in and gave us a tremendous lift," Rose said after beating Pacific. "I thought Connor came in and gave us tremendous energy, and had a great response to our lineup change. He gave us great energy off the bench. Zac (Seljaas) gave us tremendous energy off the bench. McKay (Cannon) continues to really play well, especially on the defensive end, and helping us with their best perimeter guys."
It's not enough to make any claims that the Cougars deserve an at-large NCAA Tournament bid, especially with a lack of a marquee win, and a second-place standing in the West Coast Conference.
Related
But it is enough to say that BYU is improving — and with a full one-game lead on San Francisco with five games remaining, the Cougars stand an excellent shot at being seeded on the opposite side of the bracket from the Zags, (perhaps even with a bye to the semifinals,) when the conference tournament tips off in Las Vegas.
×
Related Stories