PROVO — Gonzaga looked every part of a top-five team nationally Thursday night in the Marriott Center.
BYU, quite simply, just didn't.
The Zags have a full arsenal of weapons; take your pick.
Brandon Clarke down low. Corey Kispert and Killian Tillie from the outside. Rui Hachimura from … well, everywhere. And Josh Perkins keeping it all together.
Clarke made his first eight shot attempts, finishing with 23 points and nine rebounds, as No. 4 Gonzaga rolled by BYU, 93-63 in a late tipoff in the Marriott Center.
Hachimura added 20 points and nine rebounds for the Zags (20-2, 7-0 WCC), who got 12 points from Zach Norvell Jr. and 10 assists from Perkins for Gonzaga, which put the game away with an 18-2 run late in the first half.
Kispert finished with 16 points, including a 4-of-6 effort from 3-point range.
"Our team just has so many weapons offensively," Clarke told the Associated Press after the game. "I feel like it's really hard to keep up with us in games if you don't have five players that can match up with us."
Yoeli Childs led BYU with 12 points and seven rebounds, but fouled out with just over three minutes left to play — and an 82-54 deficit. TJ Haws supplied 16 points for the Cougars (13-10, 5-3 WCC), and Zac Seljaas scored 13 on 5-of-7 shooting.
It was the first 30-point loss at home since Dave Rose was named BYU basketball coach in 2005, and the second-worst loss in Rose's tenure. Even when the Cougars were shooting better than their 36-percent final, shots just weren't falling.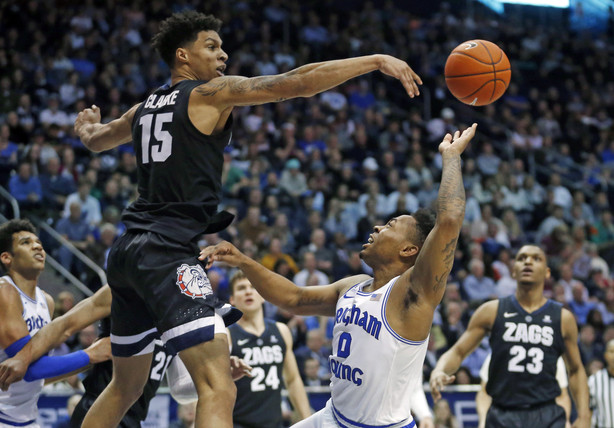 "I don't know. I don't know. Usually, those are shots that fall," Haws said when asked to explain the Cougars' 27 percent first-half shooting. "I thought we got good looks, but sometimes nights are like that.
"I feel good about shooting those shots and we'll keep shooting them."
Gonzaga shot 58 percent from the field, including 10 3-pointers, and assisted on 21 of 37 made shots en route to its 28th-straight conference road win and 11th overall.
Gonzaga opened the game shooting 71 percent from the field, thanks in large part to Perkins, who scored or assisted on three of the Zags' first five buckets. The WCC powerhouse pushed the lead as high as 17-5 early when Kispert drained a 3-pointer, but BYU fought back.
Jahshire Hardnett, making his first appearance in five games after suffering a hand injury in the loss at Saint Mary's, nailed a triple to cut the deficit to five, 23-18, with 9:42 left in the half.
Hardnett finished with seven points on 3-of-10 shooting.
But BYU shot just 27 percent (9-of-33) from the field, and Gonzaga turned up the defense to pull away. The Zags held the Cougars to one field goal during an 18-2 run over seven minutes before finishing the half with a 41-24 advantage, while Hachimura and Clarke hit from all over the court.
"You think you've got them in spots you want to have them, but then they escape and score. Hachimura is so versatile," Rose said of the dominant Zags' frontcourt, one that may be the best in school history. "Clarke is a right-handed, left-shoulder guy — but he's is just so explosive, that he can do it on you.
"You know it's coming and he still gets up over you."
"It was rough, but we can bounce back." @BYUbasketball (tries to) explain a 93-63 loss to No. 4 Gonzaga.

📝 | https://t.co/qipEIcvk7Kpic.twitter.com/P3zO17XMSB

— KSL.com Sports (@KSLcomSports) February 1, 2019
Gonzaga out-rebounded the hosts 26-17 in the first half and scored 24 points in the paint to BYU's 14. Even when BYU made a run, like a 6-2 spurt to start the second half, Gonzaga responded to keep the lead at double-digits — much like it has done all season.
The Zags are winning games by an average of 25.1 points per game, the No. 1 mark in the NCAA. They also led the nation in field goal percentage (52.4 percent), scoring offense (91.4 ppg), and are second with 395 assists.
"It was a good atmosphere," said BYU freshman Connor Harding, who had five points on 2-of-6 shooting. "I just wish we would have made the plays that we needed to make. It was rough, but we can bounce back.
"I'm just glad there is a game on Saturday."
×
Related Stories