PROVO — Consider the stigma of a three-game losing streak — and the slow starts that went along with it — over for the BYU women's basketball team.
Shaylee Gonzales scored 18 points, including a career-best four 3-pointers, with six rebounds and three assists to help the Cougars snap their suffering skid with a 75-49 rout of visiting Pacific in a Saturday matinée matchup in the Marriott Center.
Paisley Johnson added 17 points, five rebounds and four assists for the Cougars (18-6, 10-3 WCC) and teammate Brenna Chase supplied 13 points and three assists.
But the big key, according to each of those guards, was the post play from Sara Hamson, the 6-foot-7 center who scored just seven points but had four blocked shots and provided a boost on defense.
"Honestly, I think Sara being active in the middle kept us going on defense," said Gonzales, who paced a team that scored 14 points on the fast break. "We could transition, get the ball out quick and run some more."
Ashley Beckstrand had a career-high eight points off the bench for BYU, which out-paced the Tigers 24-9 in the first quarter and 44-19 at the half.
But it all went back to Hamson.
"Sara came out really active, not just blocking shots, but being in the right position and being active," BYU coach Jeff Judkins said. "Our guards were very sharp, not letting their guys get over ball screens. Pressure was key, and we got some easy baskets because of it."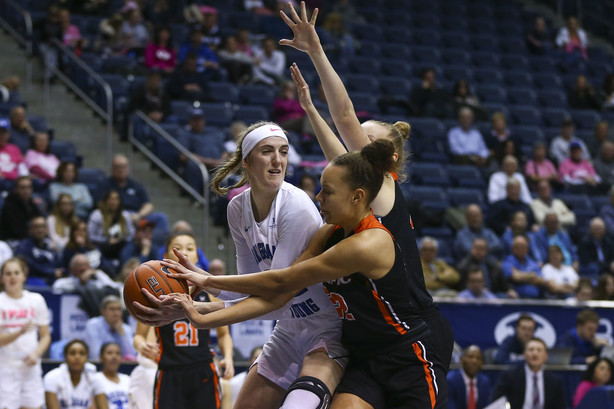 Valerie Higgins led Pacific with 18 points and six rebounds, and Ameela Li scored eight with seven boards for the Tigers (15-8, 8-5 WCC).
But BYU was the only team all year to beat the Tigers when Pacific scored 70 or more points after the Stockton, California-based school's 77-74 setback Jan. 10. In Saturday's return game, the Cougars handed the Tigers just their second loss in the last five games, the other coming at No. 15 Gonzaga on Jan. 31.
A team that was once ranked in the AP Top 25, then fell out of the poll unceremoniously following road losses to Loyola Marymount and Pepperdine, got its mojo back Saturday. That's key for a team that started three underclassmen, one junior and first-year basketball senior Caitlyn Alldredge.
A lot of sleepless nights went into the skid, Johnson admitted after the game. Gonzales, who won Arizona's Gatorade high school player of the year honors in 2017, concurred.
Losing three in a row just wasn't something she was used to.
"It was tough. The first two games we lost, I didn't do my role as a scorer," Gonzales said. "I haven't done that since elementary school, and I knew I needed to step it up. This team needs me.
"We were back to ourselves. Everyone needs to do their role so we can work as a team, and take the win."
BYU put their former losses to bed, jumping out to a 9-0 start with an uptempo offensive blitz fueled by Chase and Gonzales, who capped the start with a deep 3-pointer just over 2 minutes into the game.
The lead ballooned as high as 17-5 as the two guards helped BYU outpace the Tigers 6-0 in transition, and 10-4 in the paint early.
The duo, combined with Johnson, scored 22 points en route to the Cougars' 24-9 first-quarter lead.
Cougars win 75-49 against Pacific!

Today's AAA MVP of the Game: Paisley Johnson.#BYUWBB#WCCHoops@byuwbbpic.twitter.com/c9Nvh0tEbE

— BYUtv Sports (@byutvsports) February 9, 2019
BYU held the Tigers without a made free goal in the second quarter until Ameela Li put back her own miss with 3:58 to go in the half.
On the next possession, the Cougars led 40-15.
The Cougars held the Tigers to just six makes in the first half, including 1-of-10 from 3-point range, and led 44-19 at the break. The pressure continued after the intermission, when Pacific didn't make a field goal until Li's jumper three-and-a-half minutes into the half.
By then, the Cougars had stretched the lead to 30, 51-21.
"Jud told us that we needed to work our butts off, and play defense the next 5-6 minutes to get an even bigger lead," Gonzales said. "Some of our bench players wanted to get in, and get a feel for the game, too."
This wasn't one of the lower-tier teams in the West Coast Conference, either. The Cougars entered the game on a three-game losing streak, while the Tigers had won 3-of-4 — with their only loss coming at then-No. 15 Gonzaga in that span — to surge to third in the league standings, one spot behind BYU.
But Pacific has been a team that relied on fast starts — and Saturday's game was anything-but. The Tigers were 11-4 on the season in games they led after the first quarter, but couldn't recover from the slow start in the Marriott Center matinée.
"We've noticed that they come out and start very well," Judkins said. "We talk about it, but the hard part is to go out and do out.
"All of our guys came out sharp, aggressive, and that set a great tone for us tonight."
BYU held Pacific to just four third-quarter field goals, and stretched the lead to rout status, 65-28 on a jumper by Babulu Ugwu in the final minute of the period to cruise to the win.
It was enough that even as Pacific out-scored the hosts 17-10 in the fourth quarter and forced 24 turnovers, the Cougars still held on for a 26-point victory.
"The past three games have been kind of tough for us," Gonzales said. "We just needed to get that bad taste out of our mouths, and we told ourselves to come out and win this game. That's what we did."
Next up
BYU swings through the Pacific Northwest, beginning Thursday at Portland and Saturday, Feb. 16 at Gonzaga. Tipoff is scheduled for 7 p.m. PT, and 2 p.m. PT on TheW.tv.
×
Photos
Related Stories