PROVO — BYU didn't start its biggest home game of the year against No. 4-ranked Gonzaga on a bad note.
Quite the opposite, in fact.
Just seconds into the game, McKay Cannon tipped a pass from Mike Norvell Jr. and sprinted down court. The Cougars led 3-0 on another fast-break bucket by TJ Haws barely 20 seconds later.
Everything was there: the bright lights, the ESPN cameras, and the season-high crowd of 15,396 that flooded the arena despite the 9:05 p.m. MST tipoff.
"I thought we came out and executed early, we got good looks, but we didn't make shots that we usually make," Haws said. "Right out of the gates, we were locked in and good to go from the start."
But the opening 40 seconds is far from a microcosm of a 40-minute basketball game.
And after 40 minutes in the Marriott Center, there was no doubt: Gonzaga was bigger, faster, stronger and better than the Cougars following a 93-63 win, the first 30-point defeat inside the Marriott Center since Dave Rose was named head coach in 2005.
The Zags (20-2, 7-0 WCC) are the only undefeated team in the West Coast Conference for a reason, taking a three-game lead on third-place BYU with its 28th-straight conference road win and 11th-straight win of the season.
Gonzaga is on another level than its league, which includes BYU — a squad that led for just one minute, two seconds at home in the biggest game of the year.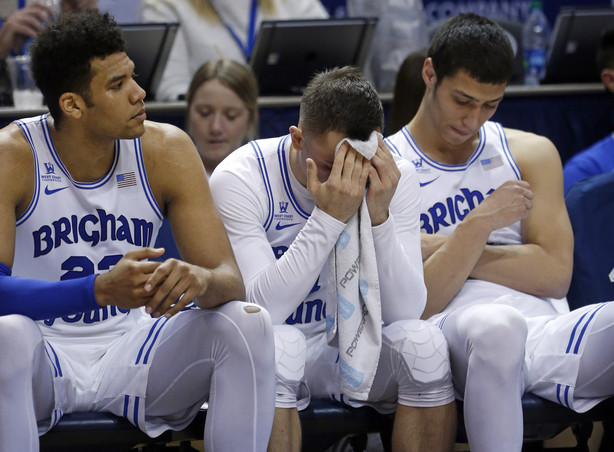 "It was a good atmosphere," said freshman Connor Harding, who had 5 points in the first game against the Zags of his collegiate career. "I just wish we would have made the plays that we needed to make. It was rough, but we can bounce back.
"I'm just glad there is a game on Saturday."
Gonzaga attacked BYU (13-10, 5-3 WCC) with a host of weapons. If it wasn't Brandon Clarke, who had a game-high 23 points and nine rebounds, it was Rui Hachimura, a national player of the year candidate who only totaled 20 points and nine boards.
Or if those two weren't feeling it, the Zags turned to Corey Kispert, who drained four 3-pointers en route to 16 points. Or Zach Norvell Jr., who had 12 points, seven rebounds and four assists. Or maybe Josh Perkins, who dished out 10 of the Zags' 21 assists on 37 buckets.
If there was ever a moment that Mark Few's team had a question, there was an answer — no matter the double team from BYU, the lid on the basket, or the official's whistle.
Gonzaga shot 58 percent from the field, including a staggering 67.9 percent in the second half. BYU, meanwhile, made just 2-of-11 first-half 3-pointers and finished 24-of-65 from the field.
If Yoeli Childs and Haws didn't provide an answer, then few answers came for BYU. The duo combined for 28 of the Cougars' 63 points and couldn't find any answers after Childs' fouled out with 12 points, seven rebounds and just under 34 minutes of playing time.
"If you check their stats, it's pretty much just (those) two scoring," Clarke said of Childs and Haws. "We pretty much said that if we can take away those two guys, that it's going to be tough for them to beat us."
Outside of Childs and Haws, the Cougars had no answers. Zac Seljaas scored 13 on 5-of-7 shooting off the bench, but the next highest scorer was Jahshire Hardnett with 7 points.
Jahshire. #MACU3. 5 point game

BYU 18 - 23 GON | 1H 9:15#BYUhoops#GoCougspic.twitter.com/vESZg76wMM

— BYU Basketball (@BYUbasketball) February 1, 2019
Hardnett was making his first appearance since a hand injury suffered in an 88-66 loss at Saint Mary's back on Jan. 5.
"He played on attack, he was a little winded, and he didn't get a lot of minutes," Rose said. "He was one guy who had a couple of balls hang off, but his ability to get in and drive to make a play is something that we can really use."
A loss to Gonzaga isn't the end of BYU's season. Few may have one of his best Zags teams — one that posted a 20-win season for the 22nd-straight year, a streak that matches Duke and trails just Kansas' all-time streak of 29.
"It's really hard to defend them," Harding said. "Perkins gets the team going and then Clarke posts up. It's just hard to defend them, to cover their role dude, and then get back to your guy. Tonight they got us pretty well, and we had a bad defensive showing."
The Cougars will try to regroup Saturday against Loyola Marymount (BYUtv, KSL Newsradio). The Lions (16-6, 4-4 WCC) held Pacific to 1 point in the final 8:10 of a 60-42 win Thursday night over Pacific.
Tipoff is scheduled for 7 p.m. MST.
"We'll have our hands full on Saturday," Rose said of LMU. "We'll need to do a lot better than tonight, on both ends of the floor."
×
Related Stories