PROVO — Every time Pacific made a run against BYU, one of the Cougars' emerging faces was there to half the rush.
A first-half run to tie try to take a halftime lead? Here's a 3-pointer from Connor Harding. Same thing in the second half: a chance to take their first lead in the opening 10 minutes? Harding for three, again.
What about when BYU trailed 57-56 with 6:44 to play? Gavin Baxter was there to put-back his own shot and regain the lead.
The Tigers just couldn't sustain any momentum.
Yoeli Childs poured in 19 points and 13 rebounds, and Harding added 13 points with four boards to help BYU move past Pacific, 69-59 Saturday night in the Marriott Center. But behind the scenes, TJ Haws was pulling the strings.
The junior point guard struggled from the field against the Tigers, but supplied eight points and a team-high seven assists as BYU held an opponent below 60 points for the third-straight game — all wins.
"They focus on TJ and Yoeli so much, and then out of a timeout, they know they will go to them," said Harding, who was one point off a career-high and scored in double-figures for the fifth time of his freshman season. "My opportunity is to make a play, and run to the corner. That's TJ reading the play, and putting me in situations where I can score."
Baxter added nine points, and Nick Emery supplied eight — including two 3-pointers that helped the Cougars (16-10, 8-3 West Coast Conference) pull away for good.
Roberto Gallinat led Pacific with 14 points, and Jahlil Trip had nine points and 10 rebounds for the Tigers (13-13, 3-8, WCC).
Gallinat also suffered a technical foul when his fist appeared to have hit between Emery's chin and neck, as the BYU junior dived for a loose ball in the final minute with the Cougars leading 67-57.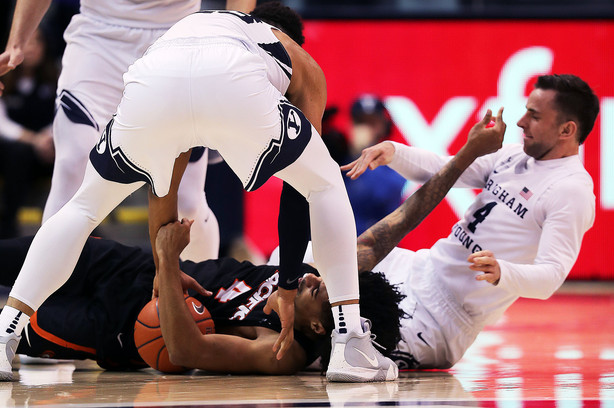 That could've been a moment that escalated quickly. But Emery lowered his head, looked away, and walked into the corner as the BYU student section did his job for him, chanting "Kick him out!" and booing after the officials called a double-foul in the situation.
"It was a dogfight. That's how it always is when you play those guys," Childs said. "They kind of muck the game up a bit.
"They really come in and try to punk you. I think we did a good job of matching their physicality and their intensity. I'm proud of the way everybody fought."
After 35 minutes of nervy play on both sides, BYU took control of the game for good when Emery nailed his second 3-pointer, giving the Cougars a 63-57 lead with 4:25 left.
That paced a furious 9-0 spurt late in the half, highlighted equally by a defense that forced four turnovers over four minutes to pull away.
It wasn't always a masterpiece of offense.
But what worked for the Cougars was defense. That's why BYU coach Dave Rose started McKay Cannon, why Emery played 21 minutes, his most of the season, and why Luke Worthington was on the court in crunch time, coming off the bench to score four points with three rebounds and a steal in 10 minutes.
"He's one of our best post defenders in the pick-and-roll," Rose said of Worthington. "We were having problems with those guys coming off those screens, and Luke did a really good job on that end.
"The layup on the pick-and-roll was a bonus, but the other things we expect him to do. Big minutes late for him."
Next up
BYU heads to Southern California for back-to-back road tips against San Diego and Loyola Marymount beginning Thursday.
×
Photos
Related Stories