SALT LAKE CITY — Competing against top international photographers, Adam Barker has won a coveted X Games gold medal for action sports photography with an epic shot.
The biannual contest takes place on a curated extreme sports photography gallery called Zoom. According to the site, a week and a half before the X Games start, six finalist entries are chosen by the X Games content team and voted for by public fans.
The winning photo is of professional Utah skier Julian Carr, who is doing his signature swan dive front flip off a cliff at Brighton Resort. Utah fans showed a lot of love because Barker's photo of Carr won by a landslide with 37.1 percent of the votes.
The winners were announced just after the last X Games event ended Sunday night. In an interview, Barker said he waited with his family to watch the results live on television.
Along with the medal, he was awarded $10,000 and the added bonus of his picture being published in the next ESPN magazine. It was also put on display at the X Games events in Aspen this year.
Barker said that the most engaging way the X Games featured the top photos was by putting them in large 40-by-60 light boxes displayed at the venue.
According to his website, Barker is an active lifestyle and outdoor photographer who has done commercial work for a variety of companies, including Nike, Deer Valley Resort, Panasonic, Patagonia, Volkswagen of America, and many more.
He said in the interview that his only formal training was a black-and-white photography class he took at Highland High School, which is where his interest in photography started to grow.
After graduating from the University of Utah with a communications degree and working in public relations, Barker started doing photography full-time in 2008.
That high school photography class paid off in the end. Although he initially had reservations, "with contests of this nature, black-and-white photography doesn't necessarily always do super well," said Barker. He also noted that it ended up working to his advantage, being the only black-and-white photo in the top six.
"I think people should know that this image was very finely crafted," Barker said, as everything had to line up just right to get the perfect shot. He said that everything from the clouds in the sky to the angle of the jump had to be just right. "Julian, I think, had the hard part, he got it done, he crushed it," he said.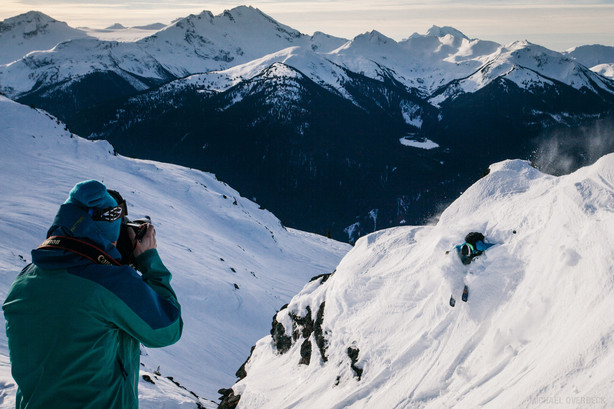 Barker added that his partnership with renowned Utah native skier Carr has gone on for about 15 years. He met Carr at the University of Utah, where they were in a fraternity together.
"There's a huge relationship of trust there you know, which there has to be when things like that are going on in front of the camera," Barker said. "I don't know how many images we've taken together over the years, but there's definitely that rapport, and it felt good to have it validated in this format."
Carr holds two world records in ski jump cliff height. His passion for the great outdoors has also led him to become an ambassador for organizations like Protect Our Winters, or POW, and the Climate Reality Project, two nonprofits advocating for tackling the climate crisis.
In a January 23 Facebook post, Carr tells the story of just how he and Barker got that special shot, and he announced that Freeskier magazine would be featuring a double-page spread of the picture in its 20th-anniversary edition.
"I've traveled all over the world from Antarctica to Asia, and I know that I'm right where I want to be," said Barker. "I'm in the fortunate circumstance of being able to say I've visited so many places, but Salt Lake City is just an unbelievable place for so many things, but especially what I do."
---
Editor's note: This article has been corrected to state Adam Barker competed against other international photographers and not Utah photographers.
Nakisha Rigley is currently a junior at Weber State University majoring in public relations and interning as a news writer with KSL.com.
×
Photos