This archived news story is available only for your personal, non-commercial use. Information in the story may be outdated or superseded by additional information. Reading or replaying the story in its archived form does not constitute a republication of the story.
PROVO — When BYU softball pitcher McKenna Bull looked ahead on the calendar to her senior season, she looked back at a variety of accomplishments — her own, as well as those of her team.
Two-straight West Coast Conference Pitcher of the Year honors. Eight-straight conference championships, including titles in four different leagues leading up to the WCC's inception in 2014.
It's only fitting that arguably the best pitcher in BYU history polishes off one of the Cougars' best-ever seasons, as well.
Behind the 5-foot-10 right-hander from Ogden, No. 21 BYU softball has jumped into the rankings for a program-record nine-straight weeks — and the Cougars are showing no signs of letting up as they seek to capture their fourth-straight league title.
"I think we have potential to go deep in the postseason, further than we've ever been," said Bull, who boasts a 2.44 ERA in four seasons. "This is the best team I've ever seen, and I've been watching BYU softball since I was a little girl.
"I guess I'm biased, but I think so."
Every time Bull steps into the circle at Gail Miller Field, she is making history, too. The senior owns school records in innings pitched (847), complete games (88), shutouts (29), saves (12), strikeouts (914) and — most importantly, she'll say — wins with 99.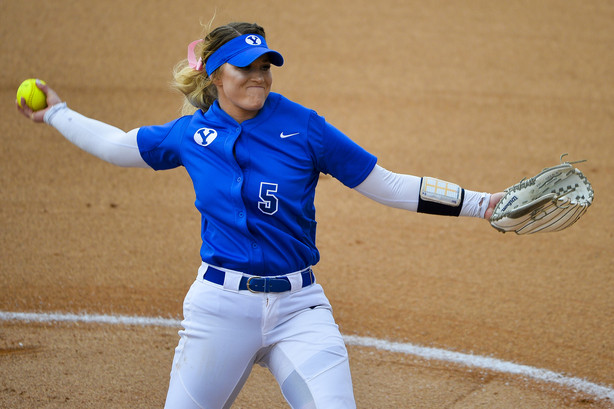 When determining where Bull stands on the pantheon of BYU softball players, the stats speak for themselves, BYU softball coach Gordon Eakin said.
"We've had some really good pitchers over the years," Eakin said. "But you probably have to give a nod (for greatest) to one that holds all of the records — and is still pitching while she holds those records."
She's 99-35 in her BYU career, including a 22-4 record for the 33-10 Cougars who continue their 6-0 start to WCC play with a doubleheader Friday against San Diego. With Bull in the circle, BYU has taken down a litany of top-flight opponents en route to the No. 18 RPI in the country — including No. 13 Washington, No. 12 Georgia and No. 13 Utah.
Bull's 1.51 ERA as a senior ranks 41st nationally.
But she is quick to point out that she wouldn't be anywhere without the help of her teammates — many of whom go back several years.
"I've played with some of these girls since I was 12," Bull said. "We had a lot of chemistry, and it's all coming together for years. I'm glad I'm a part of this team right now.
"Being able to count on my team and trust in them is such a relief. I know if I give up a run, they'll be able to score it back. If I give something up in the gap, they'll catch it in the outfield."
That includes sophomore catcher Libby Sugg, who led the team with a .353 batting average and nine home runs before the Cougars knocked out their 12th-straight win Wednesday in a crosstown clash with Utah Valley.
Bull has played no small part in those wins; she's currently riding a 27-inning scoreless streak. But the Cougars have also put in the rotation defensive players behind her to be a dominant team.
By the Books: BYU softball records owned by McKenna Bull
| Record | No. |
| --- | --- |
| Innings pitched | 847 |
| Complete games | 88 |
| Shutouts | 29 |
| Saves | 12 |
| Strikeouts | 914 |
| Wins | 99 |
"Things have just come together really well for us," Eakin said. "We've been building this team for a long time, and took steps to get to this level.
"One thing that makes McKenna special is our defense. We play really good defense behind our pitchers, and that's been exceptional all year long."
Bull dreamed of playing college softball since grade school, when she would take her father John into the backyard to play catch. By ninth grade, she couldn't do it anymore — John Bull began opting out of their backyard pitching sessions because she "started bringing too much heat."
Instead, she'd call up myriad friends. Bribing them with candy and soda, Bull would pitch until dark with her best friends — and it paid off. She held a 53-17 career record at Weber High School, striking out 729 batters and capturing the Class 5A state title in 2012.
But Bull always had higher expectations. She committed early to BYU, and hoped she could eventually "contribute" to a team that was in the midst of an already impressive run at the time.
Her coach knew she'd be more than a simple contributor. In Bull, Eakin saw she had a rise ball with untapped potential, even when she preferred the curveball before she became adept at college softball's most demanding — and dangerous — pitch.
"We thought clear back then that she could be a dominant Division I pitcher," Eakin said. "The rise ball is a tough pitch, and there aren't a lot of dominant rise-ball pitchers. But even back (in high school), she showed signs of having a really good rise ball.
"I think that's one thing that sets her apart now; she's got a really effective rise ball, and hits great spots with it."
Bull's senior season isn't over, and she hopes to make it longer than any other season in the past. For three straight years, Bull has helped BYU to postseason appearances — and they've lost in the NCAA regional round every time, to Northwestern in 2014, North Dakota State in 2015 and Nebraska in 2016.
She hopes this year is different. But she also knows there's only one way to make it so.
"It's just a lifetime of work," Bull said. "I've spent a lot of weekends and extra time here, just working.
"Work is the only way to get anything at the college level."
×
Photos
Related Stories