Estimated read time: 5-6 minutes
This archived news story is available only for your personal, non-commercial use. Information in the story may be outdated or superseded by additional information. Reading or replaying the story in its archived form does not constitute a republication of the story.
SALT LAKE CITY — A massive winter storm moved through Utah Monday, causing an avalanche, traffic accidents, road closures and other cancellations across the state.
Avalanche in Little Cottonwood Canyon
An avalanche was reported on state Route 210 (Little Cottonwood Canyon Road) Monday afternoon. Snowbird Resort officials imposed interlodge procedures.
"If on road, please return to the resort parking lots and await further instructions," Alta officials added in a tweet.
According to Alta officials, nine people were arrested this weekend, including Monday, for violating the interlodge procedure. Officials stated those who violate it may face a $1,000 fine and jail time.
Details of the avalanche weren't immediately released, but Utah Department of Transportation officials said the road was opened to allow motorists down the mountain shortly before 6 p.m.
Big Cottonwood Canyon was briefly closed earlier in the day for avalanche control, Unified police officials said.
The Unified Police Department Canyon Patrol asked drivers to avoid canyons Monday due to extreme weather conditions. Later in the evening, the agency tweeted that Little Cottonwood Canyon would remain closed until at least 8 a.m. Tuesday, due to "extreme avalanche danger."
"Today is just not a good day to be up in the (canyons)," said John Gleason, spokesman for the Utah Department of Transportation. "Tomorrow is going to be a much better day, but if you're not already up there, then don't try to go up there."
Traffic accidents
State troopers have investigated more than 200 crashes on highways across Utah as of Monday evening after the weekend's snowstorm dropped several inches of new snow across the state, Utah Highway Patrol officials said.
While snow has stopped falling across the Wasatch Front, UHP officials warn cooler temperatures Monday night may lead to icy roadways.
"Keep your speeds slow in order to be ready for when you encounter icy patches of road surface," the agency tweeted.
Weather conditions were to blame for a crash that closed a section of I-15 in Millard County Monday morning, a closure that stretched into the afternoon. It happened after a semitruck slid off the freeway in the area and knocked power lines onto the roadway shortly after 10 a.m., according to UHP troopers.
The freeway was reopened in the county about 1:45 p.m., the agency tweeted.
UDOT snowplows were out in the early morning in preparation for the storm, according to Gleason. Some areas along the Wasatch Front were expected to get 4-8 inches of snow while the mountains were expected to get 15-25 inches.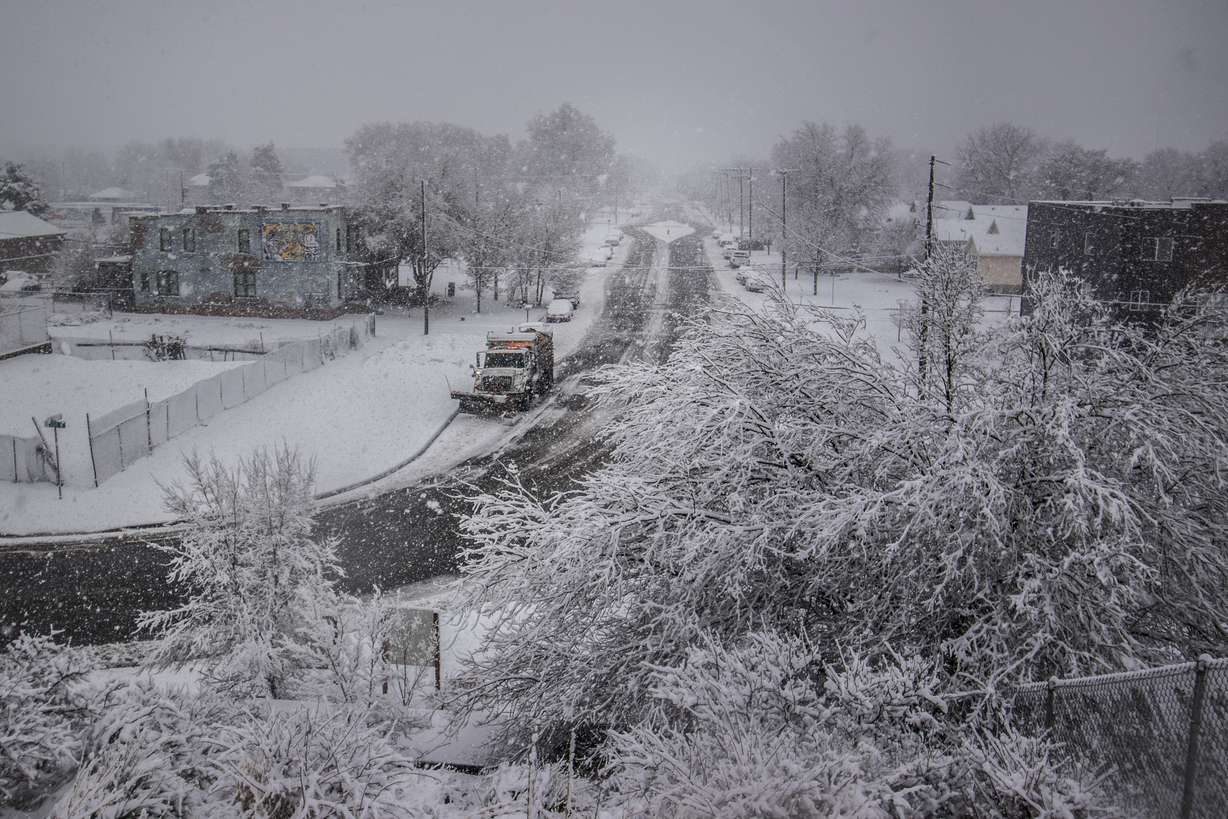 At its peak, Gleason said crews encountered an inch or two of snow per hour in the valleys and upwards of four inches of snow per hour in the mountains — which made clearing roads more taxing. A winter storm warning is expected to remain in effect until 9 a.m. Tuesday.
"It's been a long day for a lot of people out on the roads," Gleason said. "We've seen just so much snow that has fallen. ... Our crews have been attacking this furiously from the early morning."
In addition to the I-15 wreck in Millard County, UHP investigated a semitruck rollover on I-84 near Mountain Green. Westbound lanes on I-84 were closed from Mountain Green exit 92 to exit 96 until late Monday morning.
Eastbound I-80 at Parleys Canyon reopened at 10 a.m. after being closed for a little more than an hour to allow crews to clear the freeway. UDOT allowed only vehicles with four-wheel drive or chains through eastbound lanes; chains were required for all westbound semitrucks for several hours, but those restrictions were lifted Monday afternoon.
Snow is causing very slow going in Parleys Canyon. Snow will continue into this afternoon, so don't expect conditions to improve anytime soon from about Bountiful southward. Snow will taper off across the northern Wasatch Front by late this morning or midday. #utwxpic.twitter.com/TduIhGQEE4

— NWS Salt Lake City (@NWSSaltLakeCity) January 21, 2019
#NWS_tweet
In Daggett County, U.S. Highway 191 remained closed near the Utah-Wyoming border into late Monday night.
In Iron County, state Route 143 remained closed Monday night in both directions from mileposts 18 to 28, which is by Cedar Breaks National Monument, according to UDOT. Semitrucks were also not permitted on state Route 14 through Cedar Canyon.
For more on winter road conditions, visit UDOT's website or dial 511.
Airport cancellations
Salt Lake City International Airport officials tweeted Monday morning that snow removal crews were "out in force" to keep the airport's runways clear.
By nightfall, airport spokeswoman Nancy Volmer said a total of five flights were cancelled due to the wintry weather, and 34 flights were delayed. Those flying can check with their airlines to learn about any delays.
Power outage
For some in the Salt Lake Valley, staying at home was a bit of a burden Monday morning. Rocky Mountain Power reported a "large scale outage" affecting about 12,000 customers in Draper, Bluffdale and other surrounding areas.
However, the agency said power was restored a little more than an hour after the outage was reported.
"If your power is still out, please reset your main breaker. If you are still experiencing an outage please call us at 1-877-508-5088," the agency tweeted.
Provo Power officials tweeted snowy conditions increased the likelihood for power outages in Utah County.
"If your power goes out call 801-852-6888 to report your address," the agency tweeted.
UPDATE: Thank you all for your patience during this outage. Crews working to restore as soon as possible and safely as possible. Our Current estimated time of restoration is 1PM. Please visit us at https://t.co/siomLbq2r5 for continuous updates.

— Rocky Mountain Power UT (@RMP_Utah) January 21, 2019
King march canceled
An MLK march and rally planned for Martin Luther King Jr. Day was canceled due to weather conditions, event organizers said.
The march was scheduled to have taken place from East High School to Kingsbury Hall at the University of Utah campus Monday afternoon.
"The safety of our attendees is of the utmost importance to the U of U and event organizers. Unfortunately, the weather has created unsuitable conditions for this outdoor event," the organizers said in a statement.
Hogle Zoo closed
Hogle Zoo officials said they closed the zoo Monday due to weather conditions. It will reopen Tuesday.
The Zoo is closed today due to heavy snowfall. Stay safe!

— Utah's Hogle Zoo (@HogleZoo) January 21, 2019
Windy conditions
If the snow wasn't enough, the National Weather Service reported windy conditions in Utah's western deserts. The agency reported gusts of 60 mph near Wendover and advised motorists to be prepared for strong winds into Monday evening.
While the snow has stopped over the GSL Desert, gusty NW winds are now blowing across the area. A gust over 60 mph was observed 1 mile east of Wendover at 1120 AM. If traveling on I-80 across the west desert, be prepared for strong winds into this evening. #utwxpic.twitter.com/srrIPLfJMT

— NWS Salt Lake City (@NWSSaltLakeCity) January 21, 2019
Contributing: Yvette Cruz and Jordan Ormond, KSL.com; Todd Fooks, KSL Newsradio
×
Photos
Most recent Utah stories