PROVO — If any BYU basketball players or coaches looked a little extra excited to be back home this past week, there's a reason for that.
After five straight games on the road — nearly a month of playing away from the Marriott Center — the Cougars (finally) made it back to Utah, earning two valuable wins in the process, albeit against two teams they were favored to beat in Portland and Santa Clara.
Key to those wins isn't on how many points BYU scored, but how many points they didn't allow, as the Cougars held the Pilots and Broncos to 56 and 74 points, respectively.
"In practice, we've put more of an emphasis on (defense)," freshman forward Gavin Baxter said. "The extra effort on defense has made a big difference, and that's transferred over well."
But if they didn't look too comfortable, either — well, there's a reason for that too.
The Cougars (11-8, 3-1 West Coast Conference) hit the road again for a pair of away contests at Pepperdine and San Francisco this week.
BYU is 13-9 all-time against the Waves, but just 4-5 at Firestone Fieldhouse in Malibu, California.
Part of the road woes, where BYU is just 1-6 in the 2018-19 season, is defense, according to head coach Dave Rose. BYU found it at home — so what's stopping the team from playing well defensively on the road?
"I really believe that this group of guys can find themselves; we can find success on the road. It's just one of those things where you've got to find it, believe in it, and probably do it first," Rose said. "It's going to be tough. If you look at the home records of team is Nour league, they are all really good — and definitely the two we are going to play right now."
If believe is all it takes, that belief is there, freshman Connor Harding said. It's just a matter of finding it in road environs.
"You're ready to play, and you know it's going to be a good atmosphere," Harding said. "There's an ability to get your mind right."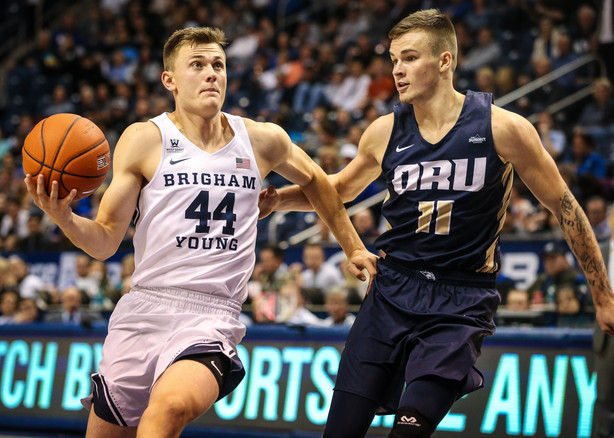 Needing a spark
Through the first half of the season, BYU has had two consistent scorers: Yoeli Childs and TJ Haws.
Childs was named the West Coast Conference player of the week after averaging 27.5 points and 9.0 rebounds in the wins over Portland and Santa Clara. The junior was 5-of-9 from 3-point range to help the Cougars snap a cold spell of losing four in the previous five games, all away from the Marriott Center.
But the Cougars have had trouble finding a third option, although different players have entered the picture for fleeting moments.
Perhaps freshman Harding could be that guy.
The 6-foot-6 native of Pocatello, Idaho, started hot in his first season back after returning from a two-year church mission in Atlanta, including a career-high 14 points against Utah State and double-digit outings in wins over Northwestern State, Oral Roberts and Portland State.
Can Harding be the next man up in scoring?
"The last couple of games I've played, I haven't really found a rhythm or a flow," said Harding, who is 8-of-16 from the field for 27 points in four games since WCC play began. "But I can step up and make more shots.
"I think teams are really going to focus on Yoeli and TJ. Someone will have to step up, and I would like to be the one to do that."
Coach Worthington?
Luke Worthington had one of his best two-game series in a Cougar uniform last week, including shooting 5-of-6 from the field and 3-of-4 from the free-throw line for a season-high 13 points in last week's win over the Broncos.
His emergence has come as he's been moved back into the starting lineup.
Rose's much-maligned move of replacing Zac Seljaas and Jahshire Hardnett with seniors Worthington and McKay Cannon has paid off, at least temporarily.
And the 6-foot-10, 235-pound native of Mequon, Wisconsin, isn't leaving any time soon — even when his eligibility exhausts.
Rose said Worthington will stay at BYU next year, pursuing a master's degree and staying on staff with the Cougars as a graduate assistant. It's a spot Rose has used recently to develop his own coaching tree, moving up Lee Cummard to an assistant coach after two seasons as a graduate assistant — and replacing him with Nate Austin.
"I love to give seniors opportunities," Rose said of Worthington. "They've been here long enough, they've made the plays, and they know it comes down to one thing: winning."
×
Related Stories