This archived news story is available only for your personal, non-commercial use. Information in the story may be outdated or superseded by additional information. Reading or replaying the story in its archived form does not constitute a republication of the story.
PROVO — It's been quite the week for the BYU men's basketball team.
Quite the month, even.
But if time doesn't heal all wounds, then winning certainly helps salve the travails of a wandering basketball team.
After the Cougars' 79-56 home win over Portland in front of a home crowd Thursday night, there's a little more of a spark around a program that recently went through its worst nonconference stretch since joining the West Coast Conference in 2011.
Make no mistake; BYU should have beat Portland. The Pilots (7-10, 0-2 WCC) were the only WCC program with a losing record, having lost seven of their previous nine bouts heading into Provo. But BYU wasn't in a stellar place heading into the game, either.
They just proved to be much better, at least in spurts.
"I think our guys came out with great focus and energy," Rose said after the win over Portland. "I thought we played the first 10 minutes as well as we have all year long."
For starters, there was the five-game road bridging the end of the 2018 calendar year with the start of WCC play — a span in which the Cougars went 1-4.
BYU had not won a true road game all season before clinging to a 90-87 victory at Pacific in last week's WCC opener.
Then there was a report that point guard Jahshire Hardnett was transferring. A junior college transfer with stops at three schools, Hardnett had recently lost his starting spot, along with sharpshooter Zac Seljaas, as Rose shifted his rotation to put seniors McKay Cannon and Luke Worthington on the floor for the opening tip.
It was a move designed to infuse a little bit more defense into the Cougars' lineup, something that had been sorely lacking in losses to UNLV, San Diego State and No. 14 Mississippi State, when BYU gave up 92, 90 and 103 points, respectively. With the new lineup, the Cougars allowed 87, 88 and 56 points in their next three games.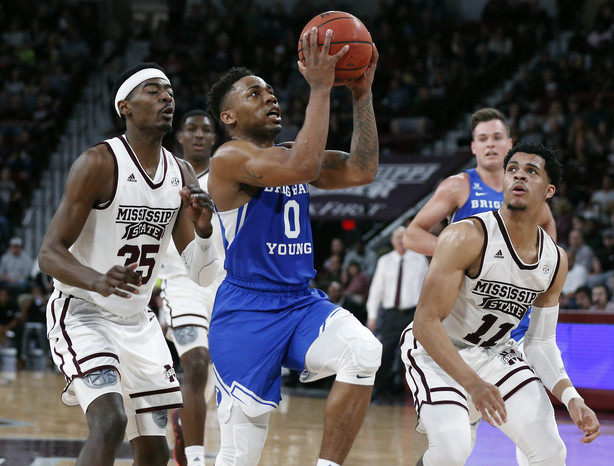 It wasn't a fun stretch for any of the players.
"We have that fire," Seljaas said. "It hurts when you lose, especially when we know we should be winning a lot of these games. Once we get into practice (after a loss), we compete at a high level.
"We come back the next time, and all we want to do is win. That's how we've been through the season. We want to go out there, fire away, and play as hard as we can."
Some players respond with frustration to a losing stretch, though. And that's OK; that's normal. It's human.
Hardnett wasn't happy with his role, according to a report first issued by SB Nation blog Vanquish the Foe. He had left the team and was going to transfer, the report said.
Rose essentially confirmed via Tuesday night's coach's show on BYUtv that Hardnett had missed practice, but didn't explain why, calling it simply "going through a tough stretch."
His teammates alluded to personal struggles for the 6-foot, 185-pound guard who averages 10.9 points and 2.1 rebounds per game.
"We've dealt with a lot of adversity this year, and guys individually are dealing with a lot of hard things in their personal lives," said BYU star Yoeli Childs, a bright spot on the team who is averaging 22 points and 10.4 rebounds per game. "You've just got to pick your guys up; we're a brotherhood. When guys are down, the other guys on the team have to go pick him up.
"Most teams in the country know exactly what I am talking about. It's bigger than basketball."
By Wednesday, Hardnett was back at practice, prompting a rare testy exchange between Rose and local media when pressed about the point guard's status.
"'Shire and I talk every week in long conversations," Rose said at the time. "We've got a really good relationship, as far as understanding each other, and I know exactly what he wants. He knows exactly what I want, and we are both committed to the same thing.
"I'm looking forward to moving on."
By Thursday, Hardnett was back in the lineup. But he still didn't play, and Rose cited a medical concern over a hand injury Hardnett suffered against Saint Mary's. The point guard tried to warm up Thursday night, the coach added, but was in a lot of pain and team doctors along with head basketball athletic trainer Rob Ramos advised both sides that Hardnett shouldn't return to the court until he has had time to heal.
"He's a tough kid," Rose said. "He played much of last year with a broken finger, and this thing is really causing him issues. It was planned to play him if he could, but now we're put on watch. Hopefully, it's quick."
In the meantime, the Cougars turn their attention to another home game, against Santa Clara (10-7, 2-1 WCC), a team that finds itself neck-and-neck with BYU in the conference's early standings.
"Herb (Sendek) has got a really good group," Rose said of the Broncos. "They aren't very deep, but the group he is playing reminds me of the team he had three years ago. They are big, strong, and with guards that are playing really well. He's got a couple of transfers, a fifth-year seniors.
"There's been no mention of Santa Clara the last 3-4 days, so our guys will get their full attention."
×
Related Stories