PROVO — Blink, and you may have missed it.
But BYU coach Dave Rose didn't.
Luke Worthington's most recent cameos with the BYU basketball team may quietly play a key role in helping the Cougars out of a three-game losing streak as West Coast Conference play opens Thursday night at Pacific (9 p.m. MST, ESPNU/KSL Newsradio).
That's because the 6-foot-10 center has quietly had two of his most productive games off the bench in a pair of losses to San Diego State and Mississippi State. And while two good games don't make up for those defeats, it could signal a chance for BYU to rebound as the team prepares for the most important stretch of the season — conference play, which starts with back-to-back road games at Pacific and Saint Mary's.
"We've learned from a few too many losses now, and I think heading out on this road trip into conference play, we're prepared for the challenge that it is," Worthington said. "We all understand the atmosphere and the intensity that home court brings other teams.
"I think our team is ready, especially for this two-game swing, because we've been in it for a while now."
Worthington scored a season-high 11 points to go with five rebounds in 21 minutes off the bench in the 90-81 loss to the Aztecs two weeks ago. The Mequon, Wisconsin, native and one of just two seniors on the team followed up the encounter with eight points, six rebounds and two steals in a 103-81 thumping by the Bulldogs.
More importantly, the senior looked confident, making all five of his free-throw attempts in the two games and shooting 7-of-10 from the field.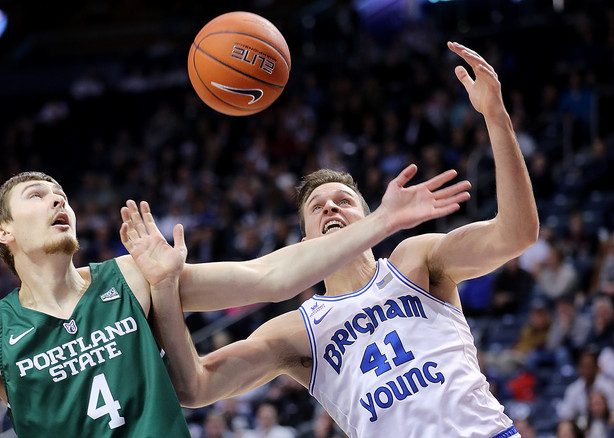 Worthington hasn't missed a free throw since making 1-of-2 in a 113-103 loss Dec. 1 at Weber State. He's also 16-of-19 from the charity stripe on the season.
Though harder to mention categorically, Worthington's defense has also improved, Rose said.
"As we try to get a little better defensively, he brings us a better presence defensively," Rose said of Worthington. "I think he's figured out a way that he can play with Yoeli and be pretty effective offensively."
Worthington doesn't need to score 30 points a night or pull down double-digit rebounds all the time, especially when he has Yoeli Childs next to him.
Doing just enough — his job, essentially, while trusting his teammates to do their own — is good enough, Rose said. And it's a lesson his younger teammates can learn.
"I know that we have a lot of guys who will put up big numbers and make big plays," Worthington said. "I just want to fill in the gaps. I want to be there and help them get their shots. I want to help the guys be successful in their own element, but also do what I am needed.
"I'm just going to try to contribute where I can."
A captain, Worthington has come off the bench in all but one game as a senior in 2018-19. He played double-digit minutes in just three of the Cougars' first 13 contests. In that time, he averaged 2.1 points and 1.8 rebounds as BYU went 8-5.
In terms of totals, that's 27 points and 24 rebounds in the first 13 games, compared to 19 points and 11 boards in the last two.
Related Story
But he's also been one of the team's more vocal leaders, a veteran locker-room presence and one of the most willing arms raised when asked if anyone is available to talk to the media following any performance, both good and bad.
And while his surge in minutes hasn't led to an immediate turnaround in the win-loss column, it gives the coaching staff a few things to ponder as they consider what is now two separate three-game losing streaks to start the season — their worst non-conference finish since joining the West Coast Conference in 2011.
"I learned a lot, and one of those things is that our best defensive teams aren't our best offensive teams," Rose said. "It's not like football; you have to play the same guys. That's our challenge: playing the guys who can get us in position to run our offense, and be aggressive and effective — and then able to get on the other side (on defense).
"That seems to be an issue for the last three games."
×
Related Stories