Estimated read time: 8-9 minutes
This archived news story is available only for your personal, non-commercial use. Information in the story may be outdated or superseded by additional information. Reading or replaying the story in its archived form does not constitute a republication of the story.
SOUTH JORDAN — Utah Warriors general manager and longtime Utah rugby supporter Kimball Kjar looked out over a packed ballroom at the Embassy Suites by Hilton hotel in South Jordan and stopped himself.
For a brief moment, emotion came bubbling up to the surface of his normally stoic public appearance.
A former rugby coach at BYU, a man who helped launch the sport in Utah at the high school, club and developmental academy level, Kjar saw some of the results of his efforts in the ballroom, and his voice choked with emotion — but only for a moment.
It was the beginning of another year for Major League Rugby, and while that may not seem like a reason to hold a press conference offering a big announcement or make some bold proclamation, it is significant to rugby fans.
You see, no professional league in North America has ever made it to a second season. Some semi-pro leagues have tried to grease the wheels for a professional outfit in the states, and MLR's predecessors like the Professional Rugby Organization ceased operations after one season.
Naturally, there were plenty of doubters in Year One.
But Major League Rugby will begin play its second season Jan. 26 — and that news is reason enough to celebrate.
"One of the big things we kept hearing is if we could get past the first year," Kjar said. "Quite frankly, there hadn't been a professional rugby competition that had made it past a first year in North America.
"We're excited to be able to tell everyone that Major League Rugby is here to stay. The Utah Warriors will hopefully be at the center of that."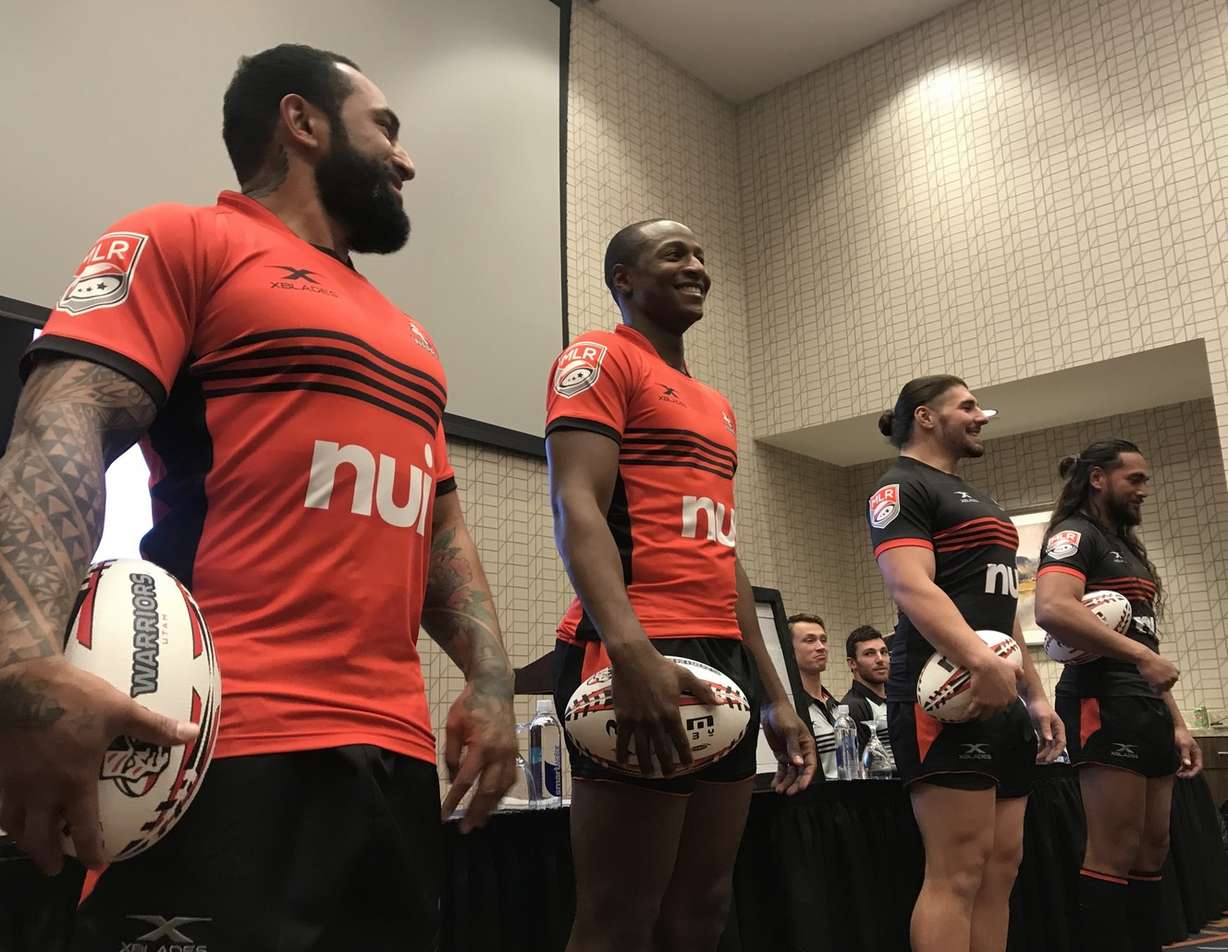 Surrounded by the players, both new and old, on his team's roster, with head coach Alf Daniels seated far to his right, and joined by team owner Wade Sherman of Adobe along with MLR commissioner Dean Howes, Kjar officially opened the second season of the Utah Warriors.
"This team is meant for Utah," Kjar said. "Rugby is part of our culture; it's who we are. These players represent a piece of what Utah is.
"We are Warriors."
The Warriors will open the franchise's second season with a two-game road swing, starting Feb. 1 at Austin Elite and Feb. 17 at San Diego.
The franchise's home opener at Zions Bank Stadium in Herriman is scheduled for Feb. 23 against the historic U.S. rugby franchise Glendale Raptors, initiating a home schedule that includes eight home contests through regular-season finale June 1 against the Houston Sabercats.
"About a year ago, we were over at Rio Tinto and I stood with confidence and proud to be the first head coach of the Utah Warriors. I looked forward to dominating the MLR as a team," said Daniels, the veteran rugby coach who will enter his second season.
"I'm the same person, but a little bit humbled by some of the experiences we had — and some of the learnings that we had — in our first season. Some of the big lessons we learned will help us make changes."
To that end, the Warriors have overhauled their coaching staff. While Daniels, who once helped coach at the powerhouse Highland rugby program in Utah and the Waikato development team in his native New Zealand, is still the head coach, he's brought in a new forwards coach in Stevie Scott from Scotland, and James Temple, a backs coach from Waikato, New Zealand.
The club has also added a rigorous strength and conditioning program, one that players already "love to hate," Daniels said — but is already paying dividends.
"Compared to last year, I think we are light years ahead of where we were," said Warriors wing Tonata Lauti, who led the league in tries scored a year ago. "I thought I didn't have any weight to lose, but I'm down 10 pounds. Our coaches have added a lot of new additions, systems and processes that are completely different than what we were doing last year. It's starting to click and I am really excited to see what we can do with it."
Even without a championship, which went to the Seattle Seawolves, it's hard to argue that the Warriors' inaugural season wasn't a success. The top-scoring team in the league, Utah boasted Major League Rugby's No. 1 try scorer in Lauti and four players named to the all-Major League Rugby first team. They had the highest attendance in the league, bolstered by a pair of preseason games at Rio Tinto Stadium before moving into their permanent home in Herriman.
But the club also made it to the first-ever league championship series, a four-team playoff where Utah fell to Glendale in the semifinals.
"Utah has the best rugby support group in the MLR," Daniels boasted. "Our community is fantastic. They continually reminded us that as a team, we needed to be fitter and more competitive.
"We went out of our way to pick up a strength and conditioning coach. He's the most hated man on our team — and that means he is doing his job. You will see a different athlete wearing a Warriors jersey, because of the work that he has put in with them."
The Warriors lost teams captain and former NFL running back Paul Lasike, the ex-BYU fullback, to Harlequins in the English Premiership. But they returned significant players on offense, as well, such as Lauti, scrumhalf Joseph Nichols, and former BYU standouts like Ara Elkington, Matt Jensen and Jackson Kaka — not to mention the Whippy brothers, twist Jared and Joshua, who suffered season-ending leg injuries as the inaugural season opened last year.
---
Rugby is part of our culture; it's who we are. These players represent a piece of what Utah is. We are Warriors,
–- Utah Warriors GM Kimball Kjar.
---
In addition, the Warriors will add New Zealand fly halves Tim O'Malley, Josh Reeves and James Semple. The trio will look to replace Kurt Morath, the Tongan international star who moved to Scotland after leading the Warriors in scoring last year, as well as former BYU fly-half Jonny Linehan.
Reeves, 28, is a native of New Zealand who represents Brazil internationally. A left-footed staple in the No. 10 shirt, he is the first from the Tupis selection to sign a contract in Major League Rugby.
"I've always wanted to play rugby at the highest level possible, and when this opportunity came up, I couldn't say no," Reeves said. "I watched Major League Rugby last year from Brazil and this is an opportunity to progress my career as a player. It really fits my game."
Off the field, the Warriors made perhaps bigger strides. After being thrown together in a matter of weeks, Utah united a growing rugby community on the Wasatch Front — one that country's largest youth rugby league in Utah Youth Rugby.
Even a team with players from nine other countries, including Scotland, Australia, New Zealand, Samoa, Tonga, Fiji and Zimbabwe, (to name a few) the Warriors have four players from the state of Utah, four who played at the University of Utah, four who played at BYU, and another finished his collegiate career at Utah Valley.
Major League Rugby will grow by two franchises in 2019, adding Rugby United New York and the Toronto Arrows in Canada to the original core of Utah, San Diego, Austin, Houston, New Orleans, Seattle and Glendale, Colorado.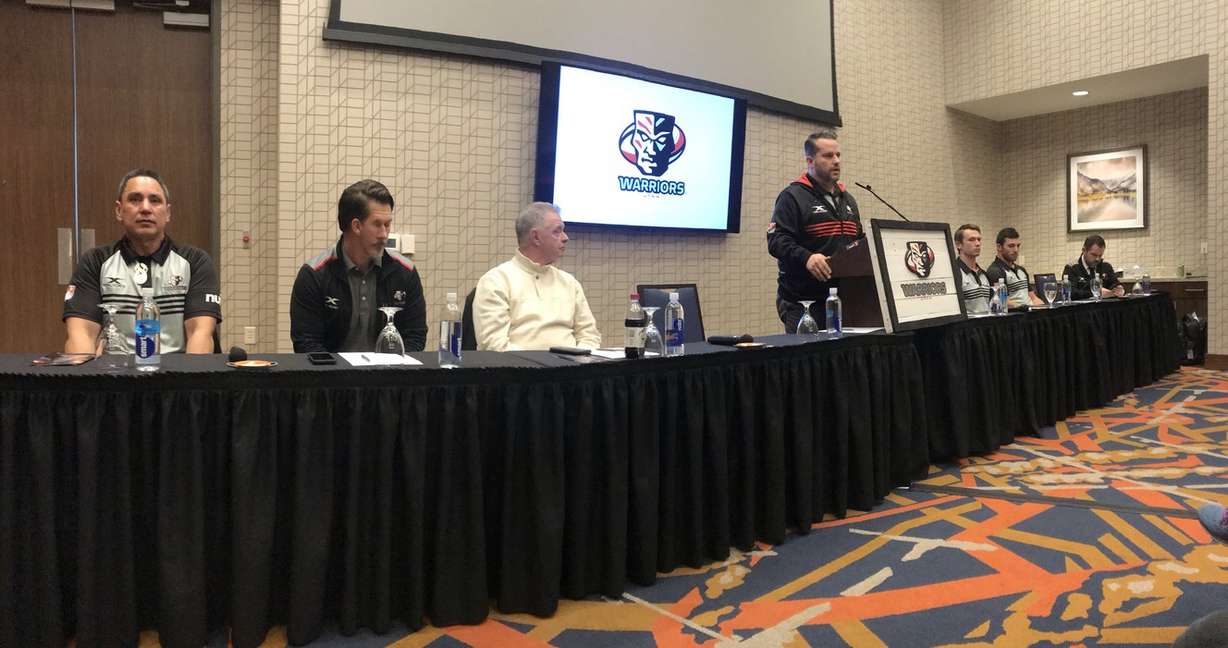 Further expansion is already planned for 2020, including Boston, Atlanta, Dallas and Washington D.C., with one or two more to be announced soon, according to Major League Rugby commissioner Dean Howes.
Each of those teams have to approach the single-entity league, and qualify for an equity stake in Major League Rugby, LLC, Howes said.
"Rugby is relevant in Utah as a sport," Howes said. "To the casual sports fan, we need to convert them. To those coming for entertainment, this is a sport that is unlike any other. It's a great media sport and that is converting these people."
In that regard, Major League Rugby will continue to grow, both domestically and internationally. The league is in talks with the French league about a series and other groups from around the world have discussed potential partnerships as well.
"I can't underscore that enough: rugby is a huge sport internationally," said Howes, the former Real Salt Lake CEO who leads the only pro sports league with headquarters in Utah. "It's still growing here, but one thing that is drawing it is the fact that we have it internationally. I think we will make the international game better and we will make the domestic game better."
The game continues to grow, both domestically and abroad. And the Warriors hope to add their names to the growing list of rising stars in rugby in North America.
"We all come from different places, but once we come into game day, we only have one goal: to win," Lauti said. "Everyone gets serious.
"But we all get along. No fights, I promise."
Utah Warriors 2019 schedule
| Date | Opponent | Location |
| --- | --- | --- |
| Feb. 1 | Austin Elite | Austin, Texas |
| Feb. 17 | San Diego Legion | San Diego, Calif. |
| Feb. 23 | Glendale Raptors | Herriman, Utah |
| Mar. 2 | NOLA Gold | Herriman, Utah |
| Mar. 8 | Rugby United New York | Herriman, Utah |
| Mar. 23 | Houston Sabercats | Houston, Texas |
| Mar. 30 | Toronto Arrows | Herriman, Utah |
| April 5 | Seattle Seawolves | Herriman, Utah |
| April 13 | NOLA Gold | New Orleans, La. |
| April 21 | Rugby United New York | New York City |
| April 27 | Austin Elite | Herriman, Utah |
| May 4 | Glendale Raptors | Glendale, Colo. |
| May 12 | Toronto Arrows | Toronto, Ontario |
| May 18 | San Diego Legion | Herriman, Utah |
| May 26 | Seattle Seawolves | Seattle Wash. |
| June 1 | Houston Sabercats | Herriman, Utah |
×
Photos
Related stories
Most recent Sports stories