Estimated read time: 4-5 minutes
This archived news story is available only for your personal, non-commercial use. Information in the story may be outdated or superseded by additional information. Reading or replaying the story in its archived form does not constitute a republication of the story.
HERRIMAN — Matthew Jensen gets the question almost every time he goes out with his Utah Warriors teammates.
"So, are you like a soccer team?"
Sort of, he says, before launching into his well-rehearsed explainer of rugby union. But that's just part of the deal for the Warriors, who will open their inaugural Major League Rugby campaign at 7 p.m. MT March 30 against the Glendale Raptors at Rio Tinto Stadium.
"It's been fun explaining what the game is, and it's gaining a lot of traction," said Jensen, the 6-foot-8, 260-pound lock who grew up in Farmington. "Utah has always been a hotbed for rugby, and a lot of people are excited to see something like this come here and gain traction."
Utah has been a hotbed for rugby in the United States, both on the high school scene with Highland and other national competitors and collegiately at BYU and Utah.
But the state has never had a professional franchise to call its own, and when the now-defunct Professional Rugby Organization (PRO) passed over Salt Lake City in 2016 in favor of teams in San Diego, Sacramento, San Francisco, Denver and Columbus, the local community wondered if professional rugby would ever happen locally.
While pro rugby has hardly "made it," the new league gives the teams more traction with a national television contract with CBS Sports Network and longtime pro rugby club Glendale Raptors that will join squads in Seattle, San Diego, Houston, Austin, New Orleans and Salt Lake City for the 2018 season.
A club sponsored by Rugby United New York has already been announced as a 2019 expansion team, as well.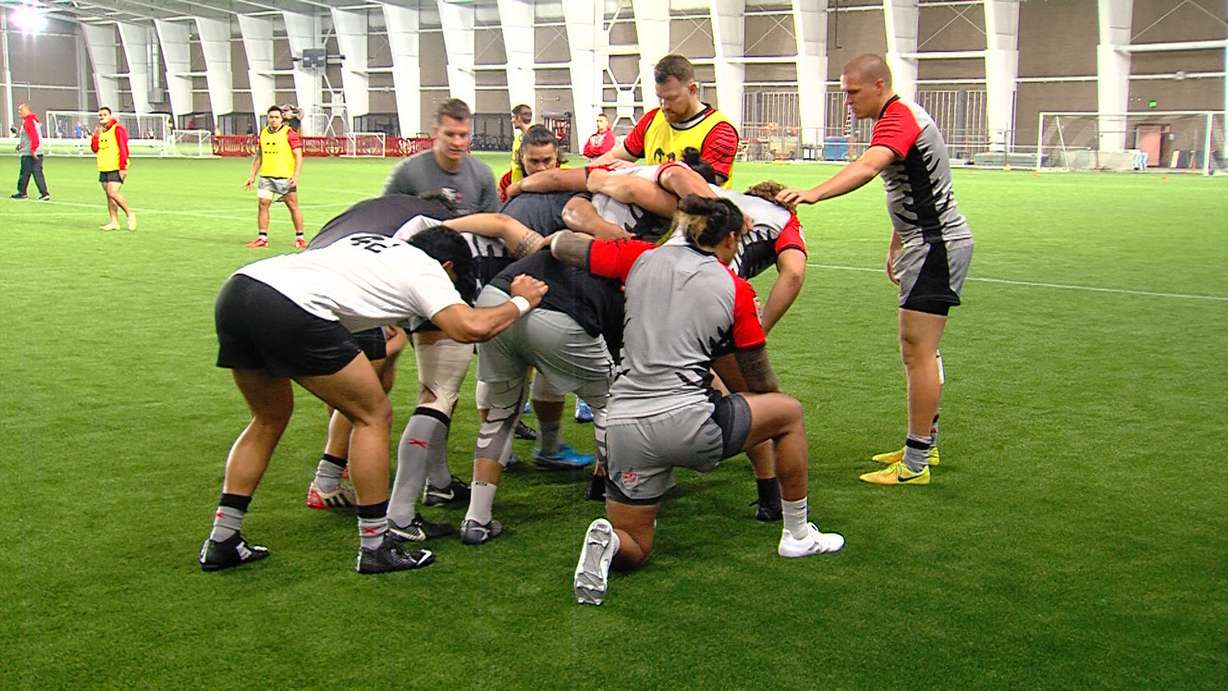 "We're really excited," said the Warriors' Kenny Scott, who hails from Kansas City. "It's a good franchise in the second professional league (in the United States), but it's got a little more steam behind it. Everybody has been great in the community, too."
Now they need to build a fanbase. With high school clinics, community outreach and an already zealous youth rugby system in Utah, the players are confident that will come, too.
"We're trying to get off the ground," said Paul Lasike, the 27-year-old former BYU rugby and football standout who spent two seasons in the NFL. "But we're doing all we can to get the community and the state of Utah behind this new rugby team."
The Warriors' home field for the inaugural season will be the 5,000-seat Zions Bank Stadium, but the first two games of the year will be played at Rio Tinto Stadium in Sandy as the Herriman-based facility enters the final phase of construction.
That gives the team time to build a fanbase, too. The Warriors' non-league match against Ontario is also likely to relocate to Sandy, pushing the team's home opener in Herriman to April 20 against Alberta.
"It's a very central location, for a lot of people in Provo and Salt Lake to attend," Lasike said of Rio Tinto Stadium, where he won a national championship with BYU. "We invite everyone out to come and support this new professional rugby team. We look forward to putting on a good show for the crowd."
Utah Warriors rugby 2018 schedule
| Date | Opponent | Time | Location |
| --- | --- | --- | --- |
| Mar. 30 | Glendale Raptors | 7PM | Sandy, Utah |
| April 6 | Ontario Arrowheads | 7PM | Sandy, Utah |
| April 20 | Alberta Wolfpack | 7PM | Herriman, Utah |
| April 29 | San Diego Legion | 5PM | San Diego, Calif. |
| May 5 | Glendale Raptors | 1:30PM | Herriman, Utah |
| May 11 | Austin Elite | 7PM | Herriman, Utah |
| May 20 | Seattle Seawolves | 6PM | Seattle, Wash. |
| May 26 | Houston Sabercats | 1PM | Houston, Texas |
| June 3 | Austin Elite | 6PM | Austin, Texas |
| June 16 | New Orleans Gold | 2PM | Herriman, Utah |
| June 23 | Houston Sabercats | 2PM | Herriman, Utah |
*all times Mountain
International stars dot the Warriors' inaugural lineup, with many of them coming from the Wasatch Front. Besides Jensen and Lasike, Utah's roster also includes Provo's Havea Unufe, former BYU flanker Jackson Kaka, and brothers Josh and Jared Whippy from BYU.
"We've got heaps of potential," Lasike said. "In compared to other clubs around the country, it's yet to be seen — but there are heaps of potential. A lot of the boys are from other countries, and know that fluid style of rugby. I think a lot of fans will be able to get into it and get into rugby more."
So why should fans care about pro rugby in Utah?
"With the way football is going, people need new entertainment," Scott said. "It's right up there with football, right up there with soccer, and the hitting — the action is right there.
"The hits are No. 1 action, and it's pure entertainment. Maybe the best part about it is that it is foreign; you can learn something new, and it's very family-friendly."
×
Photos
Related stories
Most recent Sports stories