THE YEAR THAT WAS — Another year has come to a close, which means a new year of movies is upon us. But before we dive into what treats the 2019 cinematic landscape has in store for us, let's take a look back at the movie year that was.
When it came to films, 2018 was a year of good, bad, ugly and unheard. Some of the best films people never even heard about, some that were supposed to be great were duds and others that were supposed to be mediocre were real gems.
Here are some best of film 2018 picks from KSL.com's movies guys, John Clyde, Jacob Klopfenstein and Dave Clyde.
Best performance
Jacob's pick: Thomasin McKenzie - "Leave No Trace"
The performance that made the biggest impact for me this year came from a New Zealand teenager whose acting resume was sparse before "Leave No Trace."
McKenzie acts with restraint as she plays a girl who is tough yet vulnerable. It helps that McKenzie is working alongside Ben Foster, one of the most gifted actors working today.
In a pivotal, emotional scene toward the end of the film, McKenzie delivers some blunt truths to Foster, who plays her father. She holds her ground against the talented Foster and steals the scene.
To be honest, she steals most of the rest of the movie, too. If this massive performance is any indication of McKenzie's potential, I hope she gets a lot more work in the next few years.
Dave's pick: Rami Malek – "Bohemian Rhapsody"
I was conflicted leaving the theater after watching "Bohemian Rhapsody." My logical brain was telling me it was not a very good movie by any standard, but for some reason, I could not stop thinking about it. It took a few days to sink in how much of a difference Rami Malek's performance makes to this movie. It could be said that Malek's performance made the movie — without it, it would be a cliché film.
Malek completely sold me as Freddie Mercury from the moment I saw him. So much so that I was inspired to go home that night and find out as much about Mercury as the internet would tell me. Malek's performance will be with me for a long time to come even if the movie itself is not.
John's pick: Viggo Mortensen – "Green Book"
A few weeks ago, I was struggling with this category. Would I give it to Rami Malek's transformative performance like Dave did or would I hand it to Claire Foy and her incredible turn in "First Man?" Then I saw "Green Book" and none of that mattered.
Viggo Mortensen's performance in the drama "Green Book" is not only the best thing he's ever done, but it also one of the best performances I've seen in some time. You completely forget this is the Aragorn from "The Lord of the Rings" and not a hard-nosed guy born and raised in the Bronx. "Green Book" is one of the best movies of the year and it boasts, in my opinion, this year's best performance.
Biggest disappointment
Dave's pick: "Solo: A Star Wars Story"
I was so excited for "Solo" when it was announced that I predicted it would be one of the top five grossing movies of 2018. After all, who wouldn't want to know the backstory to some of the most interesting characters in the "Star Wars" universe?
I am not sure how Disney managed to mess this one up, but by the end of the film, I was more excited to know the backstory of the Millennium Falcon than that of Han Solo and Chewbacca.
John's pick: "Welcome to Marwen"
I still get upset about this one. The first couple of previews for "Welcome to Marwen" are some of the best I've ever seen.
Unfortunately, the actual film couldn't capture half of the magic of its previews. I'm a big fan of Steve Carell, but his likability couldn't save the film. What's more is that director Robert Zemeckis made one of my all-time favorite movies ("Back to the Future") but his recent track record has not been strong, and this is another one to keep that streak alive.
Jacob's pick: "A Star Is Born"
That great first trailer spawned tons of hype (and memes) for the Lady Gaga-fronted remake. I admit I bought into it — there was nothing shallow about the way I fell for "A Star Is Born" in the weeks leading up to its release. But when Bradley Cooper's directorial debut finally got to theaters, the result was just … meh.
Something just felt a little off in this film for me, from the mediocre dialogue to the confounding editing to the tonal inconsistencies. It's not sure if it wants to be a cautionary tale about the dangers of fame, a tragic story about a famous man falling from grace or a melodramatic musical.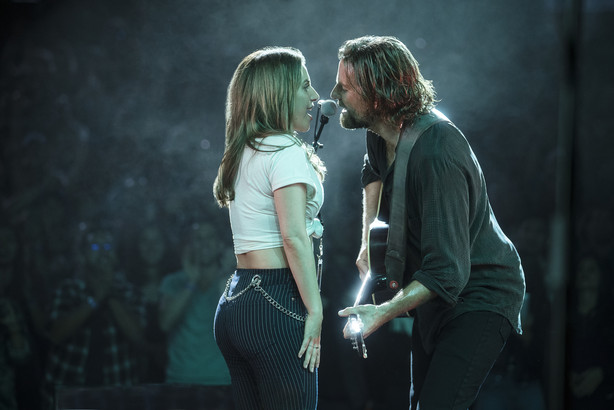 The musical performances in "A Star Is Born" are exhilarating, and Gaga's acting is very good, but the movie just didn't live up to the hype like I hoped it would.
"A Star Is Born" is rated R for language throughout, some sexuality/nudity and substance abuse.
Biggest surprise
John and Dave's pick: "Spider-Man: Into the Spider-Verse"
It takes a lot of things to go right for any film to be considered good. Animation and superhero movies are two genres that have had every bit of potential drained from them over the years
Yet somehow "Spider-Man: Into the Spider-Verse" managed to take both movie forms, smash them together and create something entirely new and exciting to watch. Everything, from the storytelling to the dialogue and the comic-book style animation gelled together to give us one of the best movies of the year.
The film spun a perfect web of tone, action, humor and heart and should win best-animated film of 2018. Yes, we know that's a bold claim with the likes of "Incredibles 2" and "Ralph Breaks the Internet," but we stand by that statement whole-heartedly.
Jacob's pick: "Solo: A Star Wars Story"
"Solo: A Star Wars Story" had little hype and seemed doomed from its inception.
Its titular character famously made the Kessel run in record time, but "Solo" had a rough ride to theaters. The original directors were replaced, there were lots of reshoots, and there were rumors that lead actor Alden Ehrenreich needed an acting coach.
Needless to say, I wasn't expecting much from this film. But when I finally saw it, I found it really entertaining. Nobody will ever be able to replace Harrison Ford as Han Solo, but I think Ehrenreich did a fine job and put his own flair on the character.
The script, though a bit overlong, is full of clever writing and features a plot full of twists and turns fitting for a movie about cinema's most notorious scoundrel. The supporting cast, which features Woody Harrelson, Emilia Clarke and Donald Glover, is also solid.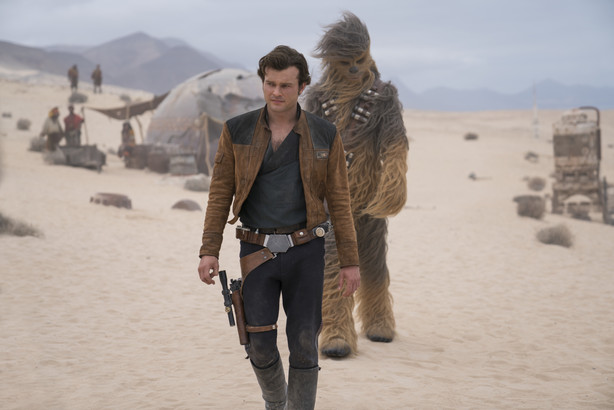 "Solo" won't be remembered like the best films of the "Star Wars" franchise, but it is a surprisingly good addition to the canon.
Guilty pleasure
John's pick: "Skyscraper"
When I think of guilty pleasure movies, I think of the stuff that you're a little embarrassed to admit you enjoyed. That's why I've picked "Skyscraper."
When I wrote my initial review for the film, I admitted this isn't a good film, but it wasn't trying to be. It wanted to be an absurd action flick starring Dwayne "The Rock" Johnson that kept you entertained for a brief 90 minutes.
Guess what — it did exactly that. The movie gave me a few thrills, made me chuckle once or twice and left a smile on my face. Say what you will about this pick, but I had a good time watching "Skyscraper" and you can bet I'll be renting it from Redbox soon to give it another watch at home with some popcorn and a soda.
Jacob's pick: "Mission: Impossible – Fallout"
If you found the term "guilty pleasure movies" in a dictionary somewhere, you'd probably find the "Mission: Impossible" franchise listed. For people who want something that's wildly entertaining but doesn't have too much substance, the Tom Cruise-starring action movie series is one of the best options out there.
"Fallout" follows the formula of the previous installments in the series, featuring scintillating, impeccably choreographed action set pieces one after the other.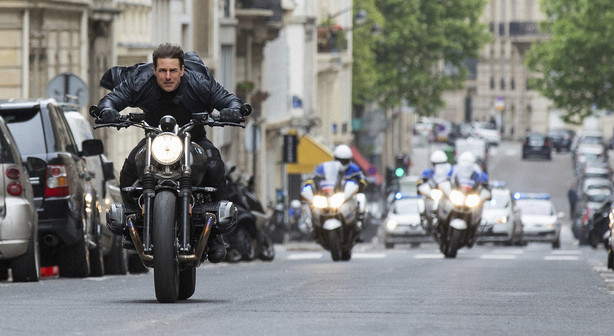 And while the latest M:I edition is still relatively lighthearted popcorn cinema, "Fallout" director Christopher McQuarrie elevated the filmmaking craft here.
The photography in the helicopter chase toward the end is stunning, with beautiful imagery of the mountains in which it's set. The cast, with supporting performances from Rebecca Ferguson, Ving Rhames and Simon Pegg, shines. Henry Cavill puts in some especially great work as a boisterous, bullish agent who threatens to steal the thunder from Cruise's Ethan Hunt.
Dave's pick: "A Star Is Born"
I am not entirely ashamed to admit that somewhere in the back of my mind I have imagined myself being noticed for a talent and then rising to unbridled fame and stardom.
The problem is I have never been good enough at anything to ride the fame train to the top. So I guess I have to live vicariously (for now) through Lady Gaga until a talent scout notices my sick moves on the basketball court.
Until then I will keep singing quietly along to the "A Star is Born" soundtrack alone in my car where no one will ever know the movie is one of my guilty movie pleasures of 2018.
Our overall favorites
Dave's pick: "Paddington 2"
If you saw "Paddington 2," you know exactly what I am talking about.
I know this is an unconventional pick in ways and probably won't win any Academy Awards, but it was probably as good as a movie can get. I don't know anyone who has anything bad to say about this film and judging by the 100 percent score on Rotten Tomatoes, I am not the only one.
This film really has it all: a great story, great writing, great character development and animation. If there is only one movie I could in good conscience recommend to anyone in the world it would be "Paddington 2."
Jacob's pick: "First Reformed"
If there's one film that captures the existential dread many people felt in 2018, it's "First Reformed."
Paul Schrader's masterpiece features Ethan Hawke as jaded, middle-aged priest Ernst Toller, who is struggling to process the death of his son. When Toller meets a man who believes climate change has doomed the earth to inevitable destruction, he begins questioning his faith, his politics and his philosophical outlook on life.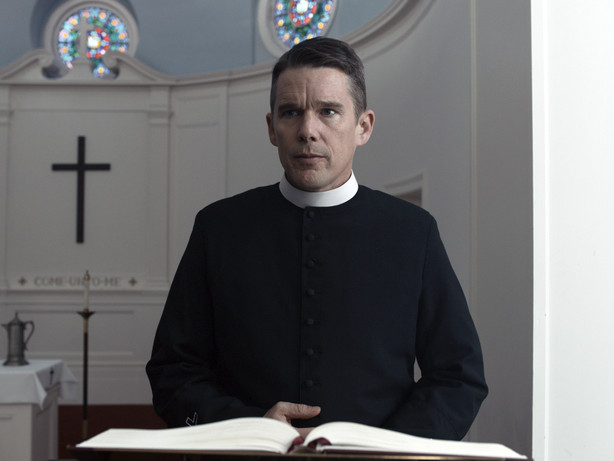 Schrader's filmmaking is decidedly old-fashioned. It's shot in a retro square aspect ratio. The deliberate pacing and use of narration are clearly influenced by the deeply philosophical work of Ingmar Bergman.
With the big, challenging political questions the movie asks, though, the film couldn't feel more relevant to today's world. And yet, the movie's completely bonkers ending may well convince you that there's still a bit of hope left for humanity. The film's final images will challenge you to reconsider everything you've just watched.
Nothing else I saw in 2018 affected me or stuck with me quite like "First Reformed."
"First Reformed" is rated R for some disturbing violent images.
John's pick: "A Quiet Place"
I went back and forth on this for a very long time. I finally decided that the best movie of the year and my favorite movie of the year might be two very different films. If I went with what I thought was the best film of 2018 it would probably be between "Green Book" and "First Man," but my favorite movie of the year was "A Quiet Place."
I love the storytelling, the escapism, the world building and the emotions movies elicit. But there is one thing I may love more than movies themselves and that's a truly unique cinematic experience. There have only been a handful of movies that left me awestruck by their brilliance when the film ended. "A Quiet Place" created a cinematic experience for me that I've never had before and not sure when I'll get it again.
I was in a theater with hundreds of strangers, but for those two hours, we were fellow travelers traversing the world of "A Quiet Place" together. We all made an unspoken and unconscious vow to one another to remain as quiet as possible and even keep our breathing in check. John Krasinski created an incredible world of silence, fear and family that culminated into my favorite movie of 2018 and the best theater experience I've had since seeing "Inception" in 2010.
What do you make of the cinematic year of 2018? Tell us why we're wrong or right about these picks and share your own favorite movies of the year in the comments.

---
×