Editor's note: This article is a part of a series reviewing Utah and U.S. history for KSL.com's Historic section.
SALT LAKE CITY — There's a chance you may have seen "Green Book" in theaters over the past couple of weeks. The movie, which was officially released on Nov. 16, has received mostly positive reviews and has had its name thrown around as a contender for several awards.
If you haven't seen the movie, to sum it up, it's an unlikely friendship between a black musician and a white, rather racist, New York City bouncer hired to drive the musician, Don Shirley, for a music tour through the deep South. In the movie, they travel from motel to motel with the help of "The Negro Motorist Green Book," a travel guide for African Americans, often referred to as "The Green Book."
Enough about the movie, though. This book has a fascinating story of its own. It's a forgotten piece of history that really shows the racial segregation not only in the South from the 1930s until the 1960s, but across the country — even in Utah.
How "The Green Book" came to be
It all started in 1936, when Victor Hugo Green, a black U.S. postal employee, published a guide that helped black travelers know which lodging and restaurant establishments in New York City would allow black people to stay or dine at without a fuss, according to History.com.
A 1956 edition of the book stated the book's purpose this way: "The white traveler has had no difficulty in getting accommodations, but with the Negro, it has been different. He, before the advent of a Negro travel guide, had to depend on word of mouth, and many times accommodations were not available."
History.com noted that because Green worked in the postal service, he was able to expand the guide's information to include other cities and states by gathering details from other postal workers in the nation or by receiving that information from readers. The book eventually included all sorts of travel tips, as well as towns or cities that had curfews for persons of color, known as "Sundown Towns."
"They would meet at annual conventions, and he would find out from there where places to stay were in their community," said Susan Rugh, professor of history at BYU and author of the book, "Are We There Yet?: The Golden Age of American Family Vacations."
Rugh came across "The Green Book" while researching for her book on the history of family vacations. She wanted to know what it was like for black families who traveled during the same time periods.
"Black travelers were frequently humiliated as they were turned away from establishments that they sought to patronize," she said. "The cover of the book says 'vacation without humiliation.' It was not only for pleasure travelers, but it was also used for business travelers."
The book's popularity continued to spread throughout the years. As many as 15,000 copies sold per edition at the height of its popularity, according to a PBS article.
"The Green Book" in Utah and elsewhere
While segregation in the South during the 1940s and 1950s is what most people remember, it existed in one way or another everywhere in the U.S. The need for the book is evidence of that, and Utah and other states in the West were no exception.
Rugh found letters from people to the NAACP that described how they were turned away from hotels, motels and restaurants across the Western region before 1964.
"A traveler through Utah or Wyoming or California would also face discrimination in lodging and restaurants, so the book gave them a guide where they could go and they wouldn't be turned away," Rugh said.
An excerpt of a 1962 edition of the "The Green Book" listed 15 options for food or lodging in Utah split between Cedar City, Ogden, Provo and Salt Lake City, as well as Zion and Bryce Canyon national parks during the summer. That was a small percentage of the available options since there were at least 200 motels in the state during that same time.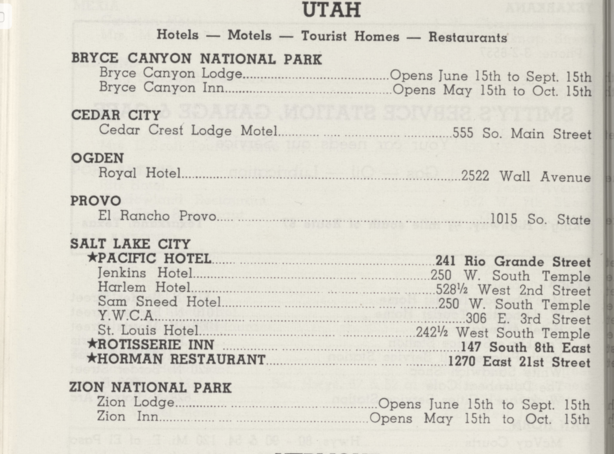 "There were very few options for black travelers," Rugh explained. "We don't think about how our state was segregated too — not legally, but de facto segregation. Black travelers weren't welcome here. … I think what would be different in Utah is you wouldn't get these speeches about segregation and the way of life — it was just a practice here."
And just because there were some options doesn't necessarily mean they were good options. For example, a couple of the Salt Lake City locations were in an area close to what Rugh described as the city's "red-light district" at the time. That said, she added Ogden was the "friendliest" place for African-American travelers during this era.
There were also some cases in the state during the 20th century that actually sounded similar to the movie, "Green Book." Marian Anderson, a black singer, performed at concerts in Salt Lake City, but was denied a place to stay in 1937, according to an article in "Utah, The Right Place." In 1938, she was allowed to stay at Hotel Utah, only after she agreed to use a freight elevator.
---
We don't think about how our state was segregated too — not legally, but de facto segregation.
–Susan Rugh, professor of history at BYU
---
Alexander wrote she was finally given proper accommodations a decade later. However, the hotel wasn't ever listed as a suggested place to stay in "The Green Book."
That said, Rugh said not every option in the book was run-down, as it was depicted in the movie. She said there were several prestigious hotels owned by African-Americans throughout the U.S. during this time period.
The book's demise and legacy
Unlike most business closures, "The Green Book" ceased to exist for a good reason. The passage of the Civil Rights Act of 1964 essentially made the book obsolete because disallowing a person of color from staying at a business became illegal. The book's last publication came in 1966.
It remains an important piece of American history that gives a picture of what the U.S. was really like in the mid-20th century.
"It shows us that blacks had to travel in a separate world," Rugh said. "They did not have access to what whites had access to. And they had the money to travel. They were not poor. These were professionals, these were war veterans, these were former colonels and school teachers.
"They had plenty of money to travel and see the world, but because of their race, they were not allowed to enjoy these privileges we take for granted."
×
Related Stories