SPRINGVILLE — In the line of duty, Provo police officer Joe Shinners was always ready to help, eager to assist anyone and everyone, regardless of who got the credit.
"He was always out here working hard, and he was willing to give everybody else the credit for it," Provo police detective Nick Dupaix said of Shinners, 29. "He was one of those guys that was willing to listen to you, no matter what walk of life you came from."
The same could be said of a young Shinners on the soccer pitch, when he led his alma mater Springville High to the Class 4A state semifinals in 2008.
A nine-goal scorer in 2008, Shinners was a senior midfielder when he led the Red Devils to a 16-3 record, a Region 7 title, and a berth in the Class 4A state semifinals — a finish that still ranks among the best in Springville boys soccer's modern history.
"He was a very good player; one of the our best," said former Springville coach Rick Bertelsen, who coached the Red Devils' boys soccer team from 2005-14. "But he just did what he needed to for the team."
Bertelsen recalled the summer before Shinners' senior year, when the budding star and team captain left Utah to visit family in Boston, where he grew up. Rather than come back out of shape while his teammates ran summer conditioning, Shinners would do his own workouts — spending 2-3 hours per day running sprints, dribbling a ball on uneven grass, juggling and so forth — so that he wasn't behind when he returned to Utah.
The extra work paid off — and Shinners was always willing to put in extra work, even when he got a job with the Provo police department three years ago.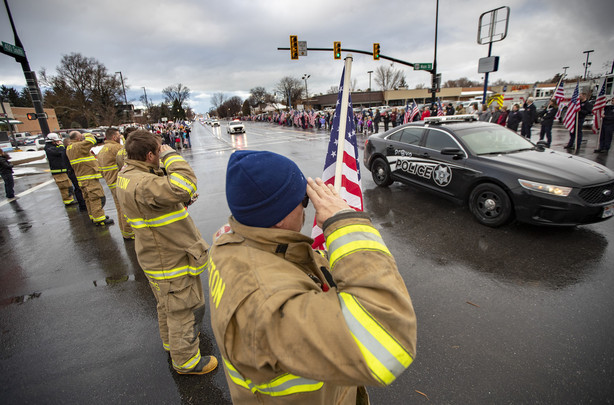 Shinners scored the game-winning goal of what turned out to be the region title-clinching match, a 2-0 win over Mountain View.
But friends and teammates from that team remember more than a guy who came through in the clutch.
"Joe was everyone's friend," Bertelsen said. "Joe liked everybody, and he had everyone's back at all times. If there was an incident on the field, he would come to any player's defense at any moment. If there was something at school, he was the same way.
"He always had the underdog's back, and he was very present in situations."
The Bertelsens got to know Shinners well, both from Springville and his local club soccer team. He grew up with Bertelsen's two sons, and one of them, Jake Bertelsen, set up a GoFundMe page for Shinners' wife Kaylyn and his young son who were left behind. The couple met at Springville High, where Kaylyn also played soccer and basketball.
"Joe was an amazing husband, father and friend to many," said Jake Bertelsen, who also played soccer at Springville. "Joe was always the first to volunteer whenever anyone needed help or if there was anything to be done."
As civilians, officers, friends and family flooded the streets between Provo and Springville to honor Shinners as his body was taken to the mortuary, many reflected on that friendship of a man they will remember — both for his duty to his job and community, as well as his high school team a decade ago.
"Joe Shinners was one of the most loving and sincere people I've ever known," said Spencer Gardner, a former Springville cross-country standout who went on to an All-American career at BYU. "I'm lucky to have been his teammate and friend, and to have learned from him."
Joe Shinners was one of the most loving and sincere people I've ever known. I'm lucky to have been his teammate and friend and to have learned from him. Rest in peace. https://t.co/Bm0bdmrysJ

— Spencer Gardner 🖖 (@spencergardner) January 6, 2019
*KSL.com does not assure that the money deposited to the account will be applied for the benefit of the persons named as beneficiaries. If you are considering a deposit to the account, you should consult your own advisors and otherwise proceed at your own risk.
×
Photos
Related Stories