This archived news story is available only for your personal, non-commercial use. Information in the story may be outdated or superseded by additional information. Reading or replaying the story in its archived form does not constitute a republication of the story.
SALT LAKE CITY — It's no secret that the 2018 fire season in Utah was exceptional.
There were several devastating wildfires, including the voracious Pole Creek and Bald Mountain fires, that burned more than 120,000 acres combined.
It made for the worst fire season in recent memory, officials said.
"In almost every way, it's been busier," Utah Division of Forestry, Fires and State Lands spokesman Jason Curry said in October.
The state's intense fire season was due in part to the drought Utah experienced last year. Many high-elevation forest areas of Utah had very low moisture levels, which made conditions ripe for wildfire, according to Curry.
The National Drought Mitigation Center at the University of Nebraska-Lincoln tracks drought conditions across the country. The center categorizes the drought severity of a given area in one of five categories: D0 (abnormally dry), D1 (moderate drought), D2 (severe drought), D3 (extreme drought) and D4 (exceptional drought).
As of Jan. 1, much of Utah remains in a state of severe drought, with portions of extreme and exceptional drought in the eastern and southeast parts of the state, according to the center's map.
Compounded with the intense fire season, Utah's drought made life difficult for the state's farmers over the growing season.
"We have to find ways to consume water and try to make sure we're using it in the best place we can," Ron Gibson, president of the Utah Farm Bureau, told KSL.com in October.
Here's a look at how Utah drought conditions changed in 2018 and where the state's biggest wildfires burned this year.
The maps show how drought conditions changed, for worse or for better, across Utah throughout 2018. Darker colors mean the drought got more severe over time, while lighter colors mean conditions did not deteriorate as severely or that they improved.
The maps also show where the biggest wildfires of the 2018 season were located.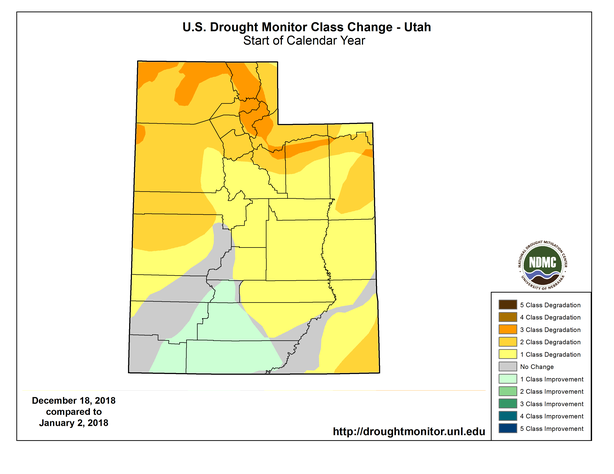 #Fires_map
×
Photos
Related Stories