SALT LAKE CITY — Whether you're a newcomer to Utah or a newcomer to climbing, trying to find the right gym can be a daunting task. North of Spanish Fork, Momentum and The Front are Utah's premier climbing gyms and they both have a lot to offer. Here's some information to help choose between them:
Momentum
Boasting three locations within 40 miles of each other, Momentum gyms can be found in Millcreek, Sandy and Lehi. The locations offer a range of climbing styles and training options, with both rope climbing and bouldering. On their branded blue and gray walls, the gym prides itself on its world class setting for climbing routes.
Momentum Millcreek alone offers 24,000 square feet of climbing terrain, with over 100 top-rope routes and a 50- foot-tall arch. They reset a portion of the bouldering problems roughly once per week to keep things exciting for consistent climbers, and they have a fully equipped training area for weight lifting, cardio and finger training.
Hours for Momentum Millcreek:
Monday - Friday from 6:00 a.m. - 11:00 p.m.
Saturday from 10:00 a.m. - 11:00 p.m.
Sunday from 10:00 a.m. - 6:00 p.m.
Daycare:
Offered Tuesday-Thursday from 9:30 a.m.-12:30 p.m., and 5:00 p.m.-8:30 p.m.
Offered Saturdays from 12:30 p.m. - 3:30 p.m.
Offered on holidays from 10:00 a.m. - 2:00 p.m.
Rates:
Monthly individual pass (auto-paid) - $68
Monthly couple's pass (auto-paid) - $103
Monthly family of three (auto-paid) - $118
Monthly family of four (auto-paid) - $133
Monthly family of five or more (auto-paid) - $148
Adult day pass - $20
Child day pass - $14
Punch card (10 visits) - $175
*Pre-paid memberships are offered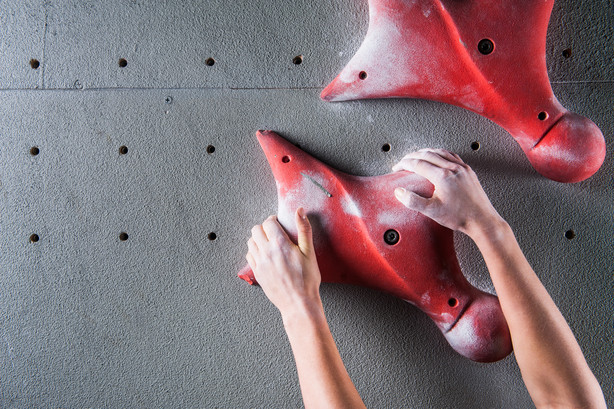 Adult Bouldering League:
Momentum in Millcreek has an adult bouldering league in which adults can train and climb in competitions throughout the year with a team.
Fitness Training:
Momentum has tried hard to make their fitness areas as quality as their climbing walls. They offer world class climbing equipment, free weights, two woodies, a system training system, beam training, hangboards, and campus boards.
One-on-one coaching and personal training are offered in 1-hour, 3-hour or 6-hour blocks. Sessions can be scheduled at Momentum's front desk.
Yoga classes are offered five times each week, with limited spaces available; times are available on their website.
Youth:
Momentum offers seasonal programs for youth throughout the year.
For kids aged 3-7 they offer a series of "Mo Mini" classes which teach children about climbing movement and develop milestone goals with Momentum coaches. From ages 7-11 they can participate in the "Base Camp" class series which uses drills and games to teach beginning climbers basics; an "Advanced Base Camp" is also available. Teens ages 12- 18 can participate in the "Youth Club" which offers beginner, intermediate, and advanced classes to train kids in basic and advanced climbing skills.
"Team Momentum" is an option for strong youth climbers who wish to travel and compete in bouldering, sport, and lead climbing with U.S.A. Climbing.
Momentum offers summer camps for kids from ages 4-16 and winter camps for those ages 5-12. Finally, they host two-hour birthday parties for up to 15 people.
Read more about what Momentum offers for youth on their website.
Classes:
Momentum offers classes to help members develop their abilities (classes may vary by location):
Learn to Belay
Explore Momentum
How to Climb 5.10
How to Climb 5.12
Crack Climbing Strategies
Learn to Lead
Lead Climbing Strategies
Private Lead Climbing Instruction
The Front Climbing Club
The Front Climbing Club has created an indoor rocktopia with 30,000 square feet of climbing walls. Located in downtown Salt Lake City and in Ogden, they are looking to open a third gym in Millcreek in fall 2019.
The Front offers a range of experiences for their members including a fully stocked gym, yoga and group fitness classes, youth programs, climbing instruction, personal training, saunas, a restaurant and lounge area, and a store with ample rock climbing gear.
Hours for The Front SLC:
Monday-Friday from 6 a.m.-11 p.m.
Saturday-Sunday from 9 a.m.-10 p.m.
Daycare:
An After School program is offered from 3:45-5 p.m. Monday, Wednesday, or Friday depending on age.
Rates:
Monthly for an individual - $85
Monthly for a couple - $129
Monthly for a family - $129 + $19/person
Adult day pass - $22
Child day pass - $15
Punch card (10 visits) - $179
College Night (Every Saturday from 6pm – close): $15
*Pre-paid options available
Youth:
In addition to the after school program, the Front offers summer camps, climbing teams, and birthday parties.
The teams are broken into the Recreational Team and the Competitive Team. The Recreational Team is for kids ages 6-18 who like climbing and want to climb weekly. It seeks to help kids develop technical and fundamental skills on Mondays and Wednesdays from 5-7 p.m. The Competitive Team is for kids ages 6-18 who want to compete at local, national and international levels. This team trains athletes for competition climbing on Mondays, Wednesdays, and Thursdays from 4-6:30 p.m.
Summer camps are offered for kids ages 6-14, and winter camps are available for those ages 6-12.
A variety of birthday party packages can be found on the website.
Fitness Training:
The Front has a fully stocked gym with weights, squat racks, cardio machines, benches, and more. They also have a training room with a dedicated space for climbing-specific training, including hang boards, woodies and moon boards. Finally, they offer unlimited fitness and yoga classes with a membership including:
Vinyasa, Mysore Ashtanga, Soft and Slow, Integrated Yoga, Yinyasa, and Restorative Flow yoga.
TRX, Power Building, High Intensity Interval Training, Recovery, Cycle Cross, Mountain Fitness, and Gymnastics Movement classes.
Classes:
Bouldering 101
Intermediate Bouldering
Top-Rope Orientation
Getting to 5.10
Learn to Lead
Falling Without Fear
Private Lessons
View more information here.
Perks:
Rumsy's Cafe: a restaurant on the third floor boasting burritos, tacos, nachos, salads, coffee, beer, and more. They also have a sitting area where members like to hang out and get work done.
Community Events, including competitions, meetups, ladies climbing nights, and even concerts in the summer
Moon, kilter, and tension boards
A monthly buddy pass for members
10% back on Gear Shop purchases for members
Auto Belays
Saunas
Regardless of the gym, both Momentum and The Front Climbing Club offer world class climbing with multiple locations across Utah.
×