This archived news story is available only for your personal, non-commercial use. Information in the story may be outdated or superseded by additional information. Reading or replaying the story in its archived form does not constitute a republication of the story.
STOCKTON — Three people were arrested after a short, high-speed chase on state Route 36 Friday afternoon, police said.
Police attempted to pull over a vehicle with five people in it for a traffic violation, but the driver sped away, traveling an estimated 80 mph in a 40 mph zone on the highway, according to Stockton Police Chief Travis Romney.
"He ran two vehicles off the roads and given the fact that he then became a public safety risk, we initiated the pursuit," Romney said.
The pursuit went on for a little more than five minutes before the fleeing vehicle broke down near the Tooele Army Depot, according to Romney. He added the vehicle stalled just south of where Utah Highway Patrol troopers had set up spike strips on the highway.
The five occupants were then taken into custody, Romney said.
The driver, Casey Speck, 21, of Tooele, was arrested on suspicion of evading police, possession of methamphetamine and reckless endangerment.
"He admitted to us that the reason he ran was because his driver's license was suspended for no insurance," Romney said. "The vehicle currently had no insurance, so that is when he decided to run two people off the road."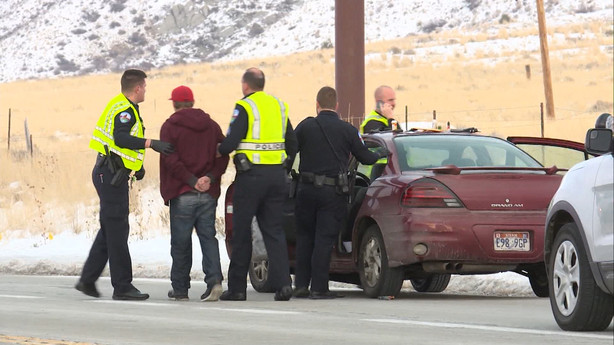 A juvenile passenger was arrested on suspicion of possessing a stolen firearm, Romney said. His identification was not released because of his age. Another passenger, Landon Wilson, 20, was arrested on warrants, according to Romney. Two others inside the car were released at the scene.
Speck and Wilson were booked into Tooele County Jail, while the juvenile was sent to a detention center in Salt Lake County, Romney said.
Only minor damage was reported in the chase and no injuries reported, Romney added.
UHP, the Tooele Police Department and Tooele County Sheriff's Office assisted in the pursuit.
×