This archived news story is available only for your personal, non-commercial use. Information in the story may be outdated or superseded by additional information. Reading or replaying the story in its archived form does not constitute a republication of the story.
PROVO — Scratch. Dig. Claw.
Three times the No. 4-ranked BYU women's volleyball trailed Texas with a score of 17 points or more in the Provo regional final of the NCAA women's volleyball Saturday night.
All three times, the Cougars responded.
One.
Two.
Three.
Next stop: Minneapolis.
Roni Jones-Perry poured in 25 kills, three digs and two blocks, and Heather Gneiting added nine kills and four blocks in a balanced attack as BYU swept No. 5 Texas, 25-23, 25-23, 25-21 to advance to the national semifinals next week in Minneapolis, Minnesota.
"We're a fighting team, and we're resilient," said Jones-Perry, a former Copper Hills standout who won West Coast Conference player of the year and AVCA All-Pacific West first-team selection. "You hear it from us a lot, but we do a great job of staying in the present, and having focus on the next ball and the next touch.
"When we do that, the score doesn't matter. We can go play our best."
The Cougars, who also ousted Florida 3-1 in Friday's regional semifinal, will face top-ranked Stanford in the semifinals Thursday at the Target Center in Minneapolis, their first trip as far since a run to the national title match in 2014 under former head coach Shawn Olmstead.
BYU held off Stanford in five sets back on Aug. 31 in Provo, a win that helped the then-No. 9 Cougars go on to claim the No. 1 ranking from the top-ranked Cardinal.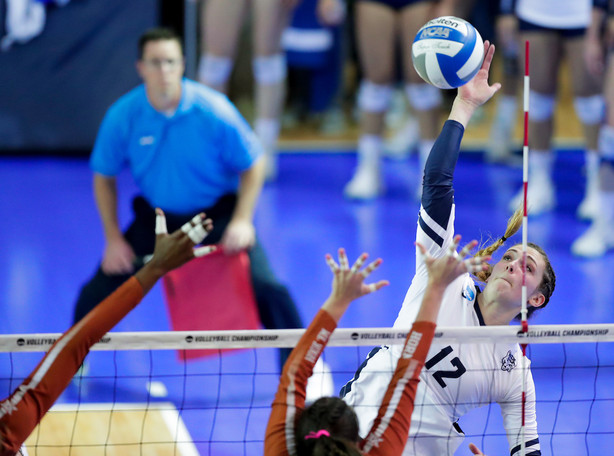 Heather Olmstead, Shawn's sister who was an assistant on that year's team, couldn't promise to grow out a mustache like her brother by Thursday. But she did promise her team would scrap and claw until the very end — just like they did against the Longhorns.
Because they "have a lot of love for each other," she added.
"They love each other. They serve each other," Olmstead said. "They know what they want, and they have a belief in themselves. They're a special group. We've been through a lot, not even in volleyball but in life. It's a big deal that we get to experience this life together — the volleyball part — and it's going to serve them well for the rest of their lives."
Gneiting adding nine kills and four blocks to pace a balanced attack, while Maddie Robinson had seven kills for the Cougars (31-1). Lyndie Haddock-Eppich supplied 43 assists and four digs with three blocks, and Mary Lake dished out 17 digs for BYU, which trailed 20-18 in the decisive third set before rallying with a 7-1 run to finish the sweep and set off a roar of ecstasy from the standing room-only crowd of 5,326 fans packed inside the Smith Fieldhouse.
"It was awesome. You can tell by the emotion of all of us out there (on the court)," said Haddock-Eppich, who was named to the All-Regional tournament team along with Lake, Gneiting and regional most outstanding player Jones-Perry. "It's so special that we get to keep moving forward. None of us except Danelle the fifth year have been to the Final Four. It's amazing that we made it so far."
Texas was led by Logan Eggleston's 15 kills, and Jhenna Gabriel supplied 31 assists for the Longhorns (23-5).
But BYU held Texas' leading scorer Micaya White to just six kills on 22 swings to earn the win. Even as the Longhorns out-blocked the Cougars 16.5 to 8.0, it didn't seem to matter.
Texas coach Jerritt Elliott put the difference on "the little things" of volleyball — a dig here, an ace there, a couple of acrobatic pancake saves — but Olmstead respectfully disagrees.
"There are no little things. Everything is a big deal," said Olmstead, the conference and region coach of the year. "Every touch. Every time we are talking. Every chance they had to make a play, it was a big deal.
"We got eight blocks, but it didn't matter. We sided out at 63 percent, and that was good enough to win the match tonight. It wasn't our best offensive match, but it was good enough. Roni was fantastic — 25 kills on 49 swings. It doesn't get better than that."
With their backs against the wall, the Longhorns came out swinging in the third set.
Paced by a furious block and a diving libero, Texas took a 20-18 lead on the hosts on Eggleston's kill late in the set.
"We just came out and said 'they are a great volleyball team, but so we are,'" Eggleston said. "Come and show them that. Prove that we deserve to be here."
Once again, BYU responded with back-to-back points, including Kiani Moea'i's that tied the potentially decisive set at 20-all. That sparked a 5-1 run, giving BYU a 23-21 edge on Haddock's kill.
That set up back-to-back kills by Jones-Perry, who sent the Cougars to their first national semifinals since 2014's run that ended one win shy of a championship.
The Longhorns out-hit BYU .250 to .205, and trailed for just eight points in the opening set, but lost 25-23 when BYU finished on a 7-3 spurt capped by a kill by Kennedy Eschenberg.
The former Bountiful High basketball star had four kills and three blocks for a Cougar attack that hit just .241.
It was more of the same in the second set, which featured eight ties and four lead changes before the Cougars used a 5-1 run to pull away from the Longhorns, 25-23 on Jones-Perry's 16th kill of the match.
BYU was even out-hit in the final set, .195 to .258 — but it didn't matter.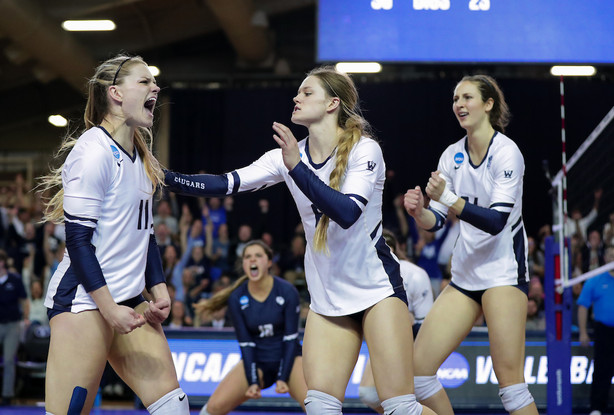 "Our team does a really good job of always expecting other teams to play their best, and wanting them to play their best," Lake said. "We were not expecting them to go out and roll over, and that's what happened.
"We know we have to earn all of our points, and we did a really good job of that tonight."
And about those fans? The crowd ranks No. 2 all-time in Smith Fieldhouse history for a volleyball match, trailing just the 5,472 who saw BYU sweep then-No. 24 Utah in their first-ever match ranked as the No. 1 team in the nation by the AVCA coaches' poll.
And the Cougars needed every one of them.
"We feel grateful and fortunate that we were able to play here in Provo," Olmstead said. "I thought that was a fantastic match. We're fortunate to be able to advance, and ecstatic that we get to keep practicing on Monday."
×
Photos
Related Stories