PROVO — Twice in the first three weeks of the NCAA women's volleyball season, the top-ranked team in the country has lost shortly after earning that title.
BYU wasn't about to be the third, after earning the No. 1 ranking for the first time since 1986.
Roni Jones-Perry poured in 13 kills with four digs, and Kennedy Eschenberg added nine kills and four blocks to lift the No. 1 Cougars to a sweep of No. 24 Utah, 25-20, 25-14, 25-17 Thursday night in front of a sellout crowd of 5,472 fans at the Smith Fieldhouse.
"Our serve and pass got a lot better, and that just switched the whole momentum of the game and let us run our defense how we want to," said Jones-Perry, whose team struggled in the opening set. "It was big-time for all of our hitters; if they don't know who the ball is going to, then it gives everyone a little more time to let you take a swing of where you want to hit."
Lyndie Haddock-Eppich dished out 31 assists for the Cougars (9-0), who got 12 digs from Mary Lake and 10 digs and three blocks from Haddock-Eppich. McKenna Miller had eight kills and freshman Heather Gneiting seven for the Cougars, which had six players record multiple kills.
Dani Barton Drews had 11 kills to lead the Utes (7-3), who hit just .167 on the evening, including .148 in the final close-out set.
"Lyndie did a great job of running the offense and getting a lot of people involved," BYU coach Heather Olmstead, whose team hit .427, including .500 in the dominant 25-14 second set. "Holding them to .167 is really good. I'm proud of the way we kept getting better each set.
"I don't know if it was our best blocking night, but it's nice that we can win in other ways if our block is not going to be there."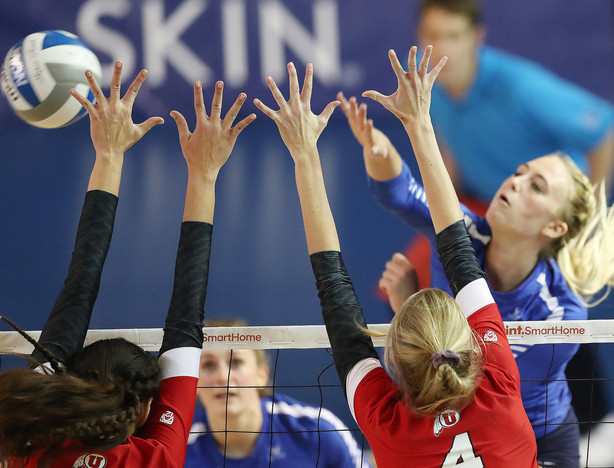 Utah had the hot start, but BYU tied the match up early, first at 9-9 and then at 12-12 — and barely looked back.
Jones-Perry put down her first ace of the night to give the Cougars a 15-14 edge in the opening set. BYU used a 9-2 run to take a 20-16 lead during the set, but Drews hit back-to-back kills to help pull the Utes within one, 21-20.
"They're good, and they are a well-oiled machine," said Utah coach Beth Launiere, whose team was playing for the first time without standout middle blocker Berkeley Oblad. "In the first set, we served really tough and they had passing struggles. But in the second set, we started getting into passing struggles.
"Once that happens, you get down to one option offensively, and against a big block, you're going to get in trouble. Dani Drews did well, and I'm excited for her and her development. She's going to keep getting better."
A block by Heather Gneiting gave momentum back to the Cougars, and BYU finished the set on a 4-0 run to go up 1-0.
The Cougars held the Utes to just .188 hitting percentage in the first set, with a defense led by Haddock-Eppich (six digs) and Lake (three digs).
"They definitely didn't surprise us," Haddock-Eppich said. "We were ready to play, but I don't think that we were fully being assertive in everything we were doing.
"The second that switched, it changed the game for us."
After the slow start, Jones-Perry went to work in the second.
Jones-Perry was spraying the court in multiple ways Thursday night. A smash from the right side in the first set. A rip from the left boundary in the second.
Related Story
Even a short tear-drop that playfully dropped into the middle of the court amidst a group of flummoxed Utes.
The crowd did the rest.
"It was awesome to have that crowd that we did. We feed off their energy," Haddock-Eppich said. "When it's loud in there, I'm sure it's hard for others team to play.
"It makes it even more fun, and we trust each other so much that even if we can't hear each other, we trust each other."
The match set a record for attendance at a women's volleyball match in the Smith Fieldhouse.
"I just want to thank the students and everyone for coming out for that match," Olmstead said. "It was exciting for both teams: a top-25 matchup, and we hope we made a couple more fans and people keep coming back. We're proud of the product we are putting on the floor, and we want to keep getting better."
Next up
BYU wraps up non-conference play by traveling to Weber State for a 2 p.m. tip Saturday afternoon.
The Utes host Utah Valley at 7 p.m. Friday before beginning Pac-12 play Sept. 19 at Colorado.
×
Photos
Related Stories