This archived news story is available only for your personal, non-commercial use. Information in the story may be outdated or superseded by additional information. Reading or replaying the story in its archived form does not constitute a republication of the story.
PROVO — When Roni Jones-Perry put down her match-high 17th kill in the regional semifinals of the NCAA women's volleyball tournament, she turned to her fellow senior and starting setter Lyndie Haddock-Eppich.
Even when recalling the moment, the two locked eyes and said almost in unison, "We freaking did it."
Jones-Perry poured in 17 kills and nine digs, and Kennedy Eschenberg added 11 kills and a match-high seven blocks to help No. 4 BYU to a 23-25, 25-13, 25-17, 25-19 win Friday evening in the Provo regional semifinal in front of a standing-room-only crowd of 5,104 fans in Smith Fieldhouse.
The win put fourth-ranked BYU into the national quarterfinals for the first time since a run to the NCAA title match in 2014. The Cougars (30-1) will host No. 5 Texas (23-4) at 6 p.m. MT Saturday on ESPNU.
The winner will advance to next week's national semifinals in Minneapolis. BYU is one of three regional hosts still alive in the tournament, after No. 15 Oregon stunned No. 2 Minnesota, 3-1 in the Minneapolis regional semifinals.
No. 1 Stanford and No. 3 Illinois advanced to the final eight.
"There were lots of awesome moments in the team room and on the court right after the match," said Jones-Perry, one of five seniors on the team. "I'm just super proud of my team, every single one of them."
BYU has won 20-straight NCAA Tournament home matches, dating back to 1994.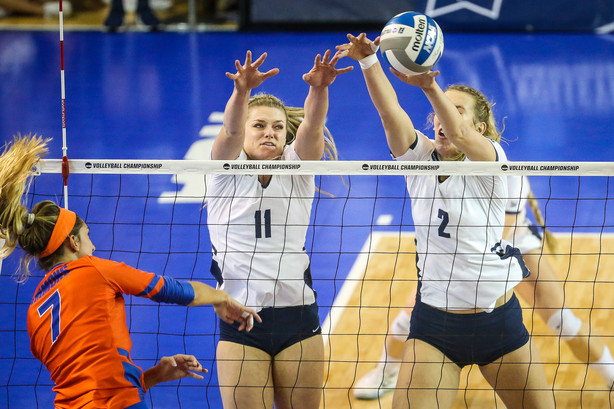 Maddie Robinson chipped in 10 kills and two blocks for BYU (30-1), which advanced to the regional final for the first time since a run to the national title match in 2014. Lyndie Haddock-Eppich dished out 44 assists to go along with 10 digs, and Mary Lake and Sydnie Martindale each supplied 10 digs for the Cougars.
"What a great match," said BYU coach Heather Olmstead, who was an assistant to her brother Shawn in 2014. "I thought Florida played well; I want to congratulate them on a great season. It was such a great match. That will go down as one of the greatest matches to ever be played here, and I didn't even touch the ball."
The Cougars were led by Eschenberg's seven blocks, but also got seven from Gneiting and six from Lacy Haddock. BYU out-blocked Florida 14-8 against a team that set three players 6-foot-2 or taller across the net.
"That's a very good team who played exceptionally well tonight," said Florida coach Mary Wise, who has won 850 matches in her 28-year career with the Gators. "We knew for us to have success here, we'd have to play so clean and get a little bit of help. After the first set, BYU became very stingy with the points they gave away."
Holly Carlton had 16 kills to lead Florida, which got 11 kills and seven digs from Paige Hammons. But BYU held the Gators to just .159 hitting, including a .033 hitting percentage in the second set, while stuffing leading hitters Rachael Kramer and Taelor Kellum to two kills apiece and seven combined errors.
Florida (26-7) out-muscled the top-seeded Cougars early, jumping out to a 5-0 lead in the opening set while forcing three-straight hitting errors. But BYU rallied, pulling within one, 9-8 after Gneiting capped an insane rally with a loud, boisterous block that sent the sellout crowd into a frenzy.
BYU kept it close several times, even tying the set at 15-all after Eschenberg's big block. But the Gators didn't give up the lead the rest of the way, and took a 25-23 win behind a balanced attack of four players with multiple kills.
Florida, which ranked No. 9 nationally in opponent's hitting percentage at .156, held the Cougars to .070 hitting percentage with 13 kills and 10 errors in the first set.
"We came out in the first set with a lot of confidence," said Florida senior Allie Monserez, who had 21 assists operating the Gators' 6-2 system. "We really played together and found our rhythm. Even if we weren't passing that well, we were finding ways to kill the ball."
The Gators became just the third team all season to take a set off BYU at home, and the first since WCC rival San Diego fell 3-1 in Provo on Nov. 2.
Even so, the Cougars didn't panic.
"We loved the first set. I thought we stayed in it all the way until the end," Olmstead, whose career record at BYU improved to 117-12. "There was nothing wrong with that first set. We absolutely loved the way we played. We wanted to clean up a little bit, but there's a bit of time it takes to get used to each team and I think it took us a little bit longer than normal. But we figured it out and we didn't look back after we did."
The magic couldn't last, as Eschenberg and Gneiting started interrupting the middle.
The Gators hit just nine kills with eight errors, and BYU piled up six blocks en route to the 25-13 second-set victory.
"Our middles were unstoppable tonight," Haddock-Eppich said. "I love feeding them the ball, and I loved getting them involved."
BYU vs. Texas
Eschenberg proved critical in the third set, posting back-to-back points on a block and a kill to give the Cougars a 7-3 start. The former Bountiful High basketball star had a hand in eight points in the third, while Jones-Perry recorded her fifth kill of the set from the back row that gave the Cougars roll to a 23-16 advantage en route to a 25-17 win.
"I thought Heather and Kennedy were so solid in the middle, leading the team in blocking and telling people what to do," Olmstead said of her two middles who combined for 14 of the team's 38 blocks. "They got in Florida's faces pretty well. I'm proud of them for not thinking that this moment is too big. This is what they trained for and what we wanted as a team."

#4 BYU vs Florida by BYU on Exposure
×
Photos
Related Stories