This archived news story is available only for your personal, non-commercial use. Information in the story may be outdated or superseded by additional information. Reading or replaying the story in its archived form does not constitute a republication of the story.
SALT LAKE CITY — Yoeli Childs made more than a few big shots in his first neutral-site rivalry game against Utah.
But none were bigger than a dunk with 11:23 remaining.
It didn't cap a big run or prove to be a game winner. But when Childs took a pass from over the back shoulder of TJ Haws and drove home a rim-rattling dunk over hapless defenders Novak Topalovic and Both Gach to give the Cougars a 48-35 lead, the near-lower bowl sellout crowd couldn't help but cheer — even those wearing crimson.
Childs tried to brush off the compliments, the high-fives, the slaps and fist bumps, after the dunk. He even had a cheeky name for the dunk when asked about it moments later, before he had been able to shower, change or clear his bags out of the home arena of the Utah Jazz.
"Great pass by Teej. Call it that," Childs said. "I'm a junior now, and I've had enough dunks that I don't think too much about it, honestly."
But his teammates knew what it meant.
"I couldn't help but smile," Haws said. "That thing was wild. I think we'll be seeing that on SportsCenter, for sure.
"Yoeli does that in practice a lot. I've seen him many times. It was just fun to get one tonight."
It was a highlight, but it wasn't the end-all of BYU's game. The Utes kept coming, trimming the deficit as low as 8 points.
More important than the dunk, then, were Childs' 31 points and 11 rebounds, lifting the Cougars to a 74-59 win over Utah in front of a mostly-divided crowd in the rare neutral-site rivalry contest on the second Saturday of December at Vivint Arena.
Haws added 18 points and four assists for BYU (6-4) in the win, which helped washed away a foul taste from last week's three-game losing skid that ended with a 113-103 loss at Weber State — the worst loss in Ogden in coach Dave Rose's tenure, because it is the only such loss to the Wildcats in the 60-year-old Rose's 13-year tenure in charge of the Cougars.
It's only been six days, but BYU has seemed to put that losing spell behind it. Childs scored the first 12 points of the game for the Cougars, who led for 33 minutes and 33 seconds of game time.
"We've got a guy like Yo playing as well as he is on the offensive end, and I think our guys have just bought in to the purpose of how we wanted to play," said Rose, who improved to 14-6 all-time against the Utes. "We're challenged as far as on-ball defense, and we have to have a real scheme to make it work for us. All guys worked well for us tonight."
The Low Point
The Cougars outscored the Utes 34-16 in the paint, 14-7 on second-chance points, and 13-11 from the free-throw line. They also outrebounded their Power-Five rival from the Pac-12 40-28, including 30-21 on the defensive glass.
Combine it with a Utah team that shot just 36.5 percent from the field, and it adds up to a thorough victory.
"They are a lot bigger than us, a lot longer than us, and we knew they were going to try to bully us on the glass," Childs said. "We have three keys every game, and the first one was to beat them on the glass."
Childs outscored the Utes 12-10 to open the game, then knocked in a triple as part of a 13-0 run to open the second half to help pull away for good. He got plenty of help, too; besides Haws, Zac Seljaas supplied 14 points and five steals, and the Cougars' post trio of Dalton Nixon, Luke Worthington and Gavin Baxter also helped dominated the paint.
"I think we did it on both ends in the second half: got stops and were a little more patient," Haws said. "At halftime, we decided we needed to come out with more energy and more passion — and I think we did that in the second half."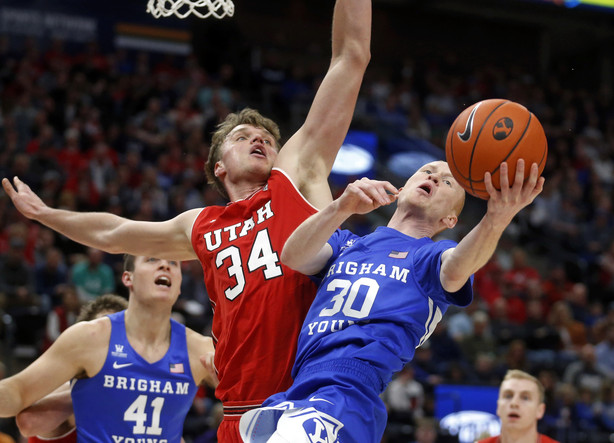 With the win, Childs became the first player in BYU's basketball program to score 30 or more points for three-straight games since Jimmer Fredette graduated in 2011.
"It's awesome to be in the same sentence as Jimmer," Childs said. "He comes back, and he's so good to us. But 30 points? That's a lot of shots. Your teammates have to get you the ball."
The win was special for Childs, who prepped at nearby Bingham High in South Jordan — a mere 22 miles from the Utes' home arena. It gave the Cougars back-to-back wins against the Utes for the first time since Fredette was on campus and gave Rose a 14-6 record in the most important in-state rivalry series just a week after the longtime Cougar coach lost his first-ever game to Weber State in Ogden.
Plus, it's a rivalry; does anything more need to be said?
"Everybody wants to say 'it's just another game,'" said Childs, who committed to BYU early in his high school career and never received a scholarship offer from the Utes. "But it's a big rivalry game, and it means a lot. I look at a lot of fans in this state and how much these games mean to them. It's a game where if you go out and lose, you'll have a bunch of little kids who are sad at home all night.
"It's a little bit more than your average game. It makes you really happy to make all of them proud."
×
Related Stories