This archived news story is available only for your personal, non-commercial use. Information in the story may be outdated or superseded by additional information. Reading or replaying the story in its archived form does not constitute a republication of the story.
PROVO — About that losing streak that included the first-ever loss to Weber State in the Dave Rose era: the Cougars put it to bed in a big way Wednesday night.
Yoeli Childs poured in 31 points and seven rebounds, and BYU led by as much as 22 points en route to a 95-80 win over in-state rival Utah State to snap a three-game losing streak Wednesday night in the Marriott Center.
TJ Haws added 20 points and seven assists for the Cougars (6-4), and Connor Harding supplied 14 points off the bench for BYU. Nick Emery, who played in his first game since serving a nine-game suspension to open the season, had 11 points and two steals, including 3-of-4 shooting from 3-point range for the Cougars.
"How we bounced back this week was big time," said Harding, who had his first double-figure scoring game since dropping 10 in a blowout win over Oral Roberts back on Nov. 15. "We had a different feel to the team. We played with passion and I think that showed tonight. It feels good, but we can't be satisfied with just one win. We'll celebrate tonight, but then we are on to the next one, for sure."
Neemias Queta had 16 points and eight rebounds, and Sam Merrill added 17 points to lead Utah State, while the Aggies (7-2) out-rebounded the Cougars 34-24 and outscored the hosts 46-42 in the second half.
But BYU made 7-of-13 3-pointers before the break, holding Utah State to 0-of-9 from deep early, and the Aggies couldn't recover from a deficit that ballooned as high as 22 points in taking their first loss since an 87-82 loss Nov. 22 to Arizona State in Las Vegas.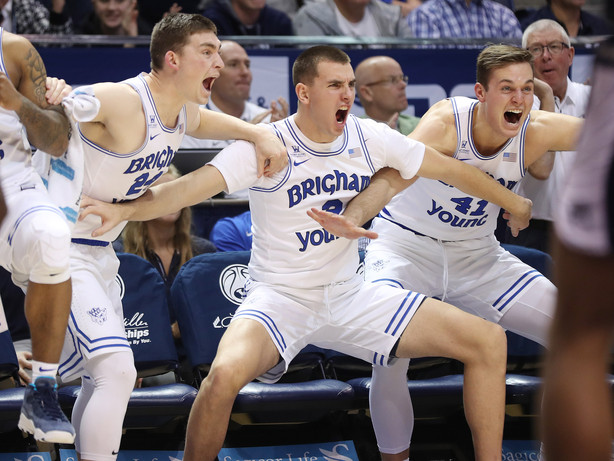 Utah State fell to 92-143 all-time against BYU, including losses in the last seven meetings.
Merrill became the 34th player in Utah State history to score 1,000 points last Saturday in a win over UC Irvine. But the Cougars — led by a superb defensive effort from McKay Cannon and TJ Haws, Jahshire Hardnett and Nick Emery helping out — held the ex-Bountiful High star to 5-of-13 from the field, including just 1-of-5 from beyond the arc.
"He still had a pretty good game; it's hard to keep him down," BYU head coach Dave Rose said of Merrill, who was simulated by ex-Davis standout Jesse Wade in practice. "He's having a terrific year, and the first 7-8 minutes, we wanted to try to time it out the best we could. McKay was terrific."
The Cougars used former Davis High star and Gonzaga transfer Jesse Wade to simulate Merrill in practice all week, with Cannon figuring out ways to guard him. Merrill shot 2-of-6 before the break for four points and made his only triple three minutes into the second half.
Childs capped a 12-4 run after Emery checked in with a jumper that gave the Cougars a 28-15 lead over the Aggies with 10:15 left in the half.
Utah State, which won seven of its first eight games under first-year head coach Craig Smith, was flummoxed as BYU hit shots — inside and out — and trailed by as many as 22 points.
While the Cougars opened the game shooting 63 percent from 3-point range, the Aggies whiffed on their first seven attempts from downtown as BYU built up a 36-18 lead in the first 15 minutes of the game.
By the time the halftime buzzer sounded, Childs had 14 points and four rebounds and BYU out-shot the Aggies 58 to 35 percent for a 53-35 lead.
TJ with the quick release 💦@MountainAmerica#MACU3#BYUhoopspic.twitter.com/wuRlhAk4fC

— BYU Basketball (@BYUbasketball) December 6, 2018
Emery hit a pair of threes in the first half, and Harding shot 4-of-4 for 10 points off the bench for the Cougars.
"The difference started on Monday in practice," said Haws, who visibly bristled at the mention of Saturday's 113-103 loss at Weber State. "We came out with a lot of energy and a lot of effort in practice. We battled and got after it in practice.
"I thought this whole week of practice, we got after each other, and we had a lot of effort and energy. I think that showed in the game, right from tipoff."
Utah State beat BYU on the glass, 27-18 — but part of the disparity was because the Cougars simply could not miss early.
Emery hit his third 3-pointer of his re-debut to give BYU a 67-50 lead with 11:35 remaining, and Harding pushed the lead back to 20, 79-59 with a layup with 8:36 to go.
Emery dropped his first 3-pointer just 10 seconds into his debut, and the former Lone Peak standout helped spark the Cougars with a quick steal and an assist on the next possession.
Rose was looking for an offensive jolt from the one-time starter who sat out the first nine games of the season amid an NCAA investigation into improper benefits.
To make matters worse, the Cougars were on a three-game losing streak as Emery regained his eligibility.
All of that is in the past now.
"This was a tough run for this group, with a real heartbreaker the other night (at Weber State)," Rose said. "We took a team that is playing as well as any team in the country, and our guys were ready from the start.
"And we've been a team that has had some real flat spots at times. Tonight we had one little flat spot to start the second half. But after that, I thought it was a group of really determined guys that wanted to change things."
Next up
Both teams head to Vivint SmartHome Arena in Salt Lake City for the second edition of the Beehive Classic. BYU will host Utah at noon MT, followed by Utah State and Weber State immediately following.
×
Photos